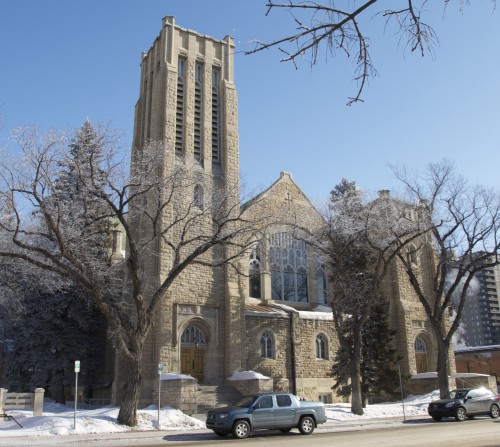 The university's involvement in the bid, explained David Parkinson, vice-dean of humanities and fine arts in the College of Arts and Science, was to anchor the proposed venue with its lineup of performing arts.

The Third Avenue United Church as a performance venue, Parkinson said, offered a unique opportunity for the university, answering the question "how do we, within our resources, expand cultural opportunities for people around Saskatoon? For instance, how can school groups, downtown workers or west-side residents have increased opportunities to experience the fine arts scene of this campus?"

Parkinson said that community engagement in the fine arts grows through the availability of a performance and exhibition venue off campus. "It's about inspiring the community and it doesn't get much more engaged than that. We want to continue having conversations with arts organizations and determine what our role can be. Our calendar of events is full and we're getting good audiences. We are poised for something a little more engaged (with the city). It's just a matter of figuring out what exactly that is."

Despite the rejection of the redevelopment bid for the historic downtown church, Parkinson said he is still encouraged by the process because it got a very important conversation started at the U of S and in the City of Saskatoon.

"It was very valuable because it helped us to refocus on what we have to offer (the community) in terms of fine arts. The prospect of Third Avenue stimulated interesting new thinking about our capacity and commitment to reach out to the city with our fine arts and performance exhibitions," he said. "I can think of several of our performing arts events that would be marquee on the city's calendar of events."

The process also shone a spotlight on the communitywide interest in a project of this nature. "The interest in Third Avenue United was pretty broad and deep in town and there is still interest in the opportunities a place like Third Avenue presents. Many different people from many different backgrounds and with particular artistic investments and strengths came together for this project and were galvanized by this vision for Third Avenue Church. How do you keep that energy together and sustain it even if the building is no longer a possibility?"

Even if the proposal had been successful, Parkinson continued, the university's involvement would have been a sort of "testing for the Clarion performing arts centre, something we continue to explore because it is broadly supported."

As for next steps, Parkinson said he is not quite sure yet, but he certainly does not want to lose any momentum. "My door is always open for these conversations. There are many interesting players in this town and some big investments. It's quite clear that Saskatoon's cultural vibrancy is out of proportion to its size."

The whole story of the process, Parkinson said, "reminds us all of how important this is for the vitality of our city and region and the importance of art."