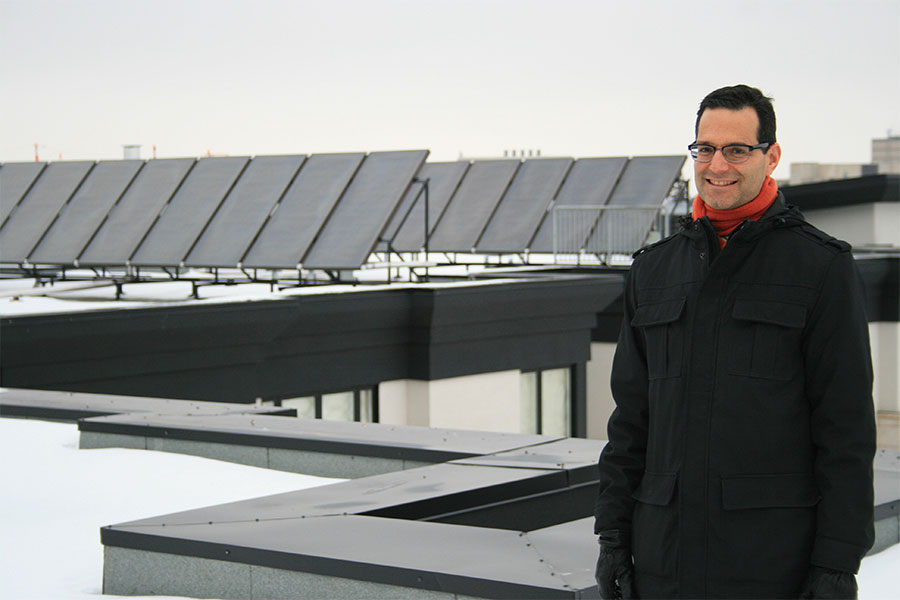 "I actually didn't believe it when they gave me the rough numbers," he said. "I said, 'What? It can't be that good.'"

Cook's office is in charge of implementing the College Quarter master plan, which has 23 design standards to be followed. These include sustainability initiatives related to storm water handling, street lighting and landscaping. Other examples include a car share program and indoor, secure bicycle storage.

One measure involved $86,000 worth of solar thermal collectors on the roof of the Aspen Hall residence. This was a bit of an experiment sparked from a tip from Saskatoon Light and Power that they had achieved savings in one of their buildings, said Cook. Grants were available from the National Research Council and Saskatchewan Research Council to cover all but $18,000 of the panels' cost.

The collectors' heat input is used for domestic hot water and for heating each unit in the residence, but it was not until the second group of residences came online that the effect of the solar heat was known. The grant program was not available for the second phase of residence development, Cook explained, so no collectors were installed. This created a perfect experiment to measure the effect of the panels.

"We've basically already paid for the system (in savings). If you don't have the grant, it's probably a four- to five-year payback period."

With the success of the solar thermal panels at Aspen Hall, Cook said additional panels might be considered for the other undergraduate residences, Graduate House and even as retrofits for the older McEown residences just to the south.

"There's a really big saving that we've been able to capture, which ultimately benefits the students because these costs are all passed on in the rents we have to charge."