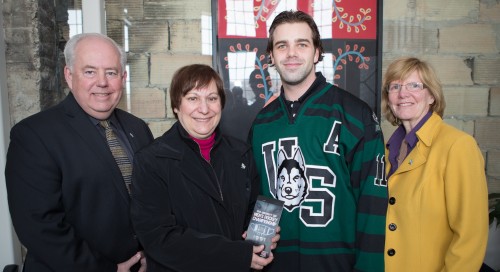 Huskie Athletics men's hockey alternate captain Chris Durand presented the president with her ticket package for the tournament hosted by the University of Saskatchewan which runs March 14-17 at Credit Union Centre.
As the university prepares to welcome the top CIS men's hockey teams vying for the national championship, the host organizing committee has declared March 14 U of S Day. The day corresponds with the Huskies first of two guaranteed games at the tournament. Colleges from across the University of Saskatchewan campus will showcase their pride with green and white themed booths at Credit Union Centre. The first day of the Five Day Hockey Holiday will  include an opening ceremony where Busch-Vishniac will help show the rest of the nation that "We Are All Huskies."
"Huskie Athletics is really excited about the upcoming championship," said Basil Hughton, Huskies athletic director. "This will truly be a University of Saskatchewan event. I believe that the U of S Day on March 14 will be a great opportunity to showcase our amazing campus community to the rest of the nation. We are very pleased to have the president play a key part in a number of events throughout the week and lead the charge cheering on our Huskies."
For more information, visit
huskies.usask.ca/universitycup
(Photo by Josh Schaefer/Huskie Athletics)