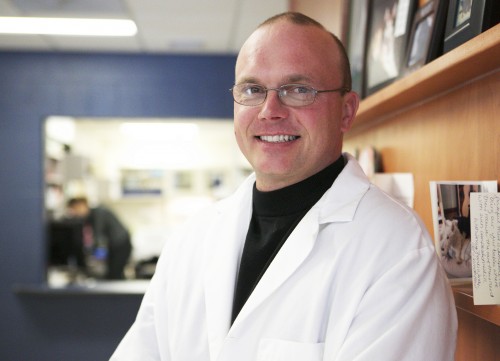 Dr. Duncan Hockley, director of the VMC, said a discount for services that, prior to July 1, was only available to college staff and students has been extended to include all U of S employees and students. The 10 per cent discount applies to all professional services, he explained, with the exception of drugs and lab tests, but requires a valid student or staff card from the University of Saskatchewan.

The VMC will offer the discount for companion animals—dogs, cats, parrots —and for large animals that are brought to the hospital, he said. And because the centre's operation includes the college's field service—veterinarians who travel to where the large animals are—"if you have 10 cows on your farm, it (the discount) will be available for that service too."

Hockley explained the VMC is open to the public and offers 24-hour emergency service. It currently handles more than 17,000 cases per year, about half of which are referrals from across western Canada. "But the more active the hospital is, the more we can invest in new services and equipment. We're also looking to engage a bit more with the campus community."

The VMC has more than 120 support staff, more than 60 faculty "and a multitude of interns, residents and students" to deal with patients. It is a busy facility but Hockely pointed out Saskatoon has the highest number of veterinary clinics per capita in Canada "so we have to be competitive in terms of cost and the quality of service we offer."

Hockley added the VMC "also wants to increase our caseload where we see healthy patients." There is a growing number of wellness programs being offered to a variety of user groups like owners of puppies, adult and geriatric animals and even those with animals that have weight problems.