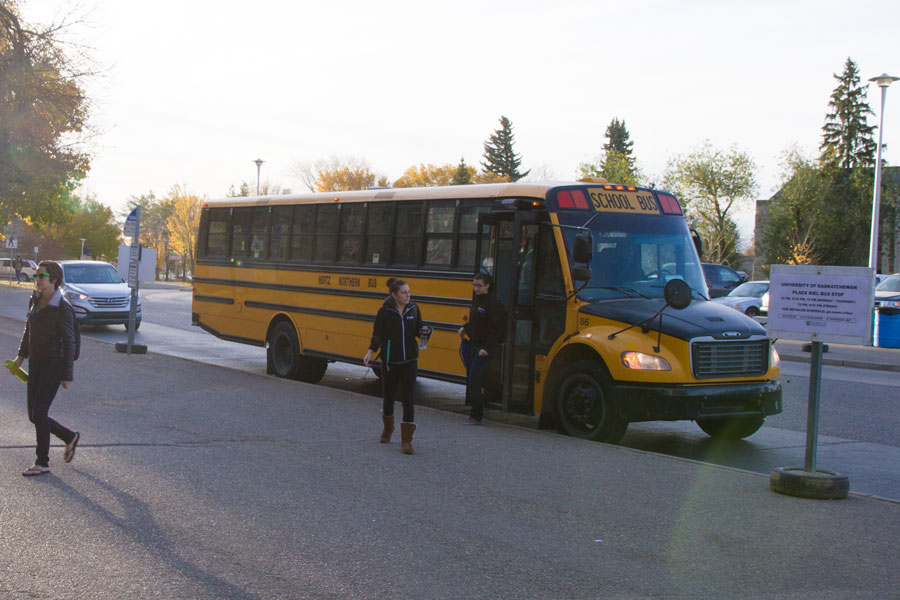 "Within an hour I was approached by three different groups with concerns," said Jeff Dumba, associate vice-president financial services, adding that representatives from the University of Saskatchewan Students' Union, the Graduate Students' Association, and the International Student and Study Abroad Centre all raised alarms about students having to withdraw from classes because they couldn't get to campus.
"We knew it was something we had to address," said Dumba. "The USSU was already looking into a shuttle service with Hertz, and we ended up going with their proposal."
The program, offered at no charge to students and employees with U of S ID, includes 10 yellow school buses making pickups and drop offs at 13 locations throughout the city at scheduled times Monday-Friday.
"We worked with the city to determine which locations would be the least disruptive," he said. "They understand that we are independent and need to look after our students and staff."
Part of the service also included volunteers for the first few days at the pickup locations to direct riders and answer questions, as well as 10 volunteers in the "command centre" to monitor phones and track the number of users.
"We are looking at the number of people using it at various locations, trying to understand volume and demand. We will continue to assess, adapt and change the service as necessary," said Dumba, pointing out that more than 110 students and staff used the service the morning of Oct. 14, the second day of operation.
The cost of this service, which will likely run the duration of the lockout, he said, is about $7,000 to $10,000 per day. "It was at the high end at the beginning because we over serviced, but I think it will be closer to $7,000 once we assess."
The money to cover bussing comes from a reserve account that the university uses to "cover things you can't foresee, like a transit disruption or a leaky roof. It's a risk management operation reserve. I just hope we don't have any leaky roofs," he said with a laugh.
"The biggest thing I've learned through this is that when this university is faced with adversity, we will rise to it every time. We did this, from idea to execution, in a week."
For schedule details and pickup and drop off locations, visit the
Temporary Bus Service site
.