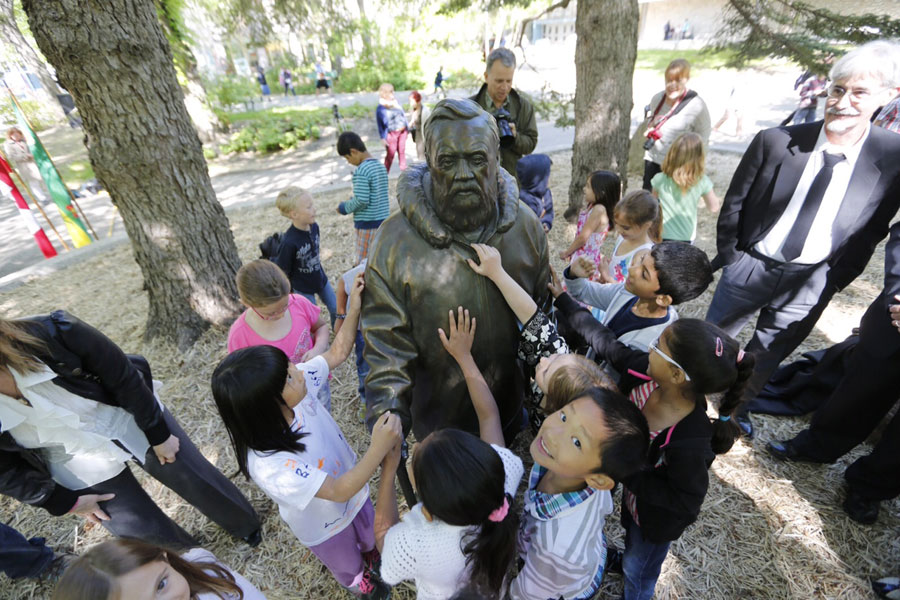 Mowat, whose famous books about nature such as
Never Cry Wolf
and
Owls in the Family, 
have charmed young readers for decades. He remained active in campaigns to protect the Canadian landscape up until his death this past May. When asked where he would like the statue to be placed, Mowat suggested Saskatoon. He had told Rhodes that "Saskatoon would be a wonderful place to spend the rest of my days."
"It really is the perfect location," said Heather Magotiaux, U of S vice-president, Advancement and Community Engagement. "Many student will pass the statue daily and be inspired by Farley Mowat and appreciate the impact of his work on their own fields of study."
The statue is located between the Arts Building and the Murray Library.
Created by artist Boileau, the statue was donated by Toronto businessman Ron Rhodes and is the first of the Canadian literary icon. The bronze was completed in March and took about four years to create.
Rhodes said he commissioned the statue because "it is important to have ways of remembering good people and the many contributions that they have made to Canada. Mowat was a gifted writer, and his work as an environmentalist will be one of his lasting legacies. He should be remembered as one of the real heroes of our time."
Mowat was born on May 12, 1921, in Belleville, Ontario, to Angus and Helen Mowat. The family moved several times as his father, a librarian, repeatedly sought work, until the family finally settled in Saskatoon.