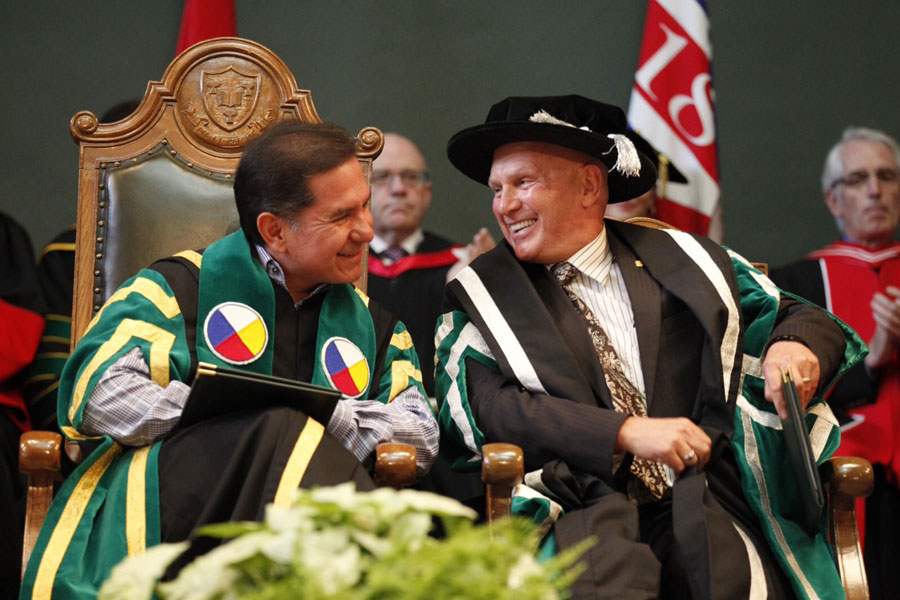 Chancellor Blaine Favel administered the oath in a ceremony in Convocation Hall before an audience of U of S Board of Governors members, dignitaries, members of the university community and the general public.
Speaking after the installation, Barnhart praised the university's resilience and ability to adapt during challenging times. He spoke of the institution's strengths and the opportunities that lie ahead.Â
"We are continuing ... to ensure financial sustainability, deliver effective services, and offer the right mix of academic and research programs to build a stronger university to better meet the needs of our students and the society we serve," he said.Â
Barnhart completed his Bachelor of Arts (Honours) in history at the U of S in 1967, a master's degree at the University of Regina in 1977, and a PhD from the U of S in 1998. From 2000 to 2005, he served as university secretary and as special adviser to then-President Peter McKinnon on government relations. He also held the position of associate director of international where he co-ordinated exchange and development programs. Since 2012, Barnhart has been an adjunct professor in the College of Arts and Science.
On the provincial scene, Barnhart served Saskatchewan as its 20th Lieutenant Governor from 2006 until 2012 and spent 20 years as clerk of Legislative Assembly of Saskatchewan. He also spent five years as clerk of the Senate of Canada.
"His life has been devoted to Saskatchewan, to education and to leadership so it is certainly fitting that he has stepped into this critical role as interim leader of the University of Saskatchewan," said Susan Milburn, chair of the university's board. "He will provide the collaborative and consultative leadership needed during this critical time."
Barnhart will serve in an interim capacity until the university selects its next president.Â
Read President Barnhart's installation speech here.