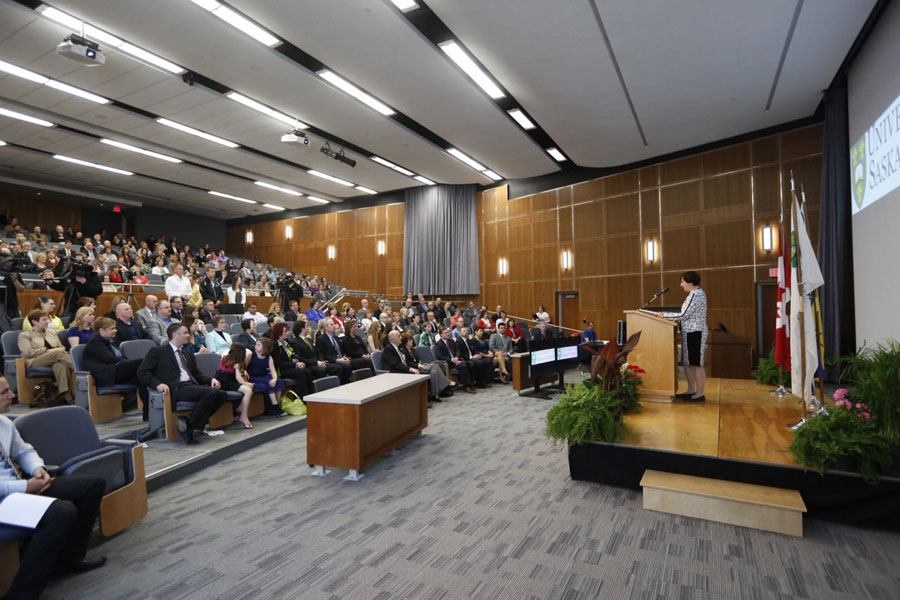 Busch-Vishniac noted the idea of an interdisciplinary centre for health-care education and research dates back more than a decade, "and the Government of Saskatchewan recognized the importance of this vision by making the largest financial commitment to date - more than $300 million - to this facility." She also recognized the $10-million contribution of Leslie and Irene Dubé, for whom the building's library and largest lecture theatre are named.
The completion of the two wings means the majority of the university's health-science programming is now under one roof. The facility's design is intended to break down disciplinary barriers and maximize the potential for collaboration. The physical space coupled with cross-discipline education and research opportunities creates an environment for interprofessional teaching and research.
"The health sciences encompass interdisciplinary scholarship from across Saskatchewan," said Busch-Vishniac. "The project would not have been possible without the significant investment and continued support from the province. Additionally, generous contributions from donors such as Leslie and Irene Dubé will go a long way in shaping the future of health care in Saskatchewan."
Also attending on the official opening was the Honourable Dustin Duncan, Minister of Health for Saskatchewan.
Construction of the D-wing and E-wing additions began in 2008 and were completed in 2013. The new facilities feature state-of-the-art classrooms, laboratories, clinical learning resources, collaborative learning spaces and the library specializing in the health sciences.
For more details on the Health Sciences project, please visit
healthsciences.usask.ca