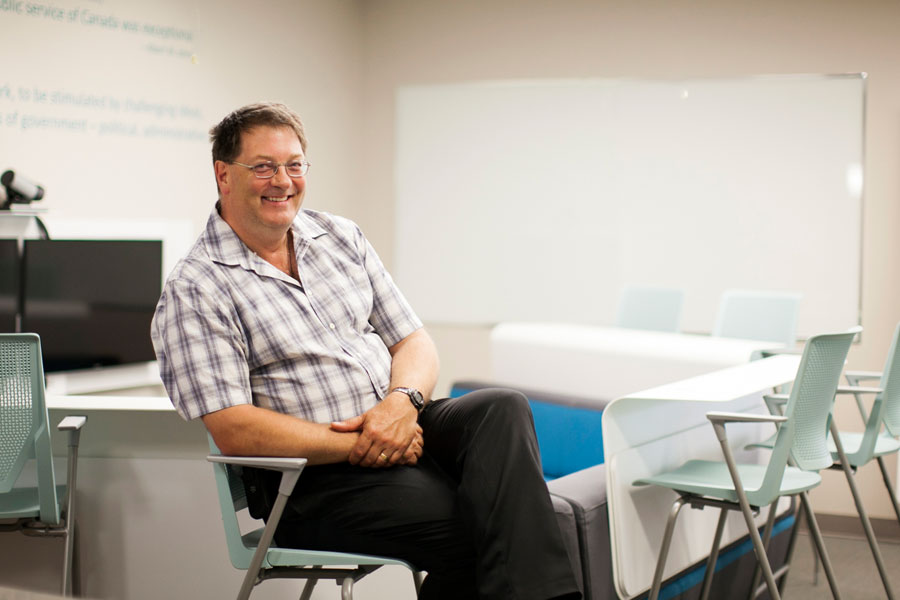 The main question to be answered in Circumpolar Innovation— a truly open online course that anybody, anywhere can take—is whether "we can mobilize innovation and technology to improve life for everyone," explained Coates, director of the International Centre for Northern Governance and Development (ICNGD) and co-developer of the course with Kathy Walker of ICNGD.
Northern communities, he continued, have not benefitted as much from technology and innovation as other parts of the world.
"It's a numbers game. In global terms, the greatest investments go to wealthy nations and then to the issues affecting the poorest two billion people— water in Africa, cell connectivity in South America or food security in India. A million people in Africa or 1,000 people in the North?"
The component pieces of what is considered the North— Alaska, Yukon, Northwest Territories, northern provinces, northern Scandinavia, Siberia and Greenland among others— are too small to register in the numbers game described by Coates, "but when taken altogether that's 15 million people."
Coates, who is also Canada Research Chair in Regional Innovation at the Johnson- Shoyama Graduate School of Public Policy, is clear that innovation and technology does make its way to the North, just at an uneven pace. And he stressed his goal is not to celebrate technology but rather to have students analyze its impact and implications on such northern realities as job loss and quality of life.
"The future is uncertain. Those who think it (technology) is all good are wrong and so are those who think it is all bad.
"We are really good at resource development in the North; we can drill in the high Arctic, but addressing remote health, not as much. We know more about polar bears, and I love polar bears, than we do about e-commerce in the North. Not enough is being done and we need solutions and the ability to apply science and technology in creative ways."
As an example of an innovation that could greatly benefit northern residents, Coates referred to contact lenses that can monitor signs of health in diabetics and provide medical advice. "Diabetes is a major problem in the North, but imagine if this technology could indicate when you need a shot of insulin, especially in communities where it is difficult to even get a nurse to come."
Coates said the important message he wants students to take away is that a "circumpolar innovation ecosystem needs to be created that brings together the needs of the North, the technology and skills to address those needs, and the entrepreneurial spirit to create usable products and services."
The non-credit course, developed with the help of Heather Ross, instructional design specialist with the Gwenna Moss Centre for Teaching Effectiveness, is the first of this kind to be offered at the U of S, he explained. "It's available to everyone. We use copyright-cleared material and it is all open source. We open this knowledge up online to the biggest group possible."
Coates is also excited that any university in the world can adapt the course and its materials for other purposes. "They would just have to create the assignments."
The long view for Coates is that other universities will begin contributing content, in "recognition of the fact that learning constantly changes and is continual. We can add new content and update the material easily and on an ongoing basis. It's flexible learning."
While hoping everyone will be interested in the course, which really showcases U of S contributions to northern innovation, Coates did have a specific group in mind when developing the 10-module program that will begin in February.
"Northern people hopefully will take it. When communities are part of the discussion around technology and innovation, they can steer it to best fit their needs. You can shape the future more if you do it yourself."
Register for the course
here
.