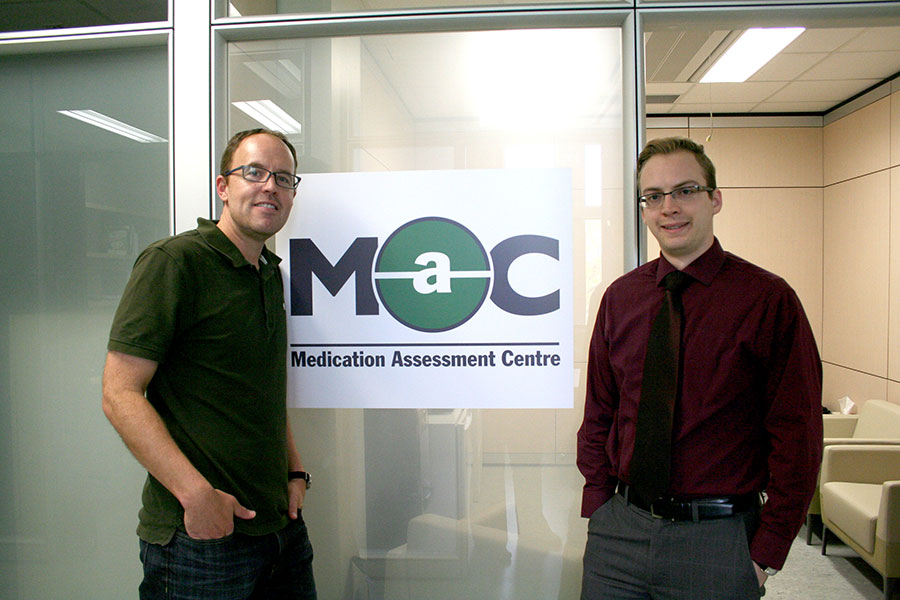 The College of Pharmacy and Nutrition has officially launched its Medication Assessment Centre to provide patients with a professional and comprehensive look at their drug regimens while affording students the opportunity to gain valuable clinical experience.
The centre started in 2010 as a pilot project. The hypothesis, said Derek Jorgenson, director and faculty member, seemed simple enough: would patients come to a clinic like this and would doctors refer their patients to a consultation centre?
The centre was offered free space at the Saskatoon Co-op grocery store on Eighth Street, which was ideal for connecting with patients in the community, said Jorgenson. However, it was not a permanent solution.
"We wanted to be closer to our students," he said. "The whole point of this is to involve students."
Over the course of the 18-month pilot, more than 20 family physicians participated, referring about 50 patients in total. On average, five medication changes were recommended per patient, and feedback was overwhelmingly positive. That success prompted the creation of a full-time service, now offered through, and located in, the college. The official launch was Sept. 16.
Typically, patients are referred to the centre by their family doctor, community pharmacist or nurse practitioner, but self-referrals are becoming more popular, said Jorgenson. While certain patient groups—those on multiple medications or those with complex conditions that require regular medication—may benefit most from the service, it is available to anyone.
"We open it up to anyone who feels they might benefit from sitting down with a pharmacist to discuss their medications," said centre co-ordinator Eric Landry.
Landry meets with each patient. Their medical and prescription histories are reviewed and he answers any questions the patient may have about their medication.
After the consult, Landry follows up with the patient's primary prescriber and sends them a copy of the assessment and potential recommendations. This information is also sent to the patient's community pharmacist, so they are aware of any possible changes to come. It is vital to keep the communication channels open, said Landry, because it is hard to make recommendations without knowing the patient's history.
"I think that (the doctors) appreciate any insight we can offer and help them to manage the medications for their patients," he said.
Of course, having the centre located in the college provides a unique experience for hands-on student participation. Since February, two students have participated in supervised patient consultations and Jorgenson anticipates that number to increase.
Pharmacy students have said they would like more time in a supervised clinical environment early in their program, he said. Ideally, this would involve a first- or second-year student working alongside a senior student who is leading the patient consultation.
"That was the big goal behind creating a clinic like this where we could have real patients coming into the college for consultations with our faculty and staff, and then having the students involved," said Jorgenson. "We're expecting this to be very popular with students because they're asking for this sort of opportunity."
Written by Lesley Porter, communications co-ordinator in the Office of Health Sciences Deans.