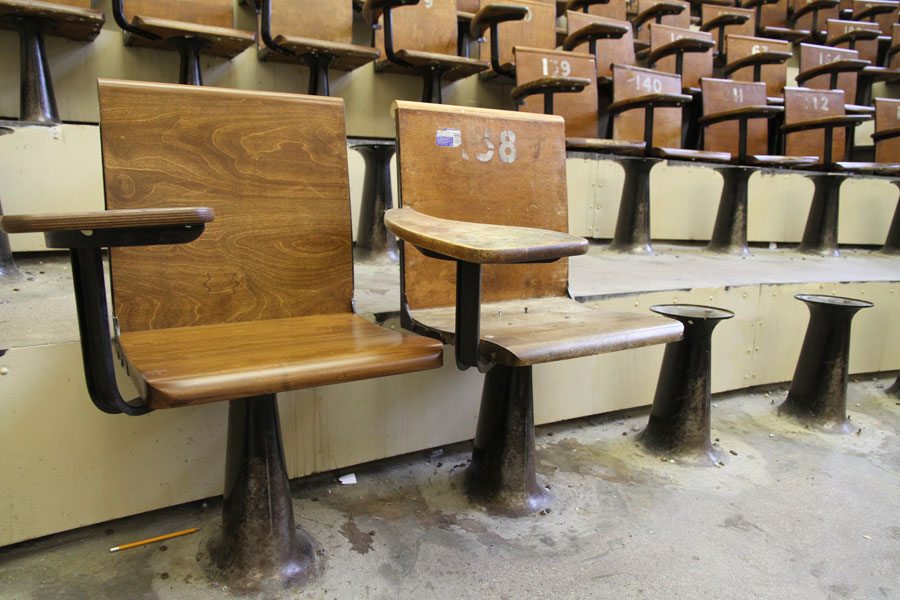 The almost 300 wooden seats in the room, which are as old as the building itself (what was then called the Chemistry Building opened in 1924), are being replaced with exact replicas as part of the university's classroom enhancement program. Produced by Hy-Grade Millwork Ltd. of Saskatoon, the new chairs of stained maple bottoms and birch plywood backs will maintain the historic character of one of the best-known spaces on the U of S campus.

Andrew Wallace, associate director of space planning in the Facilities Management Division and an expert on historic preservation, said the accepted approach for replacing features like the Thorvaldson 271 seats is called replacement "in kind," meaning the materials and design are as close a match as possible to the original.

Unfortunately, the old seats are elm and regulatory limitations mean that wood is not available for the replacements. But, carpenters are carefully disassembling the old chairs and reusing the original metal brackets that connect the seat, back and writing tablet together and then to the original metal pedestals.

The $140,000 replacement project, funded from the annual capital renewal fund, was necessary because the screws that secure the chairs to their pedestals were stripping and pulling out at a rate that was difficult to keep up with, Wallace said.

He added no decision has been made yet about whether the new chairs will be numbered like the old ones. "We are still looking into whether the numbers are original. The plan is to wait until the project is finished and see how it looks before making a decision."