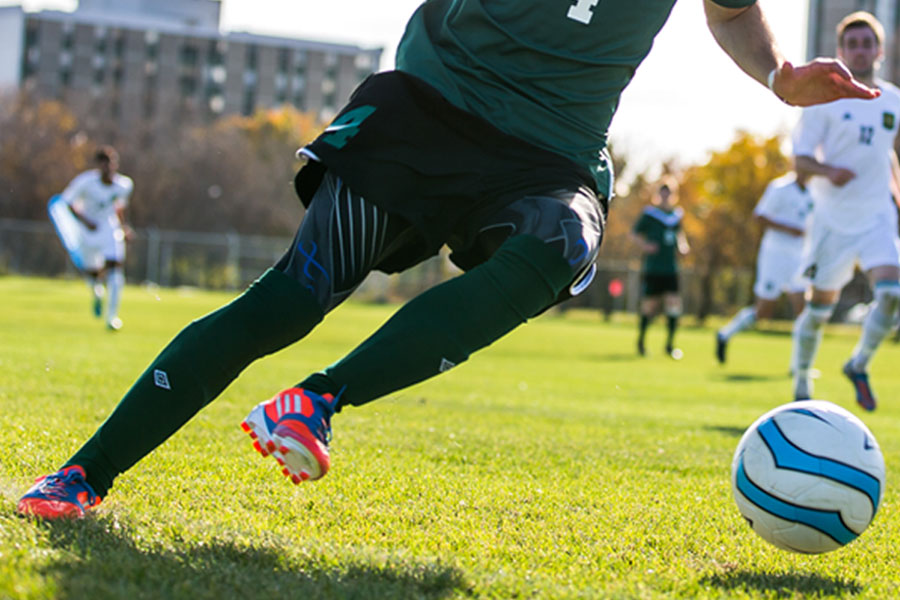 The university's Grounds Department has been working hard over the past few years to improve the quality of the turf on the soccer pitch, and Bryce Chapman, men's head coach and soccer program director, said it is now one of the best playing fields in Western Canada.
"A lot of other teams coming in comment on the condition of our field," said Chapman.
More than looking great, the university's dense, wear-resistant turf contributes to player safety by ensuring good footing and cushioning falls.
At a time when weather is persuading many Western universities to move to artificial turf, Chapman said the U of S teams are fortunate to still be playing on a grass field; it stands up longer, plays nicer and is easier on the body.
According to Chapman, Gift Marufu, manager of the Grounds Department, and his team "have done an unbelievable job. We are ten weeks into the season, and the field is still in unbelievable shape."
Marufu credits a new treatment protocol for the improved turf condition on the soccer pitch and elsewhere on campus. He said the university is moving away from commercial fertilizers in favour of a more natural, sustainable treatment— compost.
Three years ago, grounds crews manually filled all the divots, aerated, leveled the ground by spreading the university's own high-quality compost over the entire field, and then over seeded to create a thick carpet of grass. The results are impressive, said Marufu.
"The compost acts like a sponge that fuses the grass together and reduces wear and tear," he explains. "This also results in less compaction, good aeration and an improved ability to hold on to moisture and nutrients."
The Grounds Department collects more than 90 per cent of the fallen leaves and grass clippings on campus and turns them into compost. Every year, more than 1,000 cubic metres of high-quality compost are produced for use on campus, which would cost about $40,000 to purchase, he said. The treatment protocol also saves about $60,000 per year in commercial fertilizer.
Marufu said the other essential ingredient is the team of more than 20 summer students who work with grounds specialists to collect leaves and grass clippings in the spring and summer. "The students are a big resource for us," he explained.
Chapman is very appreciative of the effort put into improving the soccer pitch: "It's great to have someone like Marufu who has the knowledge and passion to make something like this happen."
Val Szydlowski is manager of customer service and communications in the Facilities Management Division.