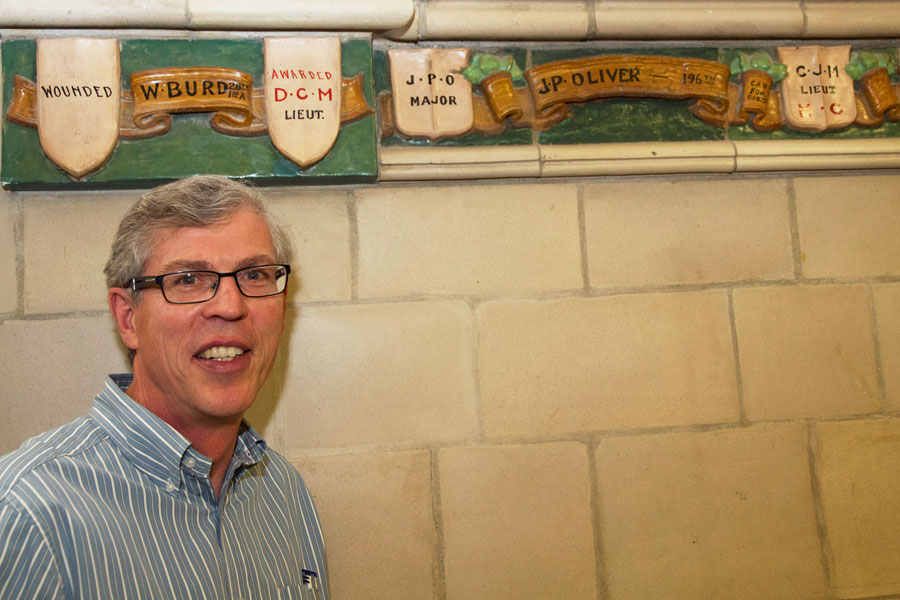 "The Great War was an event that sent shock waves throughout Canadian society and had a profound impact on that generation," said Bill Waiser, retired history professor and chair of the university's Great War Commemoration committee. At the U of S, about 75 per cent of the student body heeded the call to arms in 1914. Staff and faculty enlisted too and by 1916, the College of Engineering was temporarily shut down for lack of teachers and students.

Today, 350 university people are memorialized on the walls of the Peter MacKinnon Building for their war service but Waiser and his committee believe there is much more to consider and remember about that period in U of S, and Canadian, history.

The commemoration committee has plans for many events over the next four years, he said, and they fall into two thematic areas—the university and Saskatoon at war, and second, the war at the university and in Saskatoon.

The flagship commemoration event will be a series of public lectures, including one by award-winning Canadian author Joseph Boyden in October but among other possibilities the committee is considering are displays of archival materials and artwork of the day, a war food week, an Antiques Roadshow- esque opportunity for experts to assess personal memorabilia, and a Great War soiree featuring stories and songs, poems and letters.

"Yes, it is ambitious," said Waiser, "but we've trying to make it as engaging and as educational as possible."

Many of the materials that will be featured over the four years—documents, photos and memorabilia – come from University Archives. One example is the letters of Edmund Oliver, the university's first history professor. Waiser said Oliver wrote very regularly to his wife while he was overseas and those letters "provide an almost daily glimpse into life at the front. In fact, the Great War was also called the postcard war because of the amount of mail that was delivered home from overseas. I'm talking about millions of pieces of correspondence."

Outside the university, the 1914-1918 war resulted in profound and lasting change in all of Canadian society, he continued.

"Income tax was introduced in 1917 as a temporary measure —they forgot the 'temporary' part—and daylight savings time was introduced during the Great War. Thinking of what happened on the western front, the wristwatch was a war innovation because soldiers couldn't be forever pulling their pocket watches out. And you had women's suffrage succeed during the Great War, and the introduction of prohibition at home even though soldiers received a daily rum ration."

Waiser said University Archives built and will maintain a war commemoration website throughout the coming four years with information about events and links to materials. The commemoration will conclude with a rededication of the Memorial Gates in 2018.

The university's plans will tie in with other centennial activities in the city and province, he said, and although the committee is aware of activities planned by other Canadian universities, "we're not trying to replicate them. This Great War had a profound impact on this university so we need to commemorate it in our own way."

Details of the commemoration events will soon be available at greatwar.usask.ca. Follow the events on Twitter (@gwcp306) or Facebook (Great War Commemoration Project).