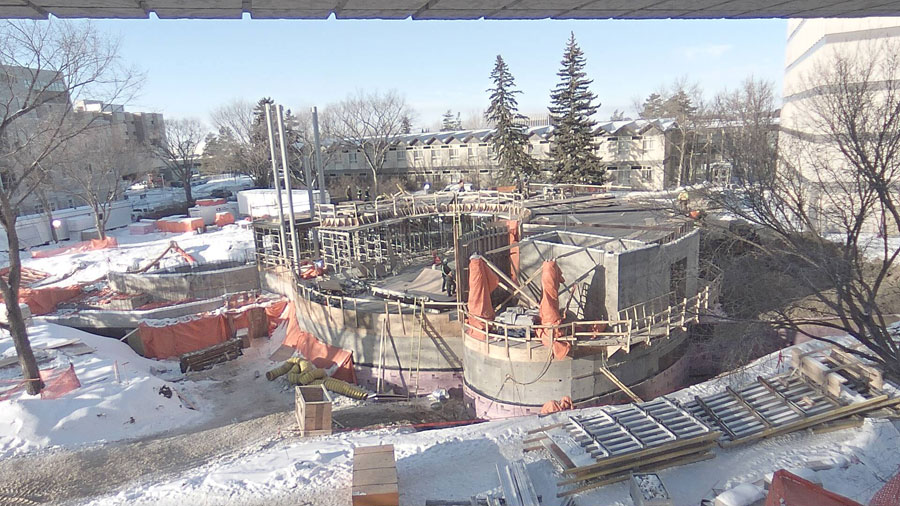 Daryl Cherry, project manager with Facilities Management Division (FMD), said extreme cold in December made it too dangerous for construction crews to work on the building, which located between the Murray Library and Arts Building. "We lost a few weeks on the schedule, but everybody did," he said. "It was just too cold."
In an attempt to make up the lost time, the contractor brought in extra workers and construction is again progressing well, said Cherry. The tunnels that will connect the centre to the Health Sciences building and the Arts Tunnel are virtually complete, as is the basement of the building, which will house its mechanical systems.
On the main level, the floor slab has been poured and four round steel columns installed to accommodate a glass elevator that will run from the basement to the second floor. Cherry said visitors to the site will also see the unique curved exterior of the Douglas Cardinal-designed building taking shape.
"We should have all of the first-floor walls poured by the end of January, as well as the slab for the second floor," he said, "weather permitting. Always weather permitting." Once the second-floor slab is in place, work will continue upward on the exterior walls.
It is expected the building will be structurally closed in by the end of May, when interior finishing will proceed. One of the special interior features will be a curved wall on the main floor clad in stacked wood pieces milled from the trees removed to accommodate the building.
Cherry said 18 elm trees were taken down before construction began. The university's policy is to replace the biomass elsewhere on campus, and that has begun with the planting to young trees around the Rayner Dairy Research and Teaching Facility. Others will be planted around the centre once construction is complete.
"But it's not a one for one tree replacement," Cherry explained. "We took down mature trees and are replacing them with young ones but we replace the whole biomass value. In this case, by the time we're done planting and those young trees mature, they will be more biomass than what was removed."
Because of concerns over Dutch elm disease, the removed trees had to be managed with some care. Provincial forestry regulations required they be debarked on site and the unusable wood buried at the local landfill. Cherry said the logs were recently sent to a local mill where they will be cut into planks and cured, and even the route the logs traveled between the university and the mill had to be reported to provincial forestry officials.Â
One added piece of technology has improved oversight of the Gordon Oakes-Red Bear project: a construction webcam. Cherry said live streaming from the camera means he is constantly aware of progress. "It's like reality TV for project managers."
The webcam can be accessed on the FMD website under the Construction and Renovation tab.