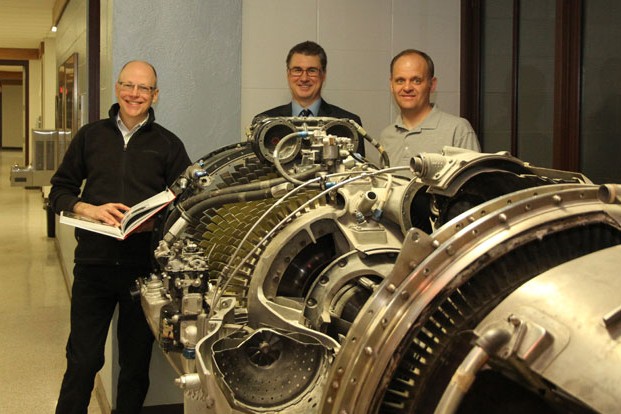 David Sumner and Rick Retzlaff, from the College of Engineering, and Russell Isinger, the university registrar, want to learn more about the Orenda, in particular "how it got here, when it got here and who gave it to us," said Sumner.

The Orenda was manufactured by Avro Canada in the 1950s and was used in CF-100 and Sabre jets. The U of S engine has an Avro nameplate but its serial and model number plate is missing, explained Isinger. It may well have been a training tool for mechanics or engineers, he said, adding that it may have been donated by either Avro or the Royal Canadian Air Force, but no one knows for sure.

There is no information about the Orenda in the University Archives but Retzlaff has found college photos taken in the early 1960s that show the engine in the Engineering Building. The photos also appear to confirm the cut aways were done after it arrived on campus, Retzlaff explained.

The Orenda continues to serve as a teaching tool—Sumner uses it to show the components of a turbo jet engine to students in his thermodynamics class—but the college would like to provide more detail about the engine in the form of a plaque. Isinger, Retzlaff and Sumner will continue their quest for answers and encourage anyone who has information about the history of the U of S Orenda to get in touch.