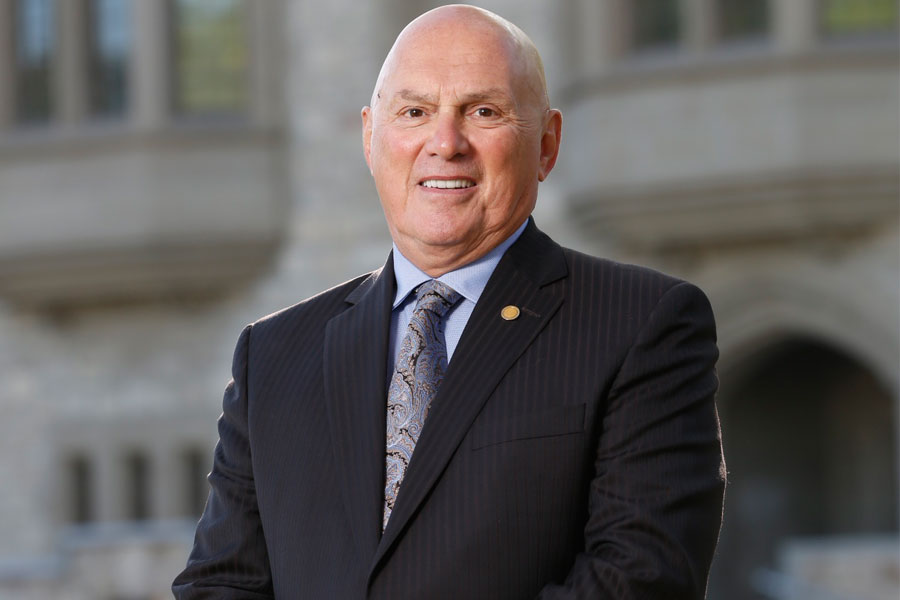 "I'm not here to throw stones at the past…I think it's time for us to move on, turn the page and focus on many of the positive things we're doing on campus," said Barnhart to the audience of more than 300 people comprised of council members, students, faculty, staff and members of the media.

He emphasized his commitment to academic freedom, free speech and transparency as well as his desire to build a better future with campus stakeholders. "I believe academic freedom is a mark of pride at this university; I've seen it firsthand many times in this very room," said Barnhart, former university secretary, with a smile. "The right to think your thoughts and express them, I believe that is alive and well on our campus."

Barnhart said while his role as acting president will not be "to find all of the solutions" at the University of Saskatchewan, he is committed to working with the campus community to move the institution forward.

"I'm here to listen. I'm here to hear what you have to say."

Barnhart, Saskatchewan's former lieutenant governor, admitted that the university balances many priorities, but stressed that the U of S must never lose sight of its "true values of educating students and doing research."

Though not even a day into the job, Barnhart said he is committed to examining the projected deficit on campus and to looking at how much money has already been saved through recent cuts. While Barnhart said he did not want to minimize the university's current financial situation, he noted that he is "hopeful we can find ways of addressing it while minimizing the hurt to staff, faculty and, particularly, students."

Barnhart has many connections to the U of S. He received his Bachelor of Arts (Honours) in history at the U of S in 1967 and, following the completion of a master's degree from the University of Regina in 1977, he received his PhD in history at the U of S in 1998. From 2000 to 2005, Barnhart served the in the role of university secretary, a position in which he was responsible for duties related to university governance. Since 2012, he has been an adjunct professor in the College of Arts and Science.

Through his many different roles, one thing that hasn't changed for Barnhart is his excitement for convocation. "I'm really looking forward to convocation. It is a time of celebration for students and their families… I want to turn the page and focus on all the good things the university is doing, especially educating students. That's what convocation is all about."

Barnhart said he expects his role as acting president to last about 12 to 18 months, although no set length of time has been determined. Barnhart was named acting president and vice-chancellor of the University of Saskatchewan following a meeting of the Board of Governors on May 21, when the decision was made to terminate, without cause, the appointment of Ilene Busch-Vishniac. The board decided to change university leadership in the wake of an ongoing reputational crisis related to recent leadership decisions. Searches for a new president and vice-chancellor, and provost and vice-president academic, are expected to be announced soon.