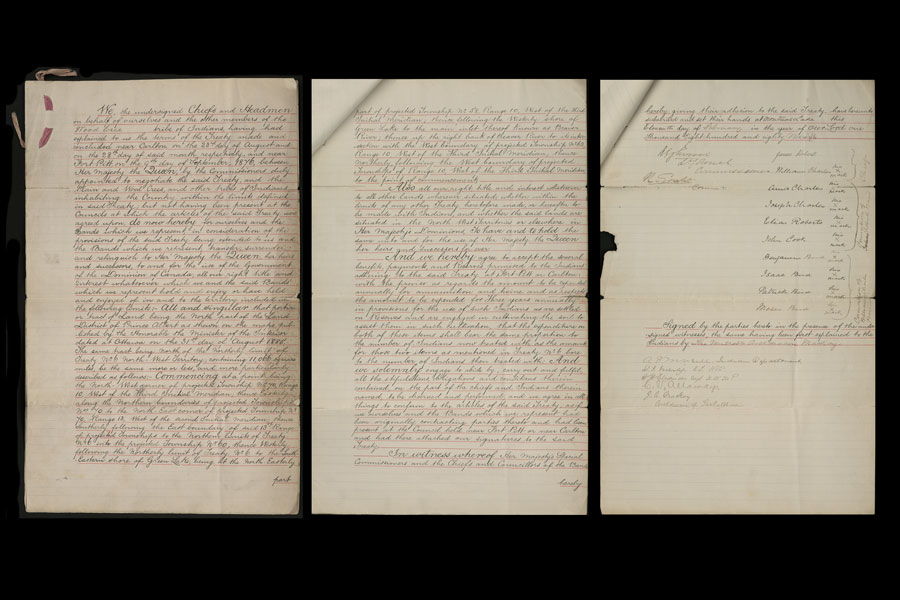 And a celebration it was Oct. 22 when representatives from the Montreal Lake Cree Nation and the University Library marked the permanent loan to the library of an original, hand-written copy of an 1889 document that has a bit of a mysterious past. The copy is of an adhesion to Treaty 6 signed by what were then known as the Green Lake Indians. The agreement with the Crown would ultimately result in the creation of the two Montreal Lake Indian Reserves and the Little Red River Reserve.

University Archivist Tim Hutchinson said the adhesion was negotiated on behalf of the Crown by Commissioner A.G. Irvine who kept the copy until 1909 when he presented it to Edmund Morris, a painter best known for his portraits of Aboriginal leaders. Morris' father Alexander was the Crown negotiator for Treaty 6, which was signed in 1876.

Nothing else is know about the copy until it resurfaced 125 years after it was written in the rare documents market in Ontario. "That's the mystery," said Hutchinson when asked where it might had been. "The story is that it was discovered inside a book owned by (Edmund) Morris" but confirmation is difficult.

Spafford Books in Regina worked with the Montreal Lake Band to acquire the document and return it to Saskatchewan. Now it will find a new home in the University Library.

Hutchinson pointed out the only other known version of the adhesion is the original held by Library and Archives Canada in Ottawa. Compared to the copy, the original is quite ornate, distinguished by a seal on the first page and embellished fonts.

At the ceremony marking the loan, Chief Edward Henderson of the Montreal Lake Cree Nation noted the significance of both historic and modern treaties in determining the relationship between Aboriginal people and the Crown. Vicki Williamson, dean of the University Library, said the document is an important addition to the U of S collections and "to our understanding that 'we are all treaty people.'"

The document arrived folded, said Hutchinson, and is a bit fragile "but it is in fairly good condition." It will be stored flat in an acid-free archival box, well protected from sunlight.

The celebration of the permanent loan was a wonderful event, he continued, "with many voices from the community talking about how important the return of the document is to them." But one voice in particular piqued his interest: "I heard someone say that the document is at the university now so it will never go missing again."