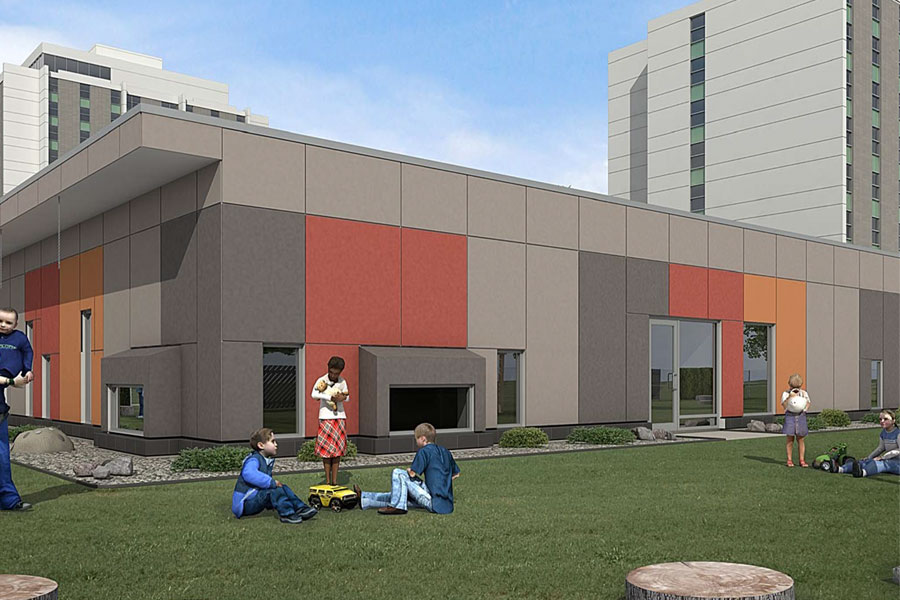 Gabriel Construction was awarded the tendered contract to build the centre, which is expected to cost $4,577,380, said Patti McDougall, vice provost teaching and learning. She added she is looking at using the saved funds to renovate and add more space to the existing U of S Students' Union child care facility in the Williams Building.
"As a university we've become increasingly aware of the need for more child care spaces," said McDougall, who is leading the child care expansion project. "We know we're short and this will help. It's been a bit of a long road, but we're well on our way to addressing the need for more child care spaces
The majority of funding for the new centre came from the university and the Ministry of Education.
The one-storey building will be located south of the R.J. Williams Building and west of the Souris Hall residence building. It is too early to confirm a completion date, but McDougall said she hopes the building will be ready in the spring of 2016.

The new centre will be located south of the R.J. Williams Building.
No final decision has been made on how the new 90 spaces would be allocated, but McDougall said of the 200 total spaces on campus following the completion of the project, 75 per cent would be reserved for the children of university students and 25 per cent for the children of university employees.
"Child care availability is an important consideration for recruiting and retaining students, staff and faculty," she said. "It is also a particularly important factor affecting the accessibility of post-secondary education for Aboriginal students who have a demonstrated need for child care."
Colin Tennent, associate vice-president of facilities for the U of S, said the new building has been designed based on the Reggio Emilia approach to early childhood education, which identifies the "environment as the third teacher" as one of its five fundamental principles.
"The physical environment of the child care facility is seen as a living system and it will offer children the opportunity to learn and be inspired," said Tennent, who has worked as the university's architect since 1998. "We want the children to learn what elements the building is made up of. Instead of hiding or covering services, we will expose polished concrete floors and beautiful wood ceiling."
Tennent said the inside of the building will have a muted color palette, with spots of bright colour coming from children's art work that will be displayed around the building.
To ensure proximity to the outdoor play space, Tennent said each of the rooms in the building has direct access to the outdoors, and windows have been specifically placed to be at child height.
Meghan Sired is communications co-ordinator in Student and Enrolment Services Division.