And there are no better examples of that goal than the Collaborative Science Research Building and Merlis Belsher Place, two major new construction projects that feature an investment of more than $100 million to provide state-of-the-art academic and athletic facilities on campus.
Merlis Belsher Place will replace the aging 88-year-old Rutherford Rink with a new dual-ice pad facility and multisport complex. The facility will be home to the Huskie hockey programs and will provide practice facilities for Huskie basketball teams, as well as recreational campus and community sports teams.
"We have about 800 female and male students engaged in campus recreational hockey, and I hope this number will grow because of the better facilities at Merlis Belsher Place," said Greg Fowler, University of Saskatchewan vice-president finance and resources.
"But Merlis Belsher Place is not just an ice facility. It has a basketball gym, funded by Jane and Ron Graham, which will support our student athletes and free up the PAC (Physical Activity Complex) for more recreational sports. It also has soccer change rooms, as we plan to build soccer facilities south of Merlis Belsher Place to support student recreation and Huskie Athletics."
Merlis Belsher Place and the Collaborative Science Research Building are both slated to be finished in 2018.
Made possible by $42.9-million in joint funding from the U of S and a variety of donors—including generous contributions from Merlis Belsher, after whom the rink is named, the Grahams, and the City of Saskatoon—the new multi-sport facility is on schedule and prepped for an easy transition into winter construction during Saskatchewan's harsher months.
"The most important early milestone has been seeing the roof be completed over the rinks and gym," said developer Lorne Wright, president of Wright Construction. "This allows us to stay watertight and more strongly control our work environment. With the roof on the building we now feel we are in a good position for winter and the snowfall.
"I am personally very proud to be part of this much-needed facility for campus and our larger community. It has been desired for several decades and to now see it under construction is very exciting."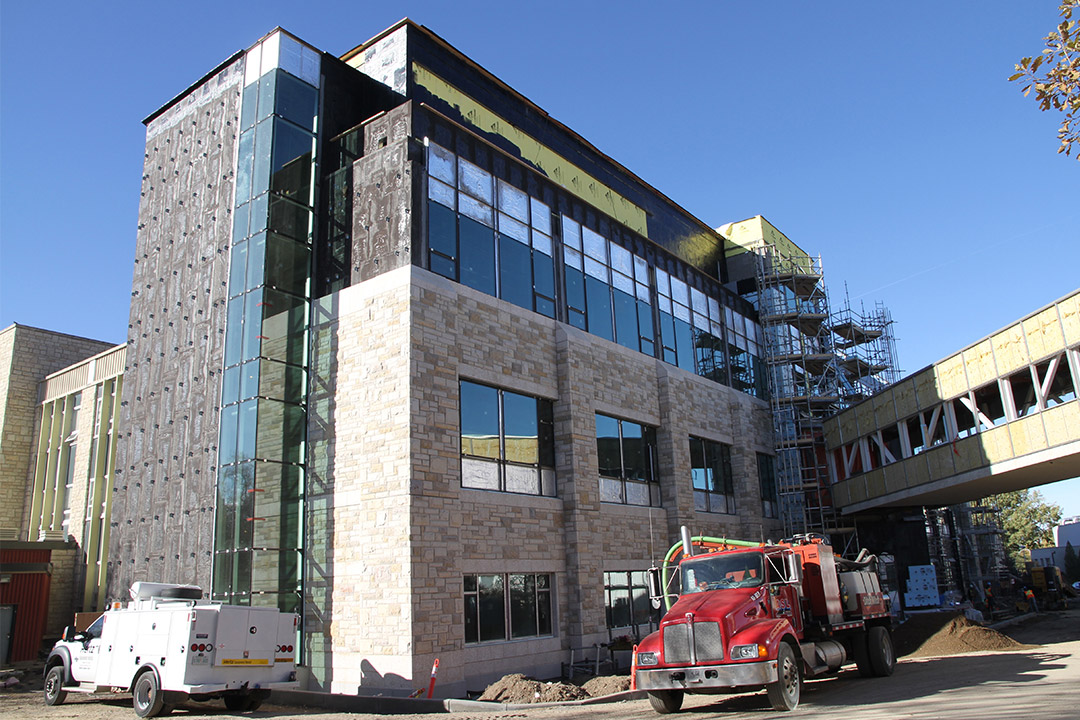 Meanwhile, the Collaborative Science Research Building, established through $63.5-million in joint funding from the U of S and the federal government through its Strategic Investment Fund, is envisioned as a space where facilities and equipment are used in a shared governance model, creating a natural support for interdisciplinary research.
"This is an excellent opportunity to create research space for our science programs, and will also initially provide lab and other space to support the renewal of the W.P. Thompson (Biology) and Physics buildings," Fowler said. "The vision for this space is to integrate these facilities into a broader infrastructure precinct for basic and applied sciences on campus."
U of S President Peter Stoicheff echoed Fowler's statements on the significance that these projects hold for the university community.
"Merlis Belsher Place and the Collaborative Sciences Research Building are of great importance to the U of S, and will help to continue re-shaping our campus into an unrivalled institution for success in research, athletics and beyond," Stoicheff said.
Meanwhile, construction on the new nine-story hotel complex in College Quarter, a private business development located on leased land on the east side of the Stadium Parkade on College Drive, is also right on schedule. Construction began in October of 2016, with the plan for the 220-room dual-branded Holiday Inn Express and Staybridge Suites complex to open in the spring of 2018.
Over on the west end of campus, work also continues to progress on the new Jim Pattison Children's Hospital, a $285.2-million facility adjacent to the Royal University Hospital that is on schedule to open in 2019. The 176-bed children's facility is funded by the provincial government along with a public capital campaign and a $50-million donation from Jim Pattison, a Saskatchewan-born philanthropist and businessman.