That morning, the Germans launched a fearsome bombardment on the Allied position along the southern border of the Ypres Salient. Canadian soldiers at Mount Sorrel (Sanctuary Wood) bore the brunt of the withering attack and sustained heavy casualties.
One of the Canadian survivors claimed that "the ground just shook like jelly," while another soldier later observed, "it was a day of obliteration." The German advance was not driven back and the lost ground was not retaken until June 13—again, at a terrible cost.
Among the dead were six students from the university: Henry Egar, Robert Carlton Grant, Lawrence Homer, Franklin Mager Keffer, Percy Dennington Kisbey, and Joseph Lees Nicholls. All had enlisted at the end 1915 school year. At the time of their death, the oldest was 25, the youngest 20.
---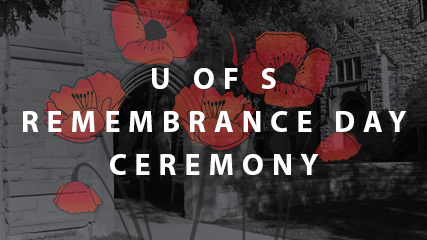 Following the city-wide service at SaskTel Centre on Nov. 11, there will be a wreath laying service at the Memorial Gates (near the College Drive entrance to Royal University Hospital) at 1:30 pm.
A reception will follow at Louis' Loft. Everyone is welcome to attend.