Location: First floor, Arts Building
Tell us more about yourself.
For a very long time, I had a home in the Department of Music, but then I was badly vandalized. I was rebuilt by piano technician Roger Jolly and was moved to the Green Room in the Administration Building, serving as a warm-up piano for performers in nearby Convocation Hall.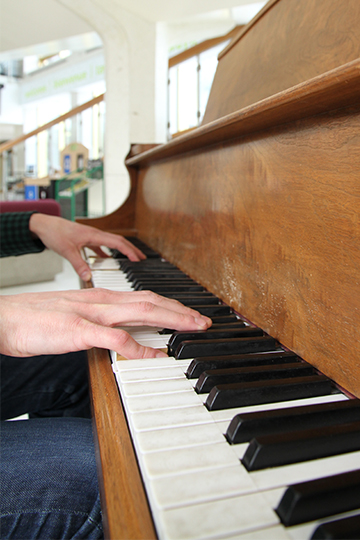 When he was dean of the college, Peter Stoicheff enquired about having a piano in a public space, and I moved here shortly thereafter in spring of 2014. Since then, I've become pretty popular—so much that I recently had to have a new bench purchased as my last one was worn out! 
What kind of piano are you?
I am a Heintzman baby grand piano.
What do you like about being in the Arts Building?
I feel like I've become part of the building's culture and identity since moving here. And providing a classical soundtrack to someone's day is really neat, too. Sometimes students bring in violins, guitars, banjos and harmonicas to accompany me, which can be very fun. 
Who is your favourite pianist?
I have a soft spot for Beethoven and Chopin. 
Are you ticklish?
Only my keys.
Information provided by Chris Putnam and Andrea Wasylow-Ducasse, College of Arts and Science