But with a new food dehydrator now installed at Marquis Hall—the first of its kind at a Canadian university—he's excited to expand recycling efforts on campus.
"Instead of composting food directly, this piece of equipment actually mashes up everything—all the food waste and scraps that you have—and makes it into a semi-compost," he said, adding that the dehydrator will help mitigate roughly 2,487 pounds of weekly food waste created at the Marquis Hall dining facility.
"What we are really doing, for the most part, is we are looking for that nitrogen, we are looking for that phosphorus and calcium that you get from a lot of this food waste," he said. "These are a very, very important part of nutrition for plant health."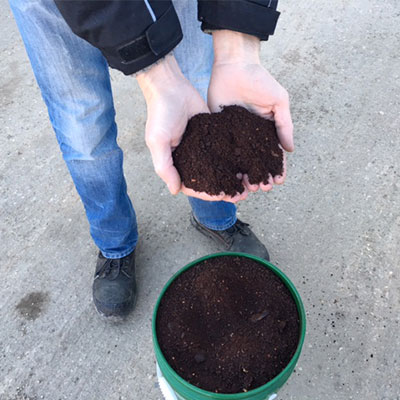 The food dehydrator in question, an Ecovim Oasis, is a large, metallic machine that looks similar to an industrial-scale oven. Once food waste is fed into the device, it is heated to 80 C and crushed, sliced and mashed by a series of blades until it has transformed into a brown, dry substance that resembles hummus or coffee grounds.
The sole byproduct of the process is one gallon of water for every 10 pounds of food waste, which Marufu said will be re-routed as further nutrition for plants through watering.
"The manufacturer has told us this water is actually safe for drinking," Marufu said. "I'd rather be safe and use it for our watering needs. We have lots of plant material that needs watering across campus."
Marufu said the $76,000 spent on the dehydrator—a joint venture between Consumer Services and Facilities Management Division—will be recuperated over time through an estimated $11,440 in annual cost savings from using fewer disposal services combined with more composting benefits. He added that the full benefits of carbon dioxide and methane gas reductions have yet to be determined.
While Marquis Hall was specifically chosen as the location for the dehydrator pilot project due to its high output of food waste, Marufu said there are several other locations that could benefit from similar programs in the future.
"Louis', the Faculty Club, lower Place Riel, Arts and Science cafeteria—all those are areas where we could place a machine of that sort," he said. "But right now, we wanted to start with Marquis and see how it works before hopefully spreading to other parts of campus."
Marufu said the dehydrator is part of an overall push toward sustainability on campus, which includes recent developments such as a new STARS silver rating, the creation of the President's Sustainability Council and the signing of a memorandum of understanding with the U of S Students' Union to work together to support, promote and champion sustainability efforts at the university.
"We want to be the best we can among institutions in terms of composting and sustainable programs here on campus, and the grounds department is a big, big unit that's helping to undertake these projects," he said, adding that advances in the area can be easily seen by simply strolling through the Bowl.
"Just look at the plants we can grow in the beds in the Bowl," he said. "To see them grow without any fertilizers, and then persist way into the season, that's just phenomenal to watch."