Shop usask, an off-campus rendition of the university's bookstore, opened its doors on July 7. Located just north of campus at Preston Avenue and Attridge Drive, the new location replaces the Huskie Store in Centre Mall.
"We had never had a permanent location for our off-campus store," said Garry Drake, manager of retail services. "After being placed in every mall at one time or another, we wanted our own store to have a place to call home."
Shop usask offers a variety of U of S-branded clothing, giftware, accessories and Huskie Athletics swag, with more merchandise on the horizon.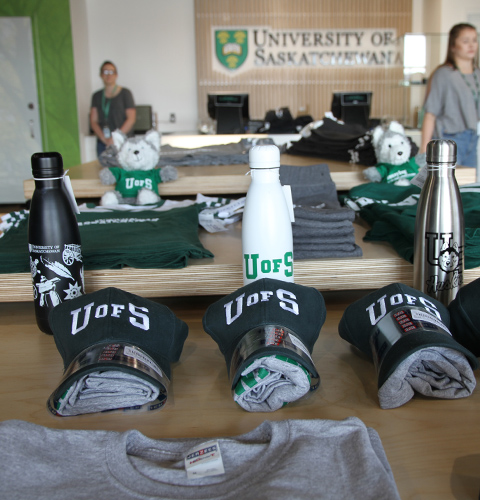 "We are continuously expanding our offerings and looking into a lot of new products," said Drake, adding that the hot ticket items so far have been kids clothing and collegiate lounge wear.
Selection aside, the location is also proving to be a draw.
"The location at Preston offers the perfect balance of being close to campus while being more convenient for the public or someone not yet familiar with the layout of campus," Drake said.
The store is part of a larger rebrand by Consumer Services to co-ordinate all the campus retail outlets, Drake explained. This includes the campus computer store in lower Place Riel, main bookstore in Marquis Hall, and outlets in arts (formerly the Tuck Shop), agriculture (formerly the North 40) and health sciences. By having all of these outlets under the Shop usask banner, Drake also hopes to engage with customers and encourage them to support their university.
"The re-brand is a natural step to ensure everyone knows all the locations—both off and on campus— are university-operated," he said. "Our goal is to ensure every customer to know that when they shop at any of our locations, they are supporting the university and its students."
The grand opening is Aug. 24.