The Nobel Prize in Chemistry, Literature, Peace, Physics, and Physiology or Medicine is awarded every year in December.
Two renowned Nobel laureates have ties to the University of Saskatchewan—both in the field of chemistry.
Born in Hamburg, Gerhard Herzberg received his bachelor's and doctoral degrees at Germany's Darmstadt University of Technology, where he later served as a professor of molecular physics. He fled Nazi Germany in 1935 and, on the advice of John Spinks, a visiting scientist from Saskatoon, emigrated to Canada. He spent a decade at the U of S before moving to the University of Chicago, but ultimately returned to Canada in 1948 to head the physics division of the National Research Council.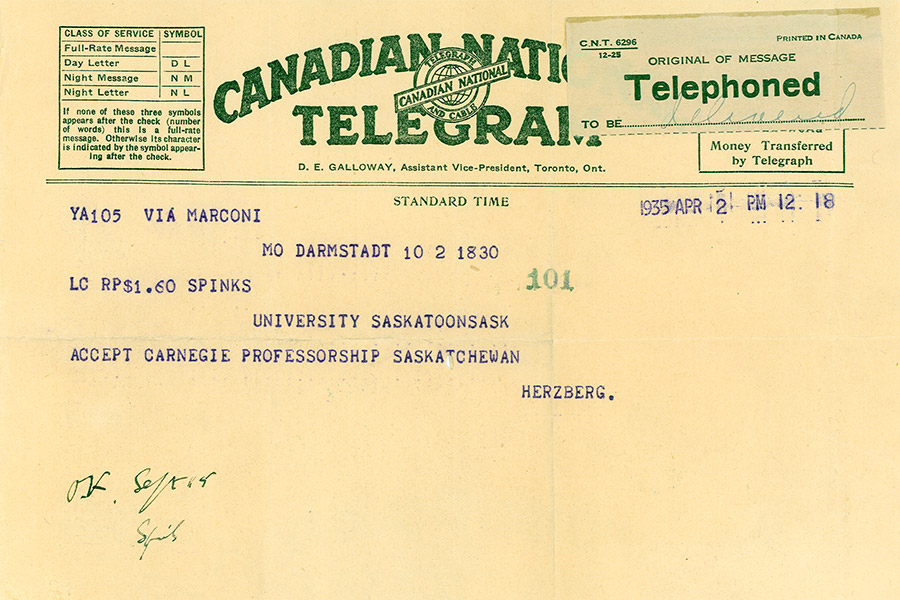 In 1971, he was awarded the Nobel Prize "for his contributions to the knowledge of electronic structure and geometry of molecules, particularly free radicals." He acknowledged the U of S in his acceptance speech, adding that he "had the full and understanding support of successive presidents and of the faculty of the university who, under very stringent conditions, did their utmost to make it possible for me to proceed with my scientific work."
Hailing from the small farming town of Neudorf, Sask., Henry Taube received his bachelor's and master's degrees from the U of S. His master's supervisor was none other than Spinks, and he studied alongside Herzberg as well. Following completion of his PhD at the University of California (Berkeley), he remained on campus for a short time before moving on to Cornell, the University of Chicago and Stanford.
In 1983—just 12 years after his former collaborator Herzberg was honoured—Taube won the Nobel Prize "for his studies of the mechanisms of electron transfer, reactions particularly of metal complexes." He was the first Canadian-born chemist to win the Nobel prize, and is the only Saskatchewanian to win the prestigious award. 

With files from University Archives and Special Collections.