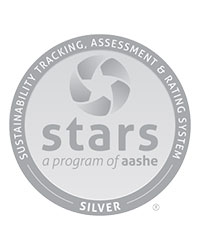 This month, that goal became a reality, three years ahead of schedule. "Now that we're silver, we're being recognized for the things that we're doing," said Matt Wolsfeld, community engagement co-ordinator with the U of S Office of Sustainability. "It's easier to talk about sustainability, it's easier to talk about the successes we've had and to talk about keeping that momentum going."
STARS, created by the Association for the Advancement of Sustainability in Higher Education, is a transparent, self-reporting framework used by more than 700 universities and colleges. The program measures performance in sustainability and awards rankings, including bronze, silver, gold and platinum, based on performance metrics.
The U of S made it first STARS submission in 2011, with subsequent submissions made every two years. In many cases, data from 2004 is used as the baseline for charting progress.
President Peter Stoicheff has made increasing sustainability on campus a priority since he assumed the role in 2015. Last year, he signed a memorandum of understanding with the U of S Students' Union to work together on the objective and created the President's Sustainability Council, chaired by School of Environment and Sustainability (SENS) Executive Director Toddi Steelman.
"The U of S is three years ahead of schedule in hitting its silver rating, which is great news," Steelman said. "We are also only about 10 points away from achieving gold, which is a realistic goal for us to achieve in the next three years. Importantly, out of the U15 (universities), only eight actively participate in the STARS program, so we are among the elite who really invest in this kind of public reporting and commitment to achieving sustainability outcomes."
The STARS silver ranking comes as a result of the Office of Sustainability, including Wolsfeld and sustainability co-ordinator Margret Asmuss, collecting and submitting data on hundreds of sustainability indicators, ranging from energy use to student involvement to university-led research.
Asmuss said several operational initiatives helped the university gain points toward STARS silver, including lighting efficiency upgrades in several buildings, toilet retrofits that save 30,000 litres of water every day in the Education Building alone, as well as the campus sustainability revolving fund, which reinvests savings accrued from environmentally-friendly endeavours to support future initiatives.
The work of the Sustainability Education Research Institute, faculty and SENS—which will be hosting its 10th anniversary this March—focusing on environmental issues has also had an enormous effect on the U of S rating.
Asmuss highlighted the university's partnerships with First Nations, increased Aboriginal enrolment and recent developments such as the opening of the Gordon Oakes Red Bear Student Centre as areas that some may be surprised to learn have had their own effect on the STARS ranking.
"Sustainability, at its core, isn't just about the environment. There are three legs to the stool: environment, society, and economy, and those three have to be working together," she said. "Our university's commitment to indigenization speaks to the social and cultural aspects of sustainability."
The improved ranking can in part be attributed to the Office of Sustainability's improved ability to quantify efforts that were either missed or under-reported in previous STARS submissions. As an example, Asmuss pointed to a recent audit done within Consumer Services that provided more specific numbers on the amount of local food being used on campus.
"They were always making efforts to purchase local food, but we had no idea how much of it actually was," Asmuss said. "It was just an estimate. Now we actually know that it is more than we had even expected. Plus this gives us another baseline. You can't manage what you can't measure."
Both Asmuss and Wolsfeld believe that the general push toward sustainability has built momentum over time, increasing awareness, available data and interest as the message has grown and spread.
"As we've gone through the history of sustainability at the university, we've had a lot more partnerships from different departments and we've had a lot more co-operation," Wolsfeld said. "People are working with us really, really openly. We're seeing that people really want to move sustainability forward at the university. With that comes more metrics, more data, more co-operation in moving projects ahead, and all of that gets us points. So it is kind of a snowball effect."
"Sometimes even just sharing those questions for our STARS submission creates a discussion about things that could be done, but aren't being done yet," Asmuss added.