The USask Great War Commemoration Committee marked 100 years since the end of the war with the dedication of a new memorial bench located between the two original campus residences, south of the Bowl and north of the Memorial Union Building, on Thursday, Nov. 8.
"It was very gratifying to see the project come together," said committee member Patrick Hayes, of University Archives and Special Collections. "The Great War Commemoration Committee felt a permanent memorial recognizing the 100th anniversary of the end of the First World War was important. This has been a wonderful journey, from concept to design to unveiling. It is a fitting ending to the committee's four years of presentations and projects."

The bench was crafted by local artisan Ryan Watson of Rocco Masons, with the committee raising $20,000 to fund the project.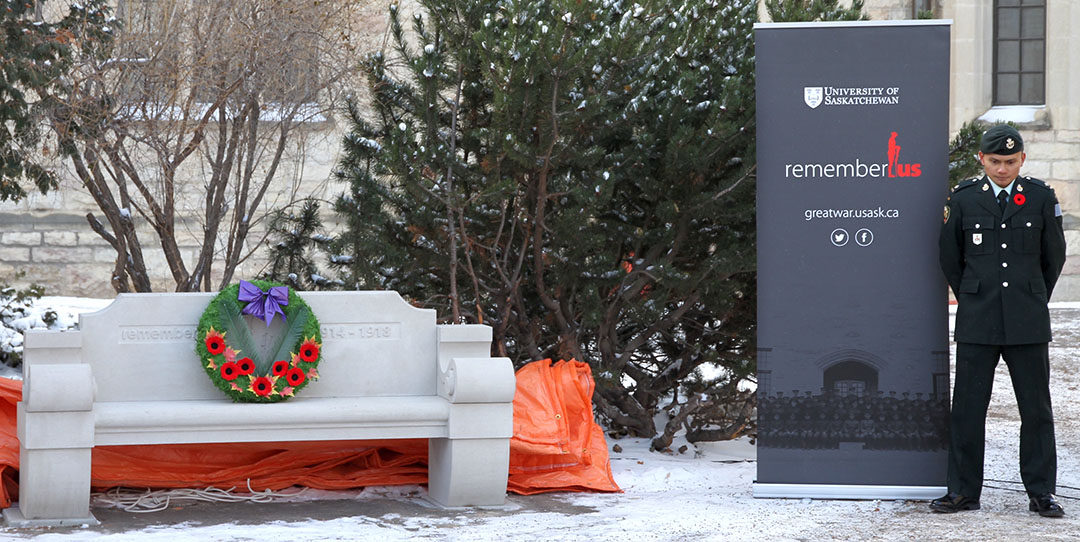 "The support for the project has been outstanding," said Hayes. "It was embraced by the whole university community – from the President's Office to the chancellor, to the University of Saskatchewan Student's Union and dozens of alumni, through small but welcome contributions. And Veterans Affairs Canada pushed us over the top a few weeks ago. Our goal was to raise $20,000 and we made it."
Of the 345 members of the campus community who served in the First World War, 69 were killed and more than 100 were wounded, with 33 individuals awarded medals of valour.

The university will also be holding its annual Remembrance Day ceremony at the Memorial Gates on Sunday, Nov. 11 at 1:30 pm.