The roots of this family tree are firmly planted in provincial agricultural history, dating back to 1926 when Clement and Blanche Kimber began ranching near the tiny village of Abbey, about an hour's drive northwest of Swift Current. They would go on to raise five children, with mother Blanche determined that all five should go on to pursue post-secondary education. Four went on to graduate from the U of S—sons Robert (1949), Stanley (1954) and David (1956) and daughter June (1967)—while daughter Bunty (1962) completed her studies in Regina to become a radiography technician.
"My dad was a rancher through and through, so he wouldn't have minded if we had all stayed there, but my mother wanted us to go to school for sure," said David Kimber, who graduated from the agriculture program at the U of S and returned home to run the farm near Abbey and raise his own family. "Everybody came from a different aspect of agriculture, so I enjoyed my time at the university tremendously. I made a lot of friends and contacts that you keep for life."
Among those contacts for life, of course, was his wife Marlene, whom he met while he was attending the U of S and she was studying nursing at Saskatoon City Hospital.
"Yes, that was big!" he said, with a chuckle.
Now celebrating 59 years of marriage, David and Marlene are one of the many chapters in the Kimber family saga—part success story, part love story—that features a family filled with 23 U of S graduates and two current students on campus, and includes three couples who met while studying at the university and went on to start families of their own.
David and Marlene's three sons Kevin, Perry and Allan also grew up on the family farm and went on to graduate from the U of S; Kevin in engineering (1982), Perry with arts (1983) and physical therapy degrees (1988), and Allan from commerce (1987).
Interestingly, Kevin met his wife Valerie (nursing 1983) at the U of S before they embarked on successful careers that took them around the world, while Perry also met his wife Katherine (physical therapy 1985, master's in physical education 1993) on campus. Perry, who spent a year playing football for the Huskies, went on to teach classes at the U of S and now runs a successful physiotherapy company with his wife in Saskatoon.
For David and Marlene, watching each of their sons cross the stage at TCU Place to be awarded their degrees in U of S convocation ceremonies were memorable moments that they will never forget.
"Yes, we were there to watch and it was a very good feeling," said David. "It was the ultimate goal of ours, all our lives, to have our children get a good education. We just encouraged them and they worked hard and I think they got good schooling there. So, we're pretty proud."
David's youngest son Allan also went on to watch his own daughters follow in his footsteps and graduate from the U of S; Christie in medicine (2015) and Alyssa in engineering (2015).
"I certainly left it completely up to them, but I was happy for sure that they had chosen the U of S because I knew it was a great school," said Allan, now a successful certified financial planner in Regina and Weyburn. "I would have been proud to see them graduate wherever they chose, but I think it was extra special because it was the U of S. It's just always been a part of us and I think everyone feels that they have received an excellent education there."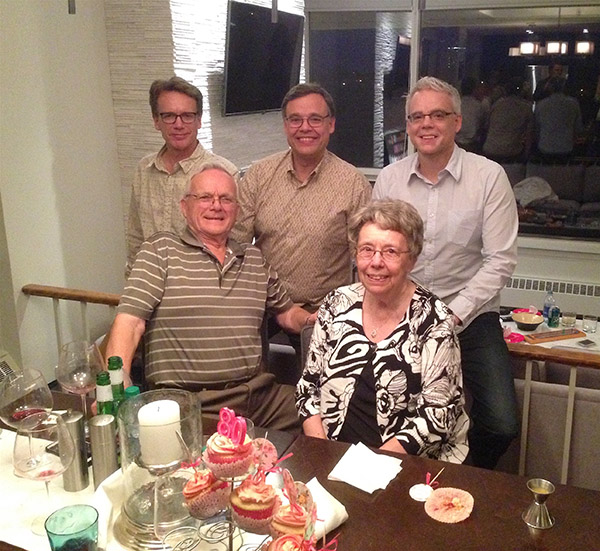 Fast forward to the picturesque scene of getting married on a mountaintop, where Allan's daughter Christie Kimber exchanged vows with Zeke Steve on June 16. Christie, a former Huskies women's volleyball player, and Zeke both grew up in southeastern Saskatchewan—Christie in Weyburn and Zeke in nearby Milestone—and had plenty of mutual childhood friends, but somehow had never crossed paths prior to coming to campus.
"We always joke about how lucky it was because we have lots of mutual friends, but we had never met and how that is so lucky because we probably wouldn't have ended up together!" said Christie, with a laugh. "So, it was pretty amazing that our paths happened to cross in university. It's pretty special."
Now doctors working together in B.C., Christie and Zeke met in medical school in 2011, graduated from the U of S together in 2015, were engaged in 2017 and married in 2018. While following in the family footsteps wasn't a key consideration for coming to the U of S, looking back Christie is happy that she made that decision.
"For me at the time, I didn't really think about going there just because the rest of the family went there … but I could tell that the legacy was important to my dad," said Christie. "So, to be able to go there, both for volleyball and for school, worked out really well.
"I really appreciate all the people that I met at the U of S, and I got to play the sport that I love at the university level, so I was pretty excited to do that. And obviously I met Zeke there, so that was pretty amazing."
Christie and Zeke said their time in the College of Medicine prepared them well to be practising physicians, particularly the special emphasis on rural medicine and the numerous opportunities to gain hands-on-experience as clinicians.
"I wanted to go to medical school and the U of S was the best option for me, and the rural-focused training was very important," said Zeke, whose sister Anna also graduated from medical school in the same class.
While Christie and Zeke are the latest members of the family to tie the knot, Callan is the most recent member of the Kimber family tree to graduate and join the ranks of more than 150,000 U of S alumni world-wide. The son of Perry and Katherine and former president of the Edwards Business Students' Society, Callan earned his commerce degree in 2016, while his younger siblings Jadyn and Sophia are now carrying on the U of S family tradition. Sophia is entering her first year of university this fall, while Jadyn is moving from physics to computer science for his fourth year at the U of S and is happy to keep the Kimber family connection going.
"It feels like I am sort of holding up the family tradition," said Jadyn. "It feels important and it's cool to be on the same campus that pretty much my entire family has been on. And probably my favourite part of learning at the University of Saskatchewan is that I have felt so involved on campus in general, but especially with the astronomy department. It's been a great experience."  
Kimber connections to U of S
(U of S graduates/courses in parentheses)
Clement and Blanche Kimber
Son: Robert Kimber (Agriculture 1949)
Son: Stanley Kimber (Agriculture 1954)
Son: David Kimber (Agriculture 1956)
Daughter: June (Kimber) Gale (Education 1967)
Daughter: Bunty (Kimber) Manz
David Kimber (Agriculture 1956) and Marlene Kimber
Son: Kevin Kimber (Engineering 1982) and Valerie Kimber (Nursing 1983)
Son: Perry Kimber (Arts 1983, Physical Therapy 1988) and Katherine Daniels (Physical Therapy 1985,
Master's Physical Education 1993)
Grandson: Callan Kimber (Commerce 2016)
Grandson: Jadyn Kimber (Computer Science, entering fourth year)
Granddaughter: Sophia Kimber (Arts and Science, entering first year)
Son: Allan Kimber (Commerce 1987)
Granddaughter: Dr. Christie Kimber (Medicine 2015)
and Dr. Zeke Steve (Medicine 2015)
Granddaughter: Alyssa Kimber (Engineering 2015)
Robert Clement Kimber (Agriculture 1949) and Vivian Kimber
Daughter: Dr. Gloria Kimber-Jacklin (Veterinary Medicine 1988) and Gordon Jacklin (Agriculture 1978)
Daughter: Edith (Kimber) Halyk (Arts 1984, Nursing 1984)
Daughter: Joyce (Kimber) Parent (Education 1980, Arts 1983)
Granddaughter: Sarah (Kimber) Parent (Medicine 2010)
Granddaughter: Brigitte (Kimber) Parent (Nursing 2011)
Stanley Kimber (Agriculture 1954) and Elizabeth Kimber
Daughter: Sharon Kimber (Nursing 1998)
June (Kimber) Gale (Education 1967) and Carl Gale
Son: Gordon Gale (Arts 1977, Agriculture 1981) and Shelley Thompson (Agriculture 1981, Master's Science 1983)
Granddaughter: Elizabeth Thompson-Gale (Nursing 2014)