The new Ron and Jane Graham Sport Science and Health Centre will complement and enhance the features of the stunning new Merlis Belsher Place multi-sport complex, which will open this fall with two full-sized ice surfaces and two NBA-length basketball practice courts. For Chad London, the dean of the College of Kinesiology at the University of Saskatchewan, the addition of the new sport science and health facility will make the complex unique in the province.
"This is a dream facility that we never imagined we would have, because we are talking about a 6,000-plus square-foot facility where we are going to be able to do research and practice in a shared space," said London. "And that is going to make a real difference for athletes of all levels, from Huskie student-athletes to athletes young and old in the community. I see it becoming the hub for sport science and testing and assessment of athletes to give them all the tools that they need to achieve."
The new facility will offer a full spectrum of support services to enhance performance, conditioning and recovery for elite athletes, from Huskie Athletics to provincial and national team players in the community. The facility will also be a hub for leading-edge research in injury prevention and performance, as well as conditioning and nutrition, featuring the latest equipment and technology for testing and treatment.
"It is going to have a major impact for Huskie student-athletes because it puts researchers and our Huskie health practitioners into the same space to work side-by-side," said London. "So, an athlete can move seamlessly from a testing and assessment phase to a conditioning, treatment, recovery and rehabilitation phase. It becomes a one-stop shop of the best leading-edge sports science for athletes.
"A facility like this doesn't exist in the province, so it is also going to attract athletes from across Saskatchewan who compete nationally or internationally. They will now be able to stay here at home and have access to the right facility with the right professionals to help them achieve. This will be another door open to the community for the U of S."
Construction of the state-of-the-art facility was made possible by a donation of $2,068,000 from long-time donors and U of S alumni Ron and Jane Graham. The Grahams have provided almost $22 million in funding over the years, making them the largest cumulative alumni donors in the history of the university.
"I think Ron and Jane saw this as another great opportunity to make a difference, and when we started talking to them about what this facility could do, they were behind the project 100 per cent," said London. "They want to help our athletes receive the best possible training and support. And they really appreciate the community involvement and the research aspect of this new facility. And without their visionary support, we couldn't have made this happen."
The Grahams previously donated $4 million to build the two new basketball practice facilities added to Merlis Belsher Place and were thrilled to further enhance the complex with the new sport science and health facility.
"Jane and I are proud to help establish this brand-new sport science and health centre," said Ron Graham. "The collaborative work that will help researchers gain more insight is something we're thrilled to support."
"Through our support of Huskie athletes through the years, we understand the importance of long-term health and quick return-to-play for our student-athletes," added Jane Graham. "We're excited about the potential breakthroughs that can be uncovered by the research that will be done at this new facility."
"We are immensely grateful for Ron and Jane Graham's enthusiasm for student learning, well-being and athletics at the U of S," said Peter Stoicheff, U of S president and vice-chancellor. "The Grahams' history of generosity and support for a variety of significant initiatives campus-wide is unparalleled. Our university is fortunate to have Ron and Jane continuously champion projects that make a lasting difference for their alma mater and the community."
Among the features of the new facility will be dedicated space to diagnose, treat and research concussion and related brain injuries.
"For proper concussion testing, you need a space with the right kind of lighting, the right kind of sound dampening and with the right type of practitioners to be able to do those types of assessments," said London. "Concussions and head trauma is really becoming an epidemic in sport these days, so the ability to better assess and treat athletes is extremely important. I can see us developing partnerships in the area of concussions with researchers from across the province, nationally and beyond."
The new facility—to be completed in early 2019—will also house an engineering impact area to test helmets and other equipment to better protect athletes in contact sports.
"We will be collaborating with researchers in engineering to look at sports impact testing and equipment impact testing, studying helmets in particular," said London. "In the drop zone section of the facility, we will be able to test new helmets for sports impact to engineer better-designed equipment to help prevent concussions. So, we will be combining the equipment side of it and the human-physical side of it, in this new facility."
The addition of the sport science facility in Merlis Belsher Place will further enhance the university's ability to host major events, from the annual Saskatchewan Roughriders training camp to provincial and national team sessions and competitions.
"I can see us hosting national team training camps in a variety of sports," said London. "When they host those camps, they want a training facility, but they also want a recovery facility and they also want a testing facility. Here it will all be in one spot."
While many of the services will be geared to elite-level athletes, London said the facility will also have a strong connection to the community, through injury rehabilitation to health and nutrition research.
"Merlis and the Grahams felt it was very important to have that community component and that was important to the university as well, so Merlis Belsher Place is built in a way that the community is invited in," said London. "And I see this sport science and health centre operating along the same lines, where community members will be able to access it as teams or individuals. So, we're very excited about its potential and its impact in the community."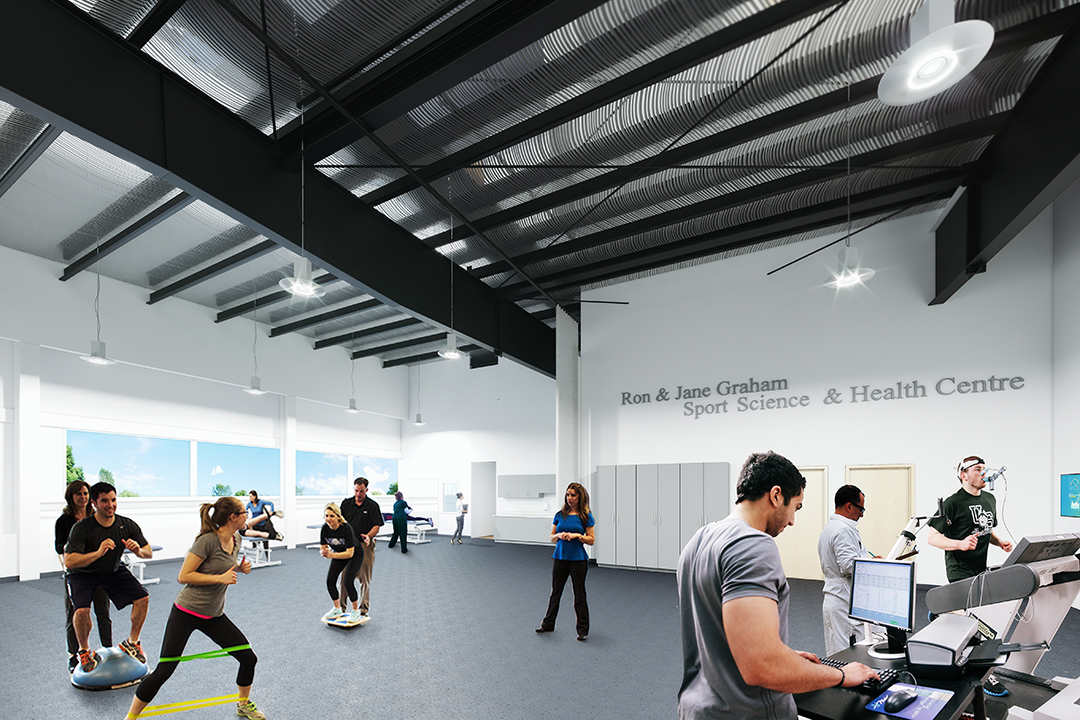 Game changing donations
Ron and Jane Graham continue to be the largest cumulative donors in the history of the U of S, with their most recent donation to establish the Ron and Jane Graham Sport Science and Health Centre bringing their total giving to almost $22 million. 
The Grahams' impact on student success can be found campus-wide through a variety of initiatives. Here are some of the projects and initiatives at the U of S made possible by the Grahams:
• In 2016, the Grahams committed $4 million to develop Merlis Belsher Place into a multi-sport complex, complete with two practice gymnasiums, dressing rooms and team rooms for Huskie basketball. 
• In 2006, Jane and Ron supported a new clubhouse for the Huskies football team at Griffiths Stadium, featuring lockers, meeting and office rooms, laundry facilities and ticket windows. In 2010, they donated another $3 million to expand the Graham Huskie Clubhouse to help provide more meeting rooms and a workout facility for the Huskie football team.
• Recognized as one of their most proud contributions, the Grahams established the Ron and Jane Graham Centre for the Study of Communication in the College of Engineering in 2007, with a donation of $3.27 million. The centre was made a school in 2013, and today it focuses on preparing undergraduate students to present themselves as professional communicators and provides opportunities for graduate study.
• Numerous student awards have been founded and funded by the Grahams, including $246,000 for the Ron and Jane Graham Undergraduate Student Awards, more than $130,000 for the Ron and Jane Graham Engineering Virtual Reality Teaching and Cloud-based Learning project, and they continuously support a variety of Huskie Athletics student awards.