One Day for Students is an annual U of S event celebrating all types of philanthropy: donating time, treasure and talent.
"At the University of Saskatchewan, we really understand the root word for philanthropy, which is giving toward the welfare of others, or helping other people succeed in what they're doing," said Debra Pozega Osburn, vice-president of University Relations. "That's the spirit of One Day for Students at our university."
As part of this year's festivities, students, alumni, staff and faculty are encouraged to take part in an art installation, dubbed "the sticky note project" to share encouraging words that answer the important question "How do you give?" The idea is that people feel motivated to give back in a variety of ways, whether that be financial, through volunteerism, or by donating services.
For those who wish to make a financial contribution, the day will raise funds for the Nasser Family Emergency Student Trust—a fund dedicated to helping students who may need a hand in a time of need.
"The Nasser fund is for urgent or emergency needs for students," said Pozega Osburn. "It can be a family emergency, or it could be that your housing situation changes suddenly. These things happen to all of us, but when you're a student, and you're moving through your educational process, they can be devastating if they're not addressed properly. Because these emergencies come out of nowhere, it's really important that fund remains at a level where it can be accessed at a moment's notice."
The emergency fund was established by Professor Emeritus Kay Nasser and his wife Dora, who over the past 50 years have supported more than 500 students through scholarships, or by providing funds for students in emergency situations. On March 14, the Nassers will be matching all funds raised on One Day for Students.
Nasser said it was his own financial struggle to attain an education that inspired him to give back and help students along their educational journey. When he was young, his mother sold her wedding necklace to help pay for his tuition. 
"This was my case, there may be others who have different situations where they really need money to go to either high school or university," Nasser said. "It is very important to me that if I can help, I would like to help anyone who is in that position."
As Nasser continued his own education, he relied on the support of scholarships to get him through. Now that he's in a position to give back, he hopes students who receive scholarships will also someday return the favour and help another student who may be struggling.
"Of course, I hope my gift inspires others to give. All the work I do in my giving is simply trying to let people know that if you give, hopefully somebody else learns from you and they start doing the same," Nasser said.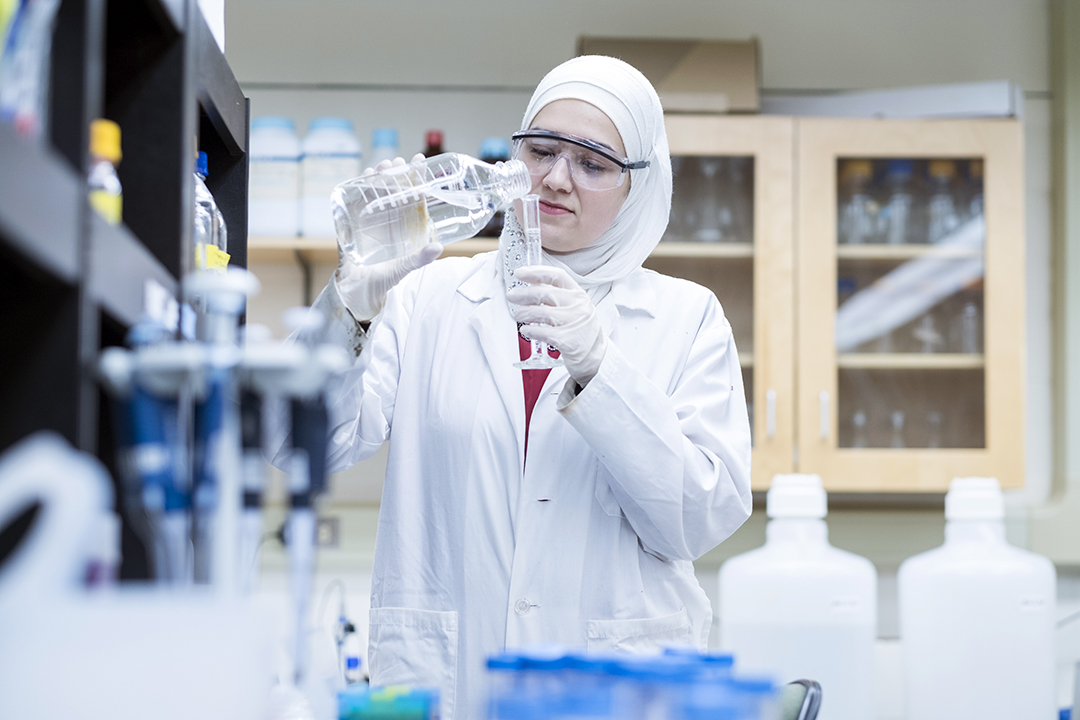 There are students at the U of S who are already following Nasser's example. Graduate student Naheda Sahtout was inspired to create an award for other graduate students after receiving awards herself during her time in university. She wanted to pay it forward and let students know that there are people standing behind them and supporting them on their educational journey. 
"The awards I have received throughout my education were a morale booster—it meant that someone else values my work," said Sahtout, who is currently completing her PhD in the Department of Chemistry.
"I was inspired to create an award for graduate students with disabilities to encourage them, and remind them that they shouldn't feel that their disability is a barrier to pursuing higher education. I would hope they would feel proud of who they are and be willing to pursue whatever they want to accomplish in life," said Sahtout.
Visit 
give.usask.ca/oneday
 to read about other U of S students who are giving back, as well as learn how you can get involved with One Day for Students on March 14.