Skaters hit the ice for the first time on Jan. 8 at the new outdoor rink in the Bowl, an initiative spearheaded by USSU vice-president of student affairs Crystal Lau and made possible by a $10,000 grant from the U of S President's Office. The outdoor rink is free to use for individuals on campus and for community members as well.
"I am beyond excited to see the rink in the Bowl finally being used by students, staff, parents and kids from the community," said Lau, who began lobbying and planning for the project last summer.
"The Bowl is promoted so much in the summertime, and now it can have the same liveliness in the winter. With the rink open to the public, we are inviting people to visit campus, and add another attraction to our Saskatoon community."
In addition to the President's Office, the project is supported by the Services division of the Finance and Resources portfolio, Alumni Relations, and Campus Rec, which provides free skates to borrow—courtesy of the Language Centre—for students as well as faculty and staff who have a Fit Centre access card. In addition, Culinary Services is providing free hot chocolate to skaters on Monday afternoons. The grounds department took care of the setup of the rink and helps out with snow removal and surface flooding, while USSU staff assist with day-to-day maintenance.
"I am very grateful for the president's office and others for believing in me to work on such a massive project, and without their financial support, this project would have been much more difficult to make a reality," said Lau.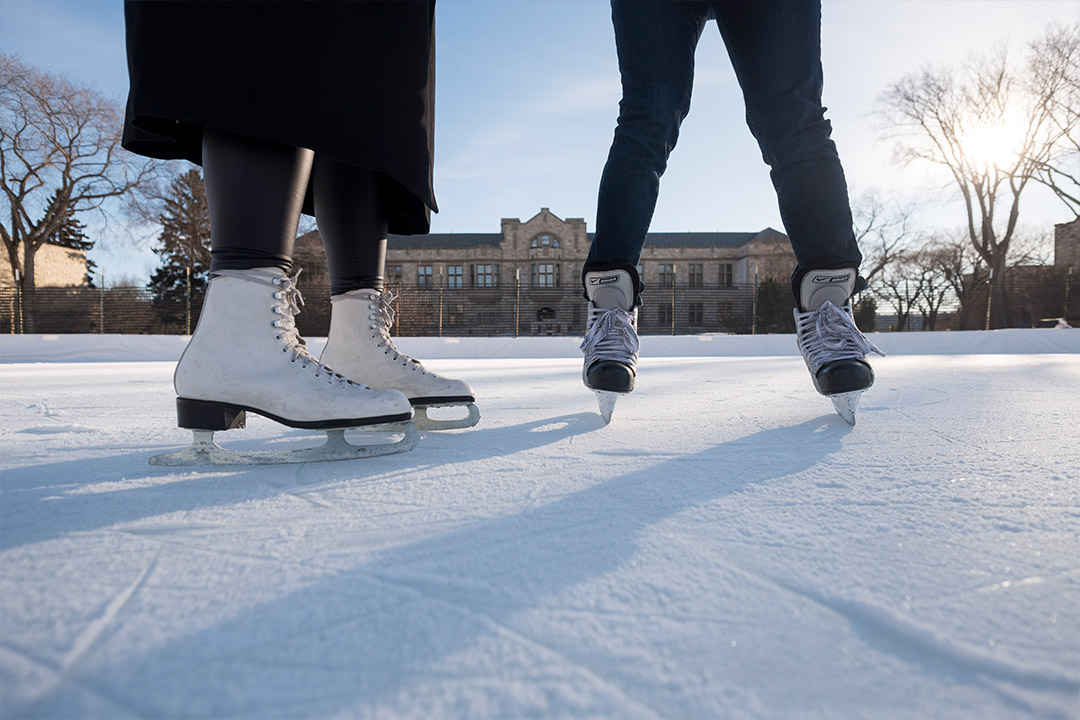 Wade Epp, associate vice-president, services—which oversees Facilities Operations and Maintenance as well as Culinary Services—said the university was happy to support this initiative.
"We are excited to have such a great place for everyone to experience campus and get some fresh air and exercise," said Epp. "The USSU executive put a lot of hard work into this wellness initiative and we applaud them on a job well done."
Lights have been set up to illuminate the ice surface in the evenings to ensure safety, while hockey is not allowed on the rink.
Lausaidthe USSU hopes to make the rink an annual winter feature of the Bowl, enriching the student experience and becoming a destination for individuals from around campus and from across the city.
"An outdoor rink can encourage outdoor physical activities and students can come skate in-between classes to de-stress, which could help improve mental health and battle the winter blues," said Lau. "My hope is students and staff will be able to connect and create a sense of community while enjoying the rink."