In all, 345 U of S students, staff and faculty served in the Great War from 1914-1918, with Caldwell one of the 69 who gave their lives and whose names are engraved and forever immortalized in the Memorial Gates monument on campus.
On November 11, relatives of Caldwell will be at the Memorial Gates to honour his sacrifice during the university's annual Remembrance Day ceremony, on the 100th anniversary of the end of the First World War.
For Caldwell's great-nephew David Henley and his wife Nadine Sandercock, it was important to travel all the way from Ottawa for this historic Remembrance Day service, which has been held at the Memorial Gates every year since being completed in 1928 to honour the members of the U of S who made the ultimate sacrifice a century ago.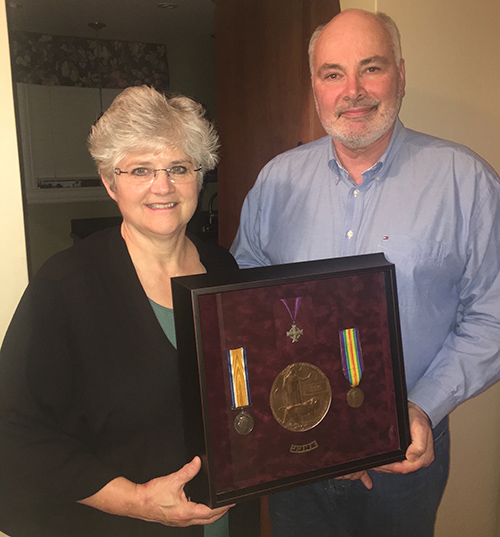 "We've been fortunate enough to be to Vimy Ridge to visit his gravesite and another great-uncle of mine who was from Manitoba and was also killed at Vimy. So, it will be quite something to be there (at the Memorial Gates) on this occasion," said Henley, who will be invited to lay a wreath at the Memorial Gates during the service. "I think it will be pretty special. And it's not just my great-uncle, but the more than 60,000 other Canadians who gave their lives. So, in that sense, it's very moving and it's quite gratifying that the university is still honouring them to this day."
Caldwell grew up in Yorkton and came to the U of S in 1912 to study agriculture, before enlisting along with many of his schoolmates in 1915. He rose to the rank of corporal a month before his unit fought in the historic Battle of Vimy Ridge in France from April 9-12, 1917. Serving in the Princess Patricia's Canadian Light Infantry, Caldwell was a member of the Saskatchewan-led 5th Battalion that was in the thick of the battle, with the two forward companies losing 200 of their 300 men in the first 40 minutes alone.
"Interestingly, his tombstone at Vimy Ridge says he died April 9-10, 1917, so nobody really knows precisely which day," said Henley. "We were lucky enough to be there at Vimy Ridge in November of 2016 when they were commemorating 100 years since the First World War. So, it was important for us to be at Vimy then, and it's important for us to be in Saskatoon now."
Henley, who has kept his great-uncle's medals and insignias to this day, is a graduate of the University of Regina, while his wife studied law at the U of S. For Sandercock, it is an honour to return to her alma mater for this historic service and to pay tribute to all who have served our country for more than a century.
"These were young men and women who had the potential to live a long life," she said. "Instead they left Canada to respond to the call. It is not a matter of pride in remembering their actions as much as it is that we have the responsibility to remember them for when they walked amongst us. It reminds us of our duty to care for the men and women today who give of their lives and health to serve us in the name of Canada.
"So, we are both proud to be part of this act of remembrance on this historic occasion. And it's important that this tradition has continued at the U of S for the past 90 years."