From the opening of Merlis Belsher Place to the Holiday Inn Express/Staybridge Suites hotel, as well as new commercial expansion at Preston Crossing, these developments are generating revenue from lease agreements that feed further progress, including the expansion of College Quarter and funding student scholarships.
Since its opening in 2004, Preston Crossing has generated more than $18-million in lease agreement revenue that has gone towards scholarships, bursaries and other student support initiatives.
"Preston Crossing was a development created to generate revenue for the campus," said Judith Yungwirth, director of infrastructure, planning and land development at USask. "In the last year, it's generated almost $2-million for student scholarships."
In 2017, Preston Crossing welcomed 15 new tenants to Preston West, the fifth and final phase of the development. It is also home to the rebranded university merchandise and apparel store, Shop USask.
"One of the goals of Preston Crossing was to attract new retailers to the city, due to the location," she said. "These are stores that there are only one of in the city—Cabela's, [Party City, Pier 1, etc.]. Preston Crossing offers a variety of services and lots of retailers employ students as well."
While Preston Crossing supports students in monetary ways, other lease agreements generate revenue that impact the amenities and future development of the campus.
The College Quarter Master Plan, which was created in 2009, provides a framework for the expansion of the university's College Quarter land, a 59-hectare plot located south of the main campus. Yungwirth said development on this land is centered around fostering community.
"We started working on a master plan for College Quarter in 2006 ... because we needed new residences for undergraduate and graduate [students]," Yungwirth said. "College Quarter is about creating a community that's an extension of our main campus, which links to the neighbouring community. It serves the mission of the university directly [by providing] services and a wide range of amenities."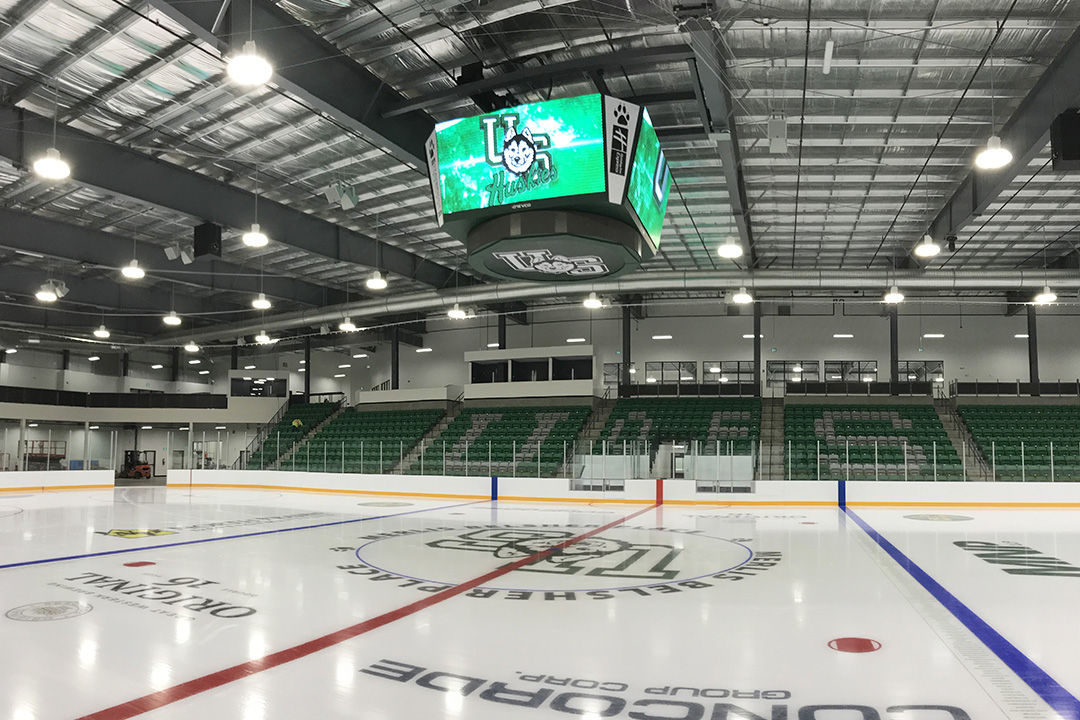 One such amenity is the Holiday Inn Express/Staybridge Suites hotel, which opened in 2018 and features two hotels in one building: Holiday Inn Express for short-term stay; and Staybridge Suites for long-term accommodation. With these options, visiting professors and researchers, as well as sports teams and family members, can stay right on campus. The hotel complex also has the capacity to host conferences on campus.
Yungwirth said the revenue generated from the hotel's long-term lease will fund future infrastructure projects.
"The lease proceeds go to further development in College Quarter, including amenities for students, park pathways and other outdoor activity areas," Yungwirth said. "We leveraged some revenue to cover a portion of the required changes needed to allow Merlis Belsher Place to open, like new pathways and improvements to the road network. The whole concept of College Quarter is to create an attractive community, and we leverage the money from one development to work on the next phase."
In October 2018, Merlis Belsher Place opened its doors, named after USask alumnus Merlis Belsher, who donated $12.25 million to the Home Ice Campaign to replace Rutherford Rink. The $51 million Merlis Belsher Place multi-sport complex operates on a model in which its revenue goes back into the operations and maintenance of the facility.
Consistent with the vision for College Quarter, the complex is a community facility as well as providing a new home for Huskie Athletics. Beginning in spring 2019, USask convocation ceremonies will also be held there, bringing convocation back to campus for the first time since 1968. Merlis Belsher Place will also feature the soon-to-be-completed Ron and Jane Graham Sport Science and Health Centre, serving as a hub for research into injury prevention and performance, and providing support services for athletes.
As for future developments, Yungwirth said nothing has been confirmed yet, but the university is actively looking at the next move for College Quarter.
"We're still having discussions with the city about having a fire hall somewhere on university land, and there's been quite a bit of interest expressed in having a restaurant close by, but nothing's been confirmed," she said. "It's been exciting to see that there's external investment, with the hotel and Merlis Belsher Place. It's not only university money that's going into creating amenities that benefit the community. That was our vision and that's how it's unfolding."