USask President Peter Stoicheff is pleased with the move to the university's new facility.
"Seeing convocation come back to campus after many decades is very exciting indeed," said Stoicheff. "It conjures images from the past of graduands lining up around the Bowl to enter Convocation Hall, but adds our contemporary reality of many thousands of students graduating across eight ceremonies and the need for a venue that can accommodate these numbers.
"With the return to campus in Merlis Belsher Place we reacquaint families and friends and supporters with the unique beauty of our buildings and grounds, and reconnect graduands and alumni with their colleges and schools for events and celebrations. The new location also gives us the opportunity to make changes to the convocation ceremonies themselves that all will appreciate."
The opening of Merlis Belsher Place—a 120,000-square foot multi-sport complex featuring twin ice rinks and dual basketball courts—made the move possible, providing more space than the 104,000-square foot, 2,000-seat TCU Place. The university's new facility can accommodate more guests, with 2,700 seats in the main arena and capacity for up to 3,700 spectators with the addition of floor seating, and offers a larger staging area for graduates, making it well-suited for convocation.
"We're very excited about the decision to bring it back to campus and we're excited about showcasing Merlis Belsher Place, which we had a little involvement in the design, with convocation in mind," said University Registrar Russ Isinger, who oversees convocation preparations.
"One of the great benefits of Merlis Belsher Place is it seats a lot more people than TCU Place. As more and more students attended convocation over the years, we had to limit tickets for students at TCU to three or four per ceremony, but we won't have as much of a problem with that at Merlis Belsher Place. So, this will be a great opportunity for students to celebrate with more friends and family."
In addition to increased seating for guests and a larger assembly area for graduates, the new facility offers video capability on the centre score clock, close proximity to staff offices and parking, as well as a hotel right on campus for convocation guests.
Isinger said the new convocation location is also a chance to bring the community to campus and alumni back to USask to share in the week-long celebrations.
"It presents us with a lot of exciting opportunities to have a convocation week full of activities, not just the ceremonies, but to have the grads and alumni on campus and to have events in the colleges and elsewhere on campus," said Isinger.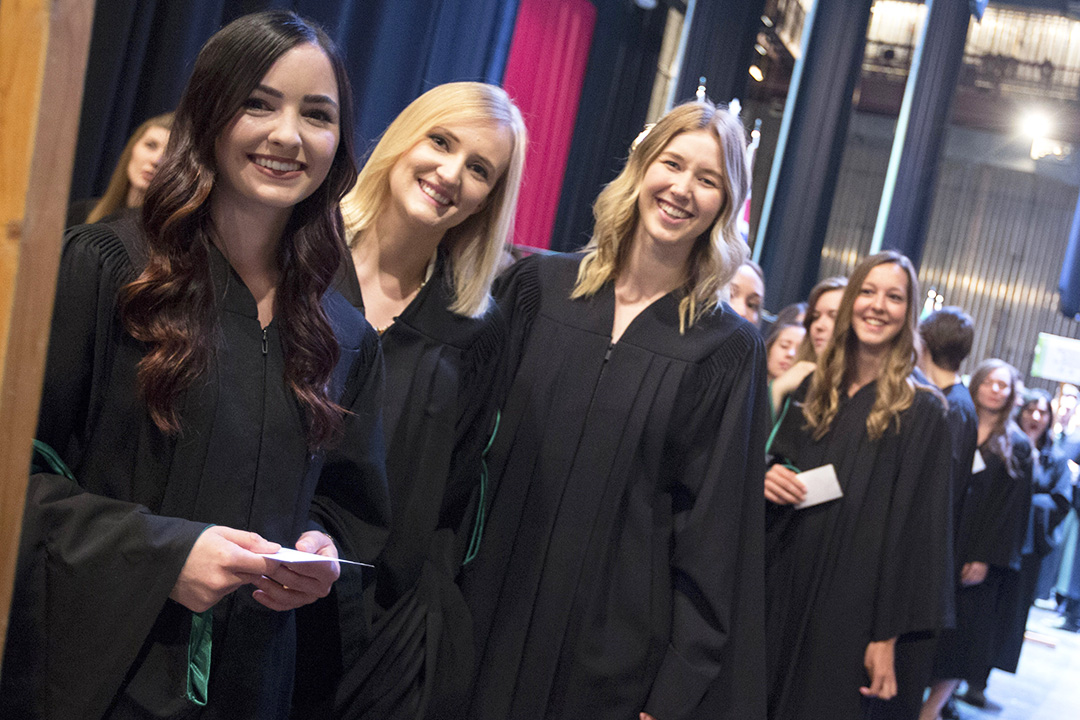 Along with the new location, the organizing committee is endeavouring to shorten the length of ceremonies by moving some award presentations to a separate event and by trying to limit the length of speeches.
"The ceremonies were getting quite long, so we did have a mandate to see how we could shorten them and bring the focus back to the students themselves, since it is their day," said Isinger. "So, we are moving some of the awards out of the ceremonies and looking at how speeches are delivered. I think those will be good changes."
However, like any major production with multiple moving parts, there are logistical challenges to moving to a new location. While Isinger feels the organizing committee is fully prepared for the changes, there will be a few anxious moments until the first ceremony is completed.
"I think we are right on track, but we are going to be nervous until it's over and we have gone through it once and have seen it work in the new facility," said Isinger, who has been involved in planning 121 convocation ceremonies over his 16 years in the Teaching, Learning and Student Experience portfolio.
"We have 50 years of experience moving people around the stage at TCU Place, so we have to conceptualize how that will now work inside the new building. But overall, I think we feel pretty good about our planning and preparation."