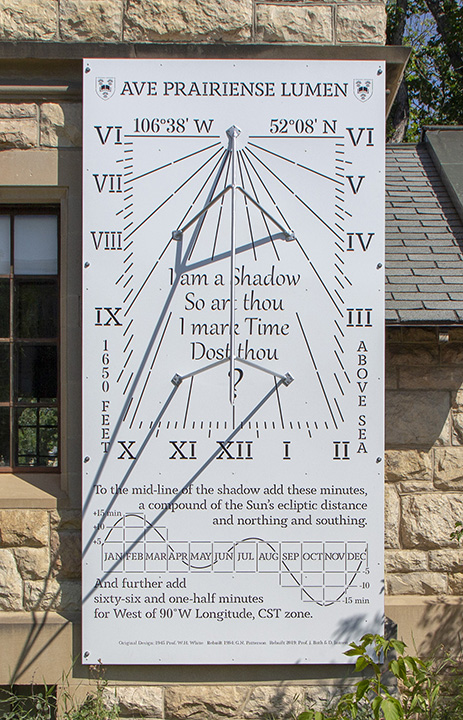 True to the motto inscribed on its face, that one-of-a-kind sundial was lost to time. It weathered away, was rebuilt in 1984 and finally removed in the early 1990s.
In August 2019, a new 10-foot-tall sundial was installed at the observatory. The replacement is a replica of the old one and features the original gnomon, or shadow caster.
Astronomy lecturer Dr. Daryl Janzen (PhD) led the project to replace the sundial. He said he has wanted to see the instrument return since first hearing about it as a student in the early 2000s.
"A sundial is a really cool feature that draws people's attention to the movement of the Earth. And this was a really unique one that had been here for 50 years," Janzen said.
The original custom-made sundial was designed and paid for by Professor William H. White around 1945. White retired to Canada from a professorship at the University of London, coming to Saskatoon in 1942 to be near an observatory where he could pursue his astronomy hobby. He volunteered at the campus observatory for 18 years and was the first to open the facility's doors to the public.
A classical scholar as well as a physicist, White sometimes helped in the physics department by grading papers submitted by engineering students. The eccentric scientist was known for leaving students detailed comments—most written in Latin.
White's eclectic interests are reflected in the sundial's design. The inscription at the top, in what White called "good enough prairie-dog-Latin," is AVE PRAIRIENSE LUMEN. Roughly translated, it means "Hail light of the prairie." The "I am a Shadow" motto was taken from a 17th-century sundial in Scotland.
The Department of Physics and Engineering Physics funded the new sundial, which was created this summer with help from the university's Physics Machine Shop and Digital Research Centre.
"As much as possible, we tried to keep it the same as the original," said Department of Art and Art History faculty member Dr. Jon Bath (PhD), who designed the 2019 replica.
The new sundial differs from the previous versions in one key way. Instead of wood, it is made from resilient powder-coated aluminum.
"Our goal was to make something as permanent as we could," said Janzen.