USask Grounds Manager Gift Marufu presented on the university's success in using its new dehydrator to turn food and plant waste into compost that is now being applied not only in campus gardens and flower beds, but on Huskie Athletics sports fields and in the lush green grass of The Bowl.
For Marufu and his colleagues, co-hosting the Saskatchewan Sports Field Training Day with the City of Saskatoon on July 24 at USask was a chance to showcase the successful work being done behind the scenes that has helped create a proverbial picturesque post-secondary paradise on campus, enjoyed by summer camp children as well as university students and staff enjoying a lunchtime stroll or yoga in The Bowl.
"This was a really great opportunity for us," said Marufu. "We were asked to host it and people had heard about not only our beautiful campus, but about some of the sustainability measures that we are taking in terms of improving our turf and our plants around campus, so it was a no-brainer to do it."
While working towards sustainability goals and reducing the university's carbon footprint is an ongoing challenge, the success of the dehydrator—the first of its kind at a Canadian university—and the resulting compost program has been a prime example of how small steps can make a big difference, according to Marufu. Creating and using compost has not only improved grass, flowers, plants and trees across campus, but has also cut down on waste and on water and fertilizer use, resulting in tangible cost savings.
"I really think this is a huge thing and it is very successful," said Marufu. "It's not saving the world, but we are demonstrating that this is doable and sustainable."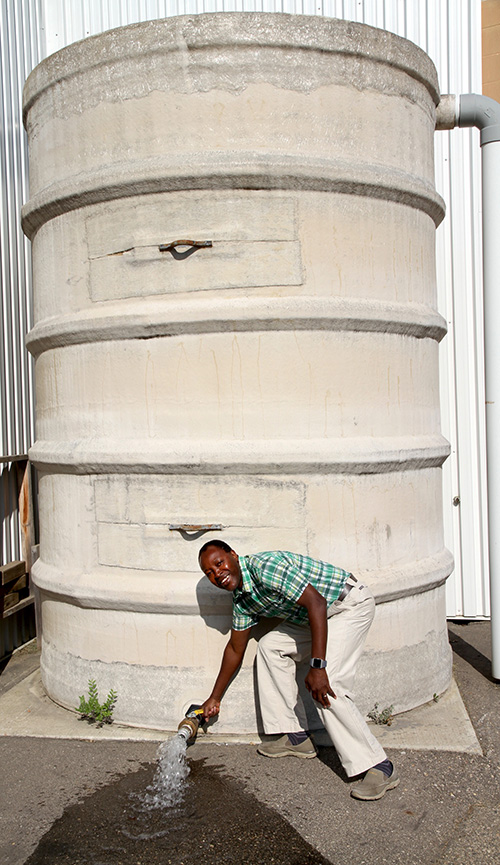 Employing the new dehydrator to create usable compost has dramatically cut waste and cut costs
for both the grounds maintenance division and for the culinary services department.
"We are dehydrating up to 650 pounds of waste per day and if you multiply that by five or six days, you have 4,000 pounds a week and over a year we are now saving close to 150,000 pounds of food waste that normally would be going to the city dump," said Marufu, who expects the cost savings alone to recoup the investment in the dehydrator in less than four years, with some of the excess compost produced also now being sold by the university to stakeholders and partners for profit.
This year for the first time, university grounds crew have also added compost to the grass growing across campus as well as on the Huskie Athletics soccer fields turf as well, with huge success.
"Traditionally, people usually apply compost on vegetables and all that, but we have gone outside the box because grass is a plant too and we are applying this directly to our turf and not using any fertilizer, and people are amazed to see the results," said Marufu.
"The compost helps not only with above-ground growth, but also helps with the growth of roots and the more vigorous the grass grows, the better they suppress weeds. So, we are seeing a huge reduction in the number of weeds on the soccer fields and in The Bowl, because the grass grows dense. And we are also seeing that we are watering less because compost has a much better water-holding capacity to keep the moisture."
Saving on water is another key part of the sustainability equation for the university, with the operations and maintenance division also employing a massive 4,500-litre rain collection barrel that helps fill the irrigation truck used to water flowers, plants and trees across campus.
"We have been using it quite steady," said Marufu. "We have our own water truck on campus here and we are tapping water from the barrel and using it regularly. I have seen it full to the point of overflowing, so it works well, especially with some of the rains recently."
From creating compost and cutting waste, water and fertilizer use, while also saving money, Marufu said he was pleased to have had the opportunity to showcase a little of USask's sustainability success to colleagues, stakeholders and fellow industry leaders from across Canada.
"This was huge for us," he said. "I could see eyes popping open. It's great to see people are interested in what we are doing here and we have been able to bring departments together and my superiors and culinary services, we have worked tremendously together to make this work. And the buy-in from both management and staff level has worked really, really well."