In front of a crowd of more than 200 attendees on Sept. 16, 2019, USask President Peter Stoicheff unveiled the campus' new exterior signage as well as renderings of what the renovated space will look like when it officially opens in fall 2020.
"The new campus in Prince Albert will enhance our ability to provide high-quality post-secondary education to Indigenous and northern communities and will serve as an anchor for the university's emerging northern strategy," said Stoicheff. "Our students, faculty and staff will benefit from an investment that promotes quality educational programs and student support services."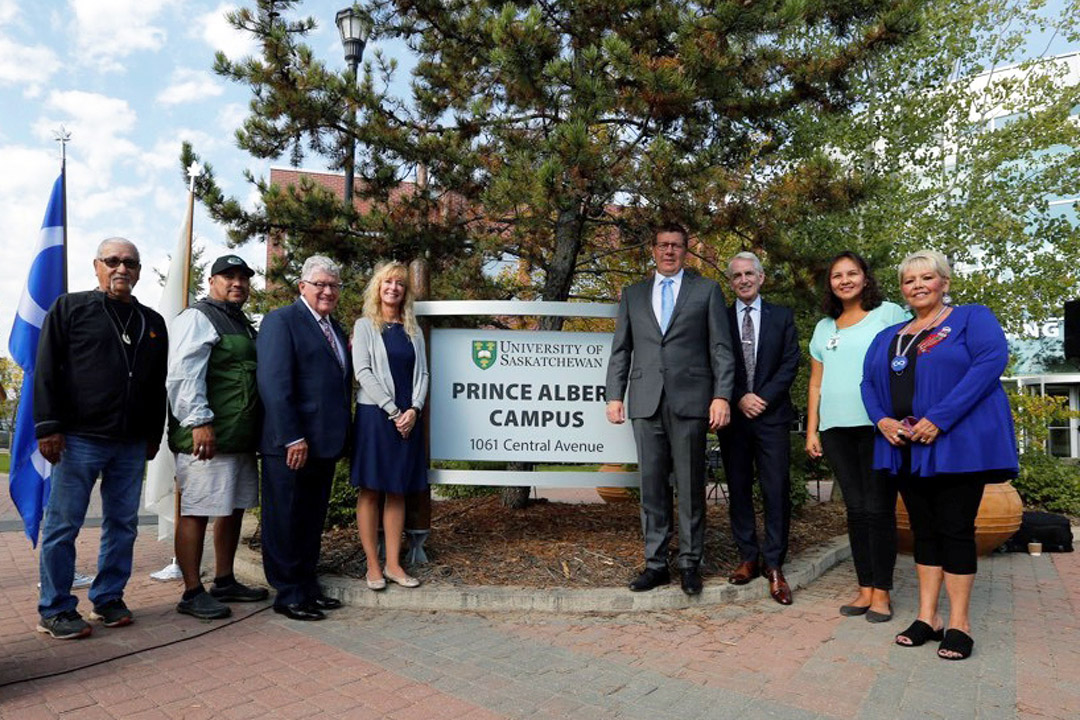 The campus, located in the heart of Prince Albert at 1061 Central Avenue and purchased in spring 2018, will be renovated over the next year to include classrooms, offices, lab facilities and common gathering areas. The two-storey, 110,000-square foot building was built in 2003, sits on 2.39 acres of land and is LEED (Leadership in Energy and Environmental Design) Gold certified. The space will bring together the university's educational programming currently taking place at sites across the city.
The campus will bring together students in the Colleges of Agriculture and Bioresources, Arts and Science, Education, Kinesiology and Nursing, and the Edwards School of Business. Additionally, students will also be able to complete one year of study towards: dentistry, medicine, nutrition, pharmacy, physical therapy and veterinary medicine.
Last week, USask's College of Dentistry received $1,050,000 from dentalcorp—the largest donation in the college's history—that will go towards to the construction and equipment costs for the dental clinic located in the future USask campus in Prince Albert.
"The clinic in Prince Albert will play a key role in improving access to oral health care services for priority populations in that community," said Dr. Amrinderbir Singh, assistant professor dental public health and director, inclusive community outreach at the College of Dentistry.
USask has a long history of being present in the north—running academic programs and conducting research with communities. The new campus, along with the development of a northern strategy, reaffirms the university's commitment to Indigenous and northern education.
"It's time to create an integrated and comprehensive strategy that builds on the strengths of the work happening now, and also to create mechanisms that make it easier for northern communities to access our university," said Stoicheff. "Together, we will collaborate on developing needed programs and areas of research that are of interest to Indigenous and northern peoples."
During the 2018/2019 academic year, more than 410 students in the colleges of arts and science, nursing, and medicine took USask classes in Prince Albert. Of those students, 55 per cent were Indigenous.