Graeme Joseph, team leader for First Nations, Métis and Inuit Student Success at the Aboriginal Students' Centre (ASC), believes the historical accuracy of the cart also adds to the possibilities of its use.

"Indigenous students have been asking for more cultural events, like they had in their own communities. Commissioning a Red River cart by George Fayant was definitely a move in the right direction and it was an important step in building cultural capacity at the University of Saskatchewan."

The Red River cart was an important tool of its time, and continues to symbolize a rich history which carries with it the fortitude and belief system of the Métis people.

"This particular Red River cart can be dismantled and easily moved, providing an opportunity to have it at ceremonies, cultural events, and used to facilitate learning," said Joseph. "It offers a great chance for sharing knowledge with the campus community."

The history of the Métis people is documented in both archaeological and oral histories. Métis people would travel in large groups across long distances, with carts carrying many items crucial to the survival of their family units. Proudly independent, the Métis people speak their own language, which the Elders ("the old ones" or Lii vyeu) called Michif.

In the 18th and early 19th centuries, the Métis applied their skills in the fur trade, and after 1821 and the consolidation of the Canadian fur trade, and until the age of the railway, Métis traders crisscrossed the Prairies in vast caravans of Red River carts. They were excellent bison hunters, plainsmen, and skilled business people. Women were especially known for their skill in their flower motif beadwork and embroidery. Their hunting trips often took them down into central North Dakota, Montana and Minnesota and they sold great quantities of bison hides, meat, and pemmican to fur traders. Historical pictures will often show Red River carts sitting next to teepees, and Plains First Nations often referred to the Métis as "half-wagon, half-man."

"The Métis Nation didn't just drift slowly into the Canadian consciousness in the early 1800s, it burst onto the scene fully formed," said Jean Teillet, author of The North-West is Our Mother (The Story of Louis Riel's People, The Métis Nation). "The Métis people were flamboyant, defiant, loud and definitely not so-called noble savages. They were nomads with a very different way of being in the world, always on the move, very much in the moment, passionate and fierce. They were romantics and visionaries with big dreams."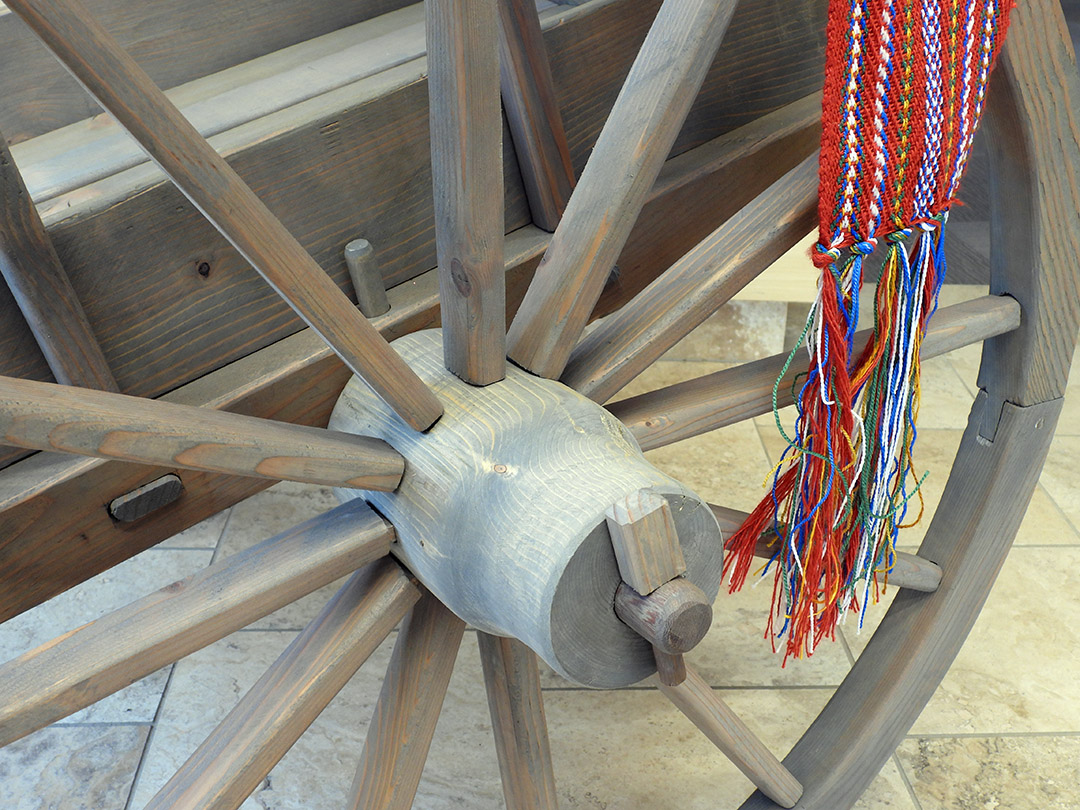 When the Red River cart was invented, they featured two wheels and were usually pulled by oxen or horse. The oxen could carry as much as 1,000 pounds of furs and meat. A horse-drawn cart could carry nearly 500 pounds or as much as five horses could carry on their backs. The carts were made solely from wood and strips of leather (babiche) or sinew and rope, and if the wheels were removed, and its bottom enclosed in a buffalo hide tarp, the cart could be rafted across rivers and streams.

During the winter, the cart could be placed on runners and became a horse-drawn sleigh. However, when travelling across the Prairies in the dust, a loud screeching of the grinding wheels could be heard for several miles away. They could not use grease to ease the friction or noise because the wheels would only get clogged up with dust.

The Métis Nation played a very important part in Canada's history. By the 1870s when the Prairies became part of Canada, the Métis patrolled the Canada-U.S. border to prevent invasions, serving as guides, scouts, and interpreters. As interpreters they assisted in a number of the Treaty signings, including Treaties 1-7.

From 1896-1929, many Saskatchewan Métis people and ex-treaty peoples came to stay on road allowances after they were dispossessed of their land through scrip. This was a process in which they were issued a coupon to satisfy land claims, dispossessed from where their ancestors had lived for generations. They were considered "squatters" on Crown land (although they asserted title of their own to these lands) and were also known as "Road Allowance People." They formed tight-knit communities where family members would reside typically in log cabins constructed of poplar trees, with tar paper roofs. The women performed the work as mid-wives for pioneers and tended to the sick using traditional medicines and remedies.

Overseen by the government, hunting and trap-lines were deemed illegal, making it extremely hard to live. Gradually, Métis people saved up enough money to move to the cities and purchase property, or moved onto larger plots to farm.

It was not until 1932 that the first of several provincial organizations or associations were established. From 1934-38 land was secured for Métis settlements by the appointment of the Ewing Commission and the Saskatchewan Métis Society (later known as the Association of Métis and Non-Status Indians of Saskatchewan).

Canada enlisted the services of many Métis people during war time, and after the Second World War, many moved into urban cities, although some were forced onto Métis farms for the former Co-operative Commonwealth Federation (CCF) provincial government in the late 1940s and early 1950s.

The Statistics Canada Census 2001 confirmed there were approximately 40,000 Métis people in Saskatchewan. The Métis Nation-Saskatchewan (MN-S) maintained that their count at that time was closer to 80,000. Between 1991 and 2001 there was a significant increase. The census in 2016 indicates there were as many as 587,540 Métis people in Canada with no slowdown in sight. Projections indicated that by 2036 that number could grow between 18.5 per cent and 22.7 per cent. It is important to note that Indigenous children make up one-quarter of all children in Saskatchewan and at the time of the census, 24 per cent were 15 to 24 years of age, and 27 per cent were 14 and under.

Today, ensuring there is a welcoming environment and a sense of place for Indigenous peoples is vital to the USask community. A student's sense of belonging and identity could mean a prioritization for them in choosing to study, work or stay at the University of Saskatchewan. Relationship-building, stressing academic's flexibility and understanding to enable persistence at university are also important.

Understanding the history of the Red River cart is a great example of how to develop an understanding of the shared history of the Métis people. The university's Strategic Plan 2025 supports actively pursuing knowledge through respectful processes and the opportunity at USask is to work towards capacity building and the Indigenization, decolonization, and the reconcile-ACTION of our community.