One of the historical hidden gems on campus, USask's College of Nursing is home to an antique medicine chest that has been traced back to Nightingale and was originally brought to Saskatoon in 1912, and decades later was donated to the university. With 2020 declared the Year of the Nurse and Midwife and the 200th anniversary of Nightingale's birth, current and former nursing professors want to shine a light on this unique piece of Nightingale's nursing narrative.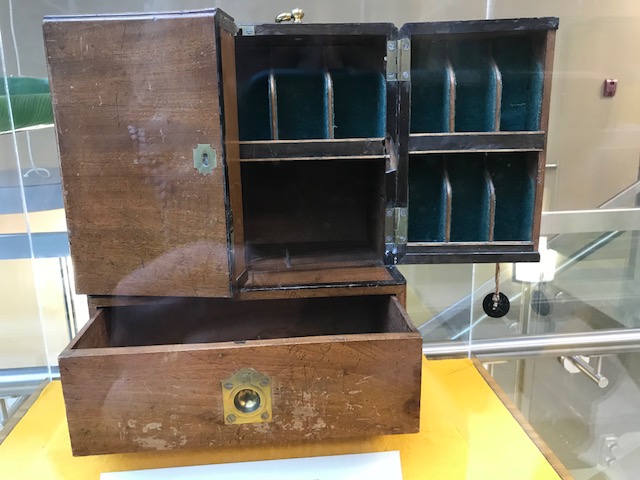 "I think it has been one of our best-kept secrets for years," said Dr. Arlene Kent-Wilkinson (PhD), a registered nurse and associate professor in the College of Nursing who is researching the history of the Nightingale medicine chest. "Most of the faculty know it is there, but we kind of forget about it ourselves, and some of the new nurses perhaps are not aware of it at all.
"I remember when I toured the Florence Nightingale Museum in England, I thought to myself, if they had our medicine chest, this would be their flagship display. It's our best-kept secret, for sure."
On display in the fourth-floor atrium of the E-Wing of the Health Sciences Building, the medicine chest matches a smaller companion piece on display in England that Nightingale used during the Crimean War. Nightingale became a nurse in 1851 and travelled to Turkey to treat sick and wounded British soldiers in the war, leading initiatives to clean up field hospitals and improve standards of care that are credited with saving the lives of more soldiers.
"The amazing thing to me is how the medicine chest got to Saskatoon and why a lot of people do not know about it," said Dr. Gail Laing (PhD), a registered nurse and professor emeritus of the nursing college, who is assisting Kent-Wilkinson in tracing the story of the chest. "I don't think we appreciate it enough. It is truly a piece of nursing history."
So how did it come to arrive in Saskatoon? The story began when Nightingale's sister, Lady Frances Verney, gave the chest to the family gardener Isaac Milsom, who took it with him when he immigrated to Canada and became a landscaper in Saskatoon in 1912, six years after Saskatoon became a city. Years later, Milsom gave the chest to local physician Dr. Herbert Weaver, who had also brought the first X-ray machine to Saskatoon back in 1906. After a long career practising medicine locally, Weaver donated both pieces to the university, where they remain on display to this day.