"It's a window into the past. It's a classic room that really makes you feel like you're in a grand institution," said Dr. David Palmer (PhD), professor of chemistry in the College of Arts and Science.
Since the day it opened in 1924, Thorvaldson Building Room 271—officially the Henry Taube Lecture Theatre, but commonly known as the Airplane Room—has been one of the defining features of the USask campus.
Palmer, a former head of the Department of Chemistry, said he has never been in a room quite like it. The stately auditorium, with its 68-foot domed ceiling and gothic styling, has been used as a set in several movies. One faculty member held his wedding there. Visitors to Saskatoon and returning alumni often make a point to drop in.
"You can tell it's a special thing to them," said Palmer.
The lecture hall's appearance has changed little in the past 96 years. Modern conveniences and electronics are cleverly hidden inside antique furnishings. The slate chalkboard and oak chart frames are original to the building. The original wooden chairs were replaced with replicas in 2014.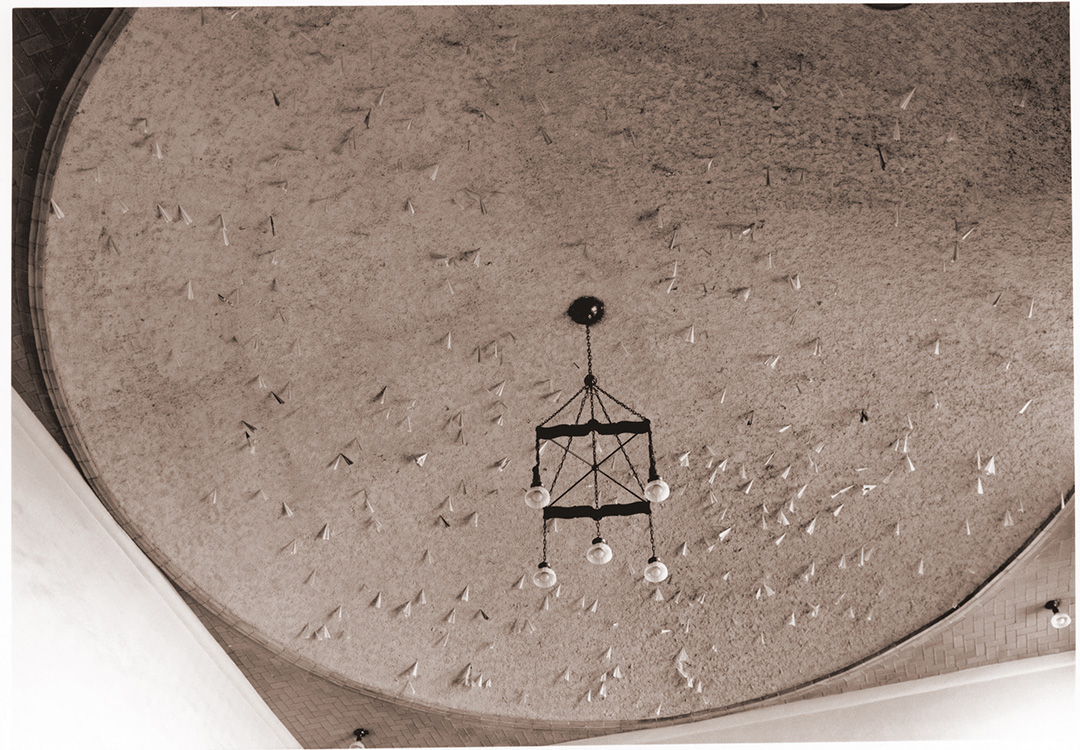 As many chatting students have discovered, the Airplane Room has exceptional acoustics.
"I think the students don't realize how easy it is for the person at the front of the room to hear them. You can hear conversations going on in the 25th row in there," said Palmer.
The auditorium's most unique and most famous feature is the assortment of paper airplanes embedded in its ceiling. In a tradition going back at least 60 years, students toss the planes—weighted with pens, pencils and the occasional spoon—hoping to stick them in the soft acoustical material that lines the ceiling.
Legend holds that the practice was started by pilots-in-training during the Second World War, and that a falling airplane was an ill omen for a pilot gone to war. The legend probably isn't true, but Palmer always enjoys hearing it. It's one more layer connecting the Airplane Room to the story of Saskatchewan.
"(The room) reminds people of the history of this place—that this university is more than just another school, especially to the province. This is an historical artifact of this province, a monument to all of the people who have taken classes over the years," Palmer said.