As she puts it, she was very privileged to be raised in a family environment that always valued the importance of physical activity—that whole concept of healthy body-healthy mind.
But as her career progressed from being a professor in the College of Kinesiology to her current role of vice-president, research, at the University of Saskatchewan (USask), she found that the busier she got, the more her healthy body-healthy mind balance was waning. While she still worked out regularly, Chad felt more fatigued and wasn't pushing herself like she used to, and realized she need help to get back on track.
"It was a tough point to get there because I always think of myself as highly motivated," Chad said. "But I wasn't pushing myself like I used to and noticed I wasn't getting those same benefits, so I realized that I needed somebody to kick my butt just to get me back."
Chad enlisted the help of personal trainer Gray Ferguson, who she initially thought she would work with for six months to help refocus on her physical and mental wellness. Ferguson is the program and client services co-ordinator for USask Rec in kinesiology.
"It was a hard decision personally because I see myself as a very independent and motivated individual and with my background in kinesiology, I am supposed to be the expert," Chad said. "But I saw that sometimes you need to have somebody from the outside to come and give us some advice and wise counsel."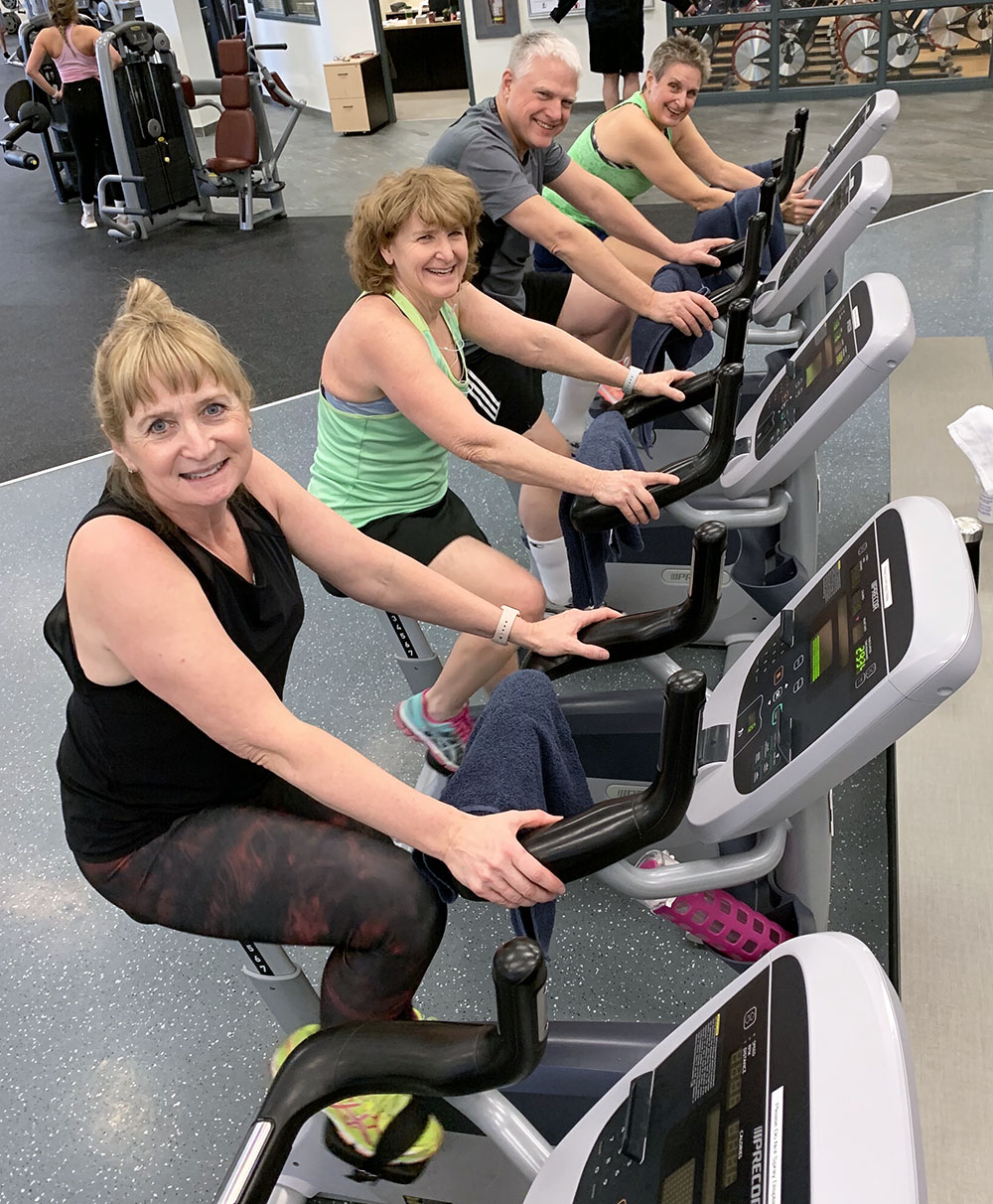 Chad told a few friends and co-workers about how her training was helping her get back on track and they wanted to join in, forming a workout group to help support each other. Her group consists of Dr. Peta Bonham-Smith (PhD), dean of arts and science, Dr. Paula Schwann (MD), a family physician and former USask professor, and her husband Dave Nielsen, a professional chartered accountant who works off campus but joins them at the Physical Activity Complex (PAC) as much as his schedule allows. The group has now been together for 14 years.
"It is in our calendars and it is a non-moveable," said Chad. "Our offices know that and there will be only very rare circumstances where it can be changed. I wanted it consciously to be part of my work day. It shows my personal commitment to health and well-being and I think it is important for students, colleagues, staff and faculty to see that it is OK to build it into your day. I can leave my office and be back in one hour and 10 minutes. It is doable and it doesn't need to take this huge amount of time."
Many senior leaders on campus followed their lead. Ferguson estimates that he has trained more than a dozen senior leaders over the years because of the group's recommendations. The list currently includes deans like Dr. Mary Buhr (PhD) of agriculture and bioresources, Dr. Suzanne Kresta (PhD) in engineering and Dr. Preston Smith (MD) in medicine, as well as Dr. Patti McDougall (PhD), vice-provost of Teaching, Learning and Student Experience, and former University Secretary Dr. Beth Bilson (PhD).
"Our seniors leaders, being leaders, are always 'on' leading meetings and discussions throughout their days and evenings, for that matter. I think they enjoy coming to their exercise session and, although it is physically challenging, they can turn their mind off for that hour and just focus on themselves," said Ferguson. "It provides them with a physical workout, but also a mental break during the day."
Chad has seen a lot of change over the years, especially when it comes to the type of people using the PAC.
"I love when everybody, no matter what stage or age or fitness level, takes that commitment for their health," Chad said. "I think it is helpful for people to see that you don't have to be at a particular level or you don't have to look like this or that or have to have specific gear. The campus community gets to see us in our gym shorts, sweaty T-shirts and not in our formal work attire and I think that is really positive."
"I think the PAC is a very cool place because of our clientele," added Ferguson. "There are very few places that our senior leaders, faculty, staff, students and community members can be together all at once and just blend it together."