USask recently made the state-of-the-art multipurpose complex available to the Saskatchewan Health Authority (SHA) to house up to 250 coronavirus patients on an emergency basis, if Saskatoon experiences a sudden surge in COVID-19 cases.

"We are working closely with SHA to support them in any way that we can throughout this process," said Wade Epp, USask's associate vice-president of services. "We talk about our commitment to be The University the World Needs and it's not lost on me that this is one of those times where the community has asked and we are working hard to deliver on that."
The SHA has toured the facility and conducted logistical plans for setting up the field hospital in the 120,000-square-foot complex, which is home to Huskies hockey and basketball practice facilities with two regulation-sized ice rinks and two full-sized basketball courts, as well as the Ron and Jane Graham Sport Science and Health Centre.
"We have very detailed footprints, down to where the cots for the structures will be," SHA Saskatoon Incident Commander Suzanne Mahaffey told reporters during a briefing last Thursday.
The addition of the field hospital on campus would bring capacity in Saskatoon—at Royal University Hospital, City Hospital, St. Paul's Hospital and the Merlis Belsher Place facility—up to 1,266 beds for COVID-19 treatment and 301 beds for other patients.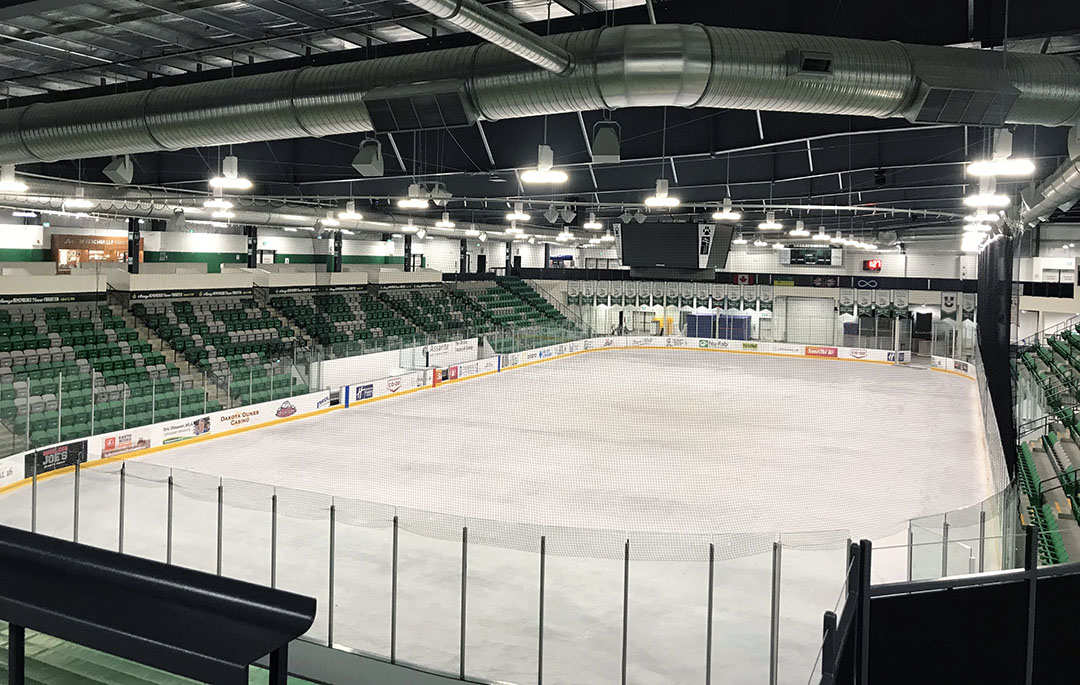 "We have triggers that once City Hospital is approximately 50 per cent full, we will be starting to ensure that our field hospital is ready to go and that we've done simulation exercises so that we can do that care safely in a non-traditional setting," Mahaffey stated.

Epp said USask officials—led by project manager Michael Thompson—and staff at Nustadia Recreation, the third-party operator of Merlis Belsher Place, are providing logistical and planning support for SHA as it ramps up preparations.

"We are following SHA's lead and I know they are looking at as tight of a timeline as possible," said Epp. "I know there are a lot of moving parts and they are moving as quickly as possible to be up and running, if needed."

Next steps would involve removing and relocating equipment and items from the Huskie hockey, basketball and soccer team rooms as well as other facility equipment located on the ground floor in preparation for the set up of assessment/treatment, support services and staff areas. The second floor of the facility, which houses the Ron and Jane Graham Sport Science and Health Centre, is not expected to be used for the field hospital at this time.

"A team has been pulled together to help generate a plan to complete the move in a safe and efficient manner," said Dr. Chad London (PhD), dean of the College of Kinesiology and member of the Huskie Athletics Board of Trustees.

"We appreciate everyone's patience and co-operations throughout the COVID-19 situation and continue to be proud to support our front-line workers, community, and province in any way possible."
Astute advanced planning of the facility and additional financial investment set the stage for Merlis Belsher Place to serve as a potential emergency facility for situations like this.

USask's safety and resources leadership team identified that enhancements in the design of the new building would support the university's emergency management plan. James Cook, manager of campus planning, made the recommendation to upgrade construction of Merlis Belsher Place from the standard "normal" category to "high" under the National Building Code of Canada, to position it for emergency use. Cheryl Carver, associate vice-president of people and resources, identified the Safe Campus Fund as a source for financing the upgrades.

"The initial thought was that it was a large open facility that, if upgraded to a higher importance category, could serve in the event of a crisis at the university or within the region," said Greg Fowler, vice-president of finance and resources, who approved the final decision to upgrade Merlis Belsher Place.

Those enhanced construction efforts, including higher engineering load factors to enable the building to withstand increasingly significant wind, snow, earthquake and other emergency events, have positioned Merlis Belsher Place to serve the community as a possible pandemic field hospital.