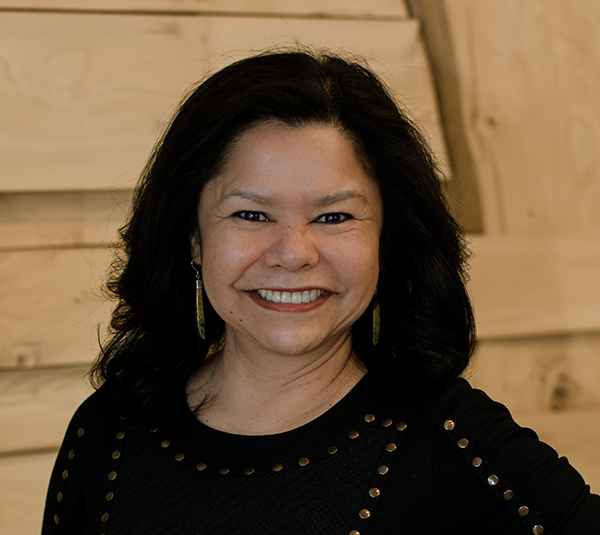 In June, I posted a statement in response to witnessing the widespread protests against racism being held all over the world. I'm writing today to continue the conversation about the University of Saskatchewan's progress and commitment to reconciliation and Indigenization, and the university's commitment to the Indigenous faculty and staff.
My career and life's work have been devoted to nurturing, encouraging and supporting Indigenous youth, and consequently educating the professionals and leaders that work with them. This is purpose-driven work, a calling that has led me into educational spaces that influence and create curricula, programming and policy. Historically, and even today, these are exclusive spaces to Indigenous peoples. With the position of Vice-Provost Indigenous Engagement comes tremendous responsibility.
On October 1, 2017, I came back to Saskatchewan to step into this inaugural position. It was a position that I recognized as having tremendous significance to the Indigenous community (faculty, staff, students, Elders, leaders) and to Indigenous allies because they spent years advocating and planning for a senior level office. In the process of coming home, I was also mindful of Indigenous leaders' words as I interviewed them for my doctoral research, "I'm not doing this for you to gain a title, I'm hoping that you will give back to your community." In addition to the many the notes (more than 100) of encouragement and advice from our on-campus Indigenous community when I first arrived, I was also given stones with values etched into them, one being "courage" another being "truth". Oftentimes, it takes courage to speak the truth. I want to acknowledge the truths that are being shared on campus. They provide important perspective, remind us of life-giving and relationship building values, and they shed light on the areas that require improvement, change, and on the disparities that exist. Truth is needed for reconciliation or conciliation to take firm hold.
I've had a long relationship with the University of Saskatchewan (USask). It was the first university that I attended after high school at the age of 17. I came back to USask for my master's and PhD. Since I first enrolled as a student in 1983, the Indigenous student enrolment has increased significantly to today's more than 3,400—among the highest number, and at 14 per cent, among the highest percentage of the overall student population of any university in Canada. Even in the midst of a pandemic, the overall undergraduate and graduate Indigenous student numbers at USask remain strong. We continue to dedicate resources, and work at improving systems for access and holistic supports, to ensure that all Indigenous students who aspire to be at USask have that opportunity. And when they are here, USask works to be the best place we can be for them.
I do acknowledge that more needs to be done to support our Indigenous faculty and staff. They are, among other things, incredible role models for our youth. As the focus on recruitment of Indigenous faculty and staff representation across campus has continued, so should retention. Currently, we have 45 self-declared Indigenous faculty working on our campuses; and, over the past five years, 23 highly regarded faculty have joined USask. We also have 193 self-declared Indigenous staff at USask. Sadly, we have also lost some of our Indigenous faculty and staff for many different reasons. The Office of the Vice-Provost Indigenous Engagement (OVPIE), in collaboration with other units and colleges, will help to support the retention of our gifted, talented and very capable Indigenous faculty and staff. We will do this by helping to create retention plans and strategies, and by ensuring that the new university standards for promotion and tenure are inclusive of Indigenous scholarship.
I recognize that our reconciliation and Indigenization efforts may not be enough for some at this point, or are moving too slowly for others. These past few days, alongside the stories of frustration and weariness, I have also heard stories of people who are committed to the work ahead of us and of people who really do love their work. Leading cultural change is hard; it would not be cultural change if the experience was too easy. The pace of this transformational work must be carefully considered. A kēhtē-ayak (Elder) advised us with the following during the development of the Indigenous Strategy engagement sessions: "Move forward with a steady pace—too fast and you may miss the teachings, too slow and everything comes to a stop." I believe we are at a moment in time now when there are many teachings to draw and learn from, but we also must continue the good work that was started by the generations that came before us.
During challenging times, we should be strengthened by what has already been accomplished at USask and the vision for the future. There is an incredible list of "firsts" and sustained activity for this university as it relates to Indigenization and decolonial work. This is what continues to draw Indigenous faculty, staff and students here. And, as our quarterly newsletter, âcimowin, the OVPIE Progress Report 2019, and all the stories within the OVPIE website indicate, there are many of examples work done in a good way across campus. I encourage everyone to seek and share the stories of the strong Indigenous leadership, teaching, research and programming on our campus, and to learn of the work that yet remains. This work requires wîcihitowin – "to engage with sacred introspection and consideration of how our actions will help another" (A Time for Significant Leadership: A Strategy for Implementing First Nations and Métis Education Goals, 2020).
In the near future the university will be receiving a new Indigenous Strategy in a celebration ceremony which will be carried out by a group of respected Elders. The strategy involved comprehensive consultations and meaningful engagement with the Indigenous community—students, staff, faculty, community leaders, Elders, Traditional Knowledge Keepers, and Language Teachers dating back to 2018. This strategy is unique within mainstream post-secondary institutions because it was created and validated by Indigenous peoples to be gifted to the university.
The Indigenous Strategy affirms that racism and oppression are still very much alive. They are not contained in past stories of slavery and segregation but have evolved into forms that continue to control and divide. When difference in skin colour, religion, gender, ability, and/or sexual preference is/are feared then marginalized, the essence and beauty of humanity is denied – diversity. Diversity is what strengthens us. Within our strategy, there are three Guiding Principles, five Calls to Action under this commitment of Safety and six Markers to affirm that people are on the right path. The Indigenous Strategy is a roadmap to good relations, and its implementation will benefit the whole university as the Gift requires our campus community to tend to its care and evidenced life within all our spaces and places. This nayâhcikan (sacred bundle), the Indigenous Strategy, provides hope for a stronger future together not only for our generation, but also for the future of our youth into the next seven generations not yet born and beyond.
Dr. Jacqueline Ottmann (PhD)
Vice-Provost, Indigenous Engagement 
University of Saskatchewan