That means it is vital to keep the university open and safe in order for those students, faculty and staff to continue their courses and labs, research and work. The custodial staff is a key cog in the wheel that keeps the university campus moving forward, a role the team has embraced since the start of the pandemic.
"They (custodial staff) have taken on their jobs with purpose, they know exactly what they are there for and they have a vested interest in living up to be the University the World Needs and they know what their job is to help us get there," said Bardy Bains, manager, prevention maintenance and custodial, at USask.
Since there was no playbook on how to deal with the COVID-19 virus when it came to cleaning and disinfecting, the custodial team took it upon themselves to write their own.
"One thing, since the pandemic has hit, we have taken the opportunity to redefine our purpose and look at our processes," said Bains. "We began realizing at the onset of the pandemic that perhaps our existing processes weren't enough to deal with this new virus."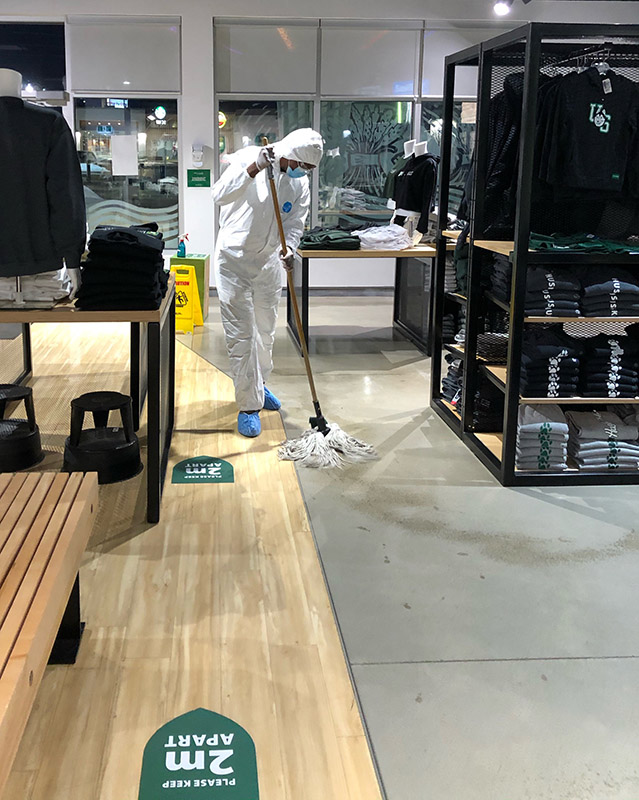 The custodial staff completed online training that was put on by various organizations, including the College of Medicine. But they were finding that some of the training, especially those put on by cleaning associations, didn't go beyond the basics so they knew they would need to reach out to acquire the knowledge required to do their jobs effectively and safely.
"We sat down and took a very calculated approach and we partnered with individuals who could give us the correct information," said Bains. "We reached out to the Saskatchewan Health Authority and they helped us create a training program for staff where it goes well beyond the appearance of clean to a droplet disinfection process. We retrained staff and we have used this training to deal with any COVID exposed or potential COVID exposed rooms.
"We went straight to the (Saskatchewan) Health Authority because we knew that they were the experts and were the people who deal with droplet and virus training and we had this plan reviewed and approved by our internal Safety Resources department."
Bains credits the leadership that his managers have shown with how the custodial staff has adapted and thrived during these challenging times.
"The camaraderie of the staff has really changed since this pandemic hit," said Bains. "There is no stronger culture that I have seen anywhere in my experience where these individuals are coming, they are working as a team and helping each other out, they are checking in with one another."
Ervin Kormos, assistant manager, custodial operations, echoed that statement.
"The caretakers understood how important their role is and how much we need attention to cleaning now and that this will be ongoing," said Kormos. "This is an amazing opportunity for us as a custodial staff to look into the future and change the way how cleaning will be done. This virus isn't going anywhere and going through this experience has made our team much stronger and more skilled going forward."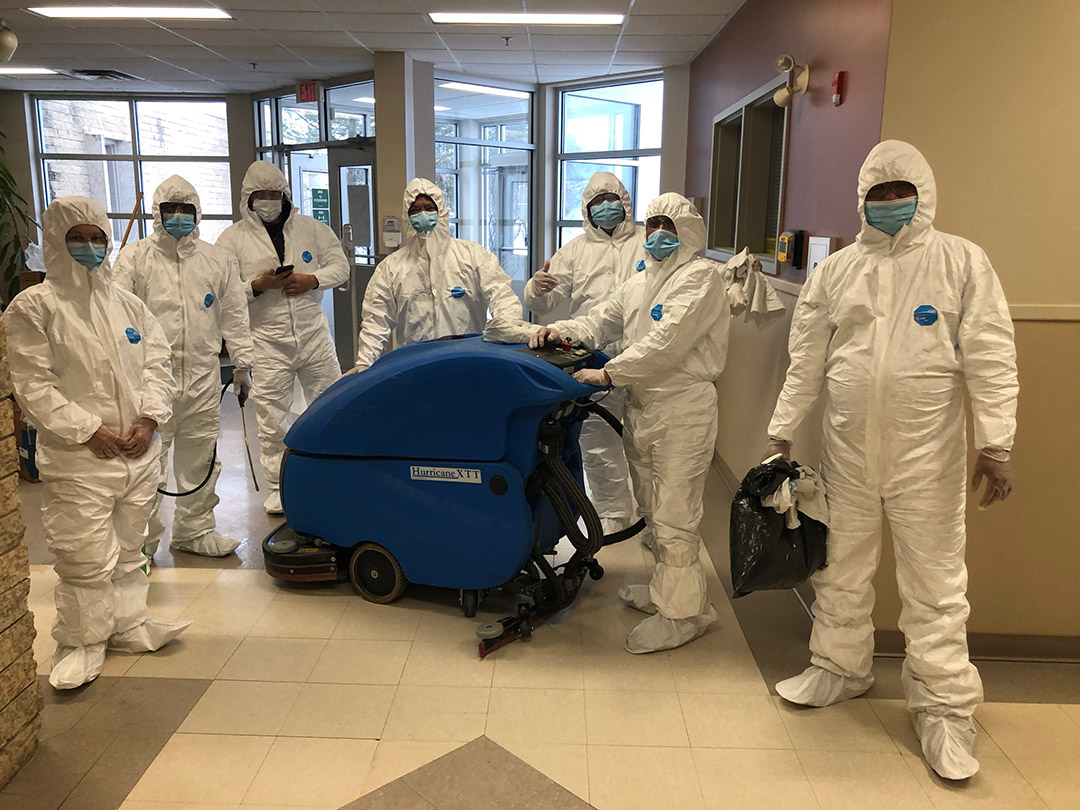 In addition to keeping the areas on campus maintained where there is still activity, the team is called to sanitize areas of campus where a potential or confirmed COVID-19 exposure has taken place, such, such as classrooms, research labs and even entire buildings. Since November, custodial staff has had to "COVID-clean" more than 50 exposed rooms, research labs and even entire buildings.
The custodial staff has taken it upon themselves to become experts on cleaning during the pandemic but it is still up to everyone to be diligent in fighting the COVID-19 virus. This means following all of the basic preventative measures such as wearing a mask, washing your hands often, avoiding close contact, clean and disinfect your area daily and monitoring your health. If you have any symptoms, stay home and follow direction from health experts.
"There is a communal approach to this," said Bains. "We have to work together with the campus community. Everybody has an obligation to do their part in ensuring everyone's safety."
The custodial department has revisited their processes and enhanced their existing services. They are continually innovating to ensure they are meeting and exceeding current industry standards. For example they partnered with their supplier Bunzl to ensure they have the latest technology and the most effective chemicals. The university also invested in a Clorox 360 sprayers to enhance the cleaning protocol. These sprayers use electrostatic technology that enables wider coverage in hard to reach places.
They have also shared their expertise with others and have done cleaning in buildings that they normally don't attend to, including Kernen Crop Research Farm, the Shop USask retail store at Preston Crossing, Innovation Place and done extra work at both the Western College of Veterinary Medicine and the College of Dentistry, whose clinics are both still open to the public.
"The custodial staff working in the College of Dentistry are always helpful when we need extra things done," said Michelle Knaus, director, clinical affairs at the College of Dentistry. "We have gone through a lot of changes in how space is used as a result of COVID and this team has worked hard and are very responsive to getting things cleaned up after any changes. 
"In August, we went back into full operation with all students, staff and faculty back in the building. The Custodial team changed their hours to meet ours (before 7 a.m.) as we had to screen everyone and balance the number of people entering the building at different times. In September, we started with full patient care (in our dental clinics) which again increased our activity in the building and the amount of cleaning that needed to be done to ensure everyone was safe. The team comes multiple times a day to wipe down the patient sitting area in reception, door handles, light switches, counter tops, bathrooms, elevators etc. It is a big building with a lot of activity and they do a great job to ensure it is well maintained. They are very reliable and caring about their work."
Both Bains and Kormos are both incredibly impressed with how their team has handled, and even thrived, during these adverse conditions.
"Our most important resources is our caretaker team," said Kormos. "We have some amazing individuals there that are doing a fantastic job. Without them and everyone helping each other we couldn't do what we are doing."
"I can't express how fortunate I am to work wish such a great team, from the assistant managers down to the custodial staff," Bains added. "(Kormos) has been very instrumental in the COVID cleaning that has been happening on campus. His balance of customer service and safety has spoken volumes to the work that has been done."
How USask custodial staff deals with a COVID-19 infected room
Within an hour of custodial operations receiving notification of a potential COVID-19 case, the team springs into action.
First they contact the occupant of the room and construct a plan using a detailed list of questions they have developed, with guidance from the Saskatchewan Health Authority. Questions they ask range from the last time the individual was on campus to what kind of equipment they have in their facilities so as not to risk of damaging anything. They also check in on any chemicals being used in the facility because we don't want any type of chemical reaction.
After the initial plan is created by the managers and custodial staff they communicate it to safety resources who informs the Pandemic Response Team (PRT) of the response.
"Communication is absolutely key to this process," said Bardy Bains, manager, prevention maintenance and custodial at USask. "We get a sense on how quickly we need to get into the area and reopen it. We know that we are here to support the university and learning and research are absolutely critical so we don't want any of these actions delayed because we can't get our act together so we put our team of experts together and go and disinfect the rooms.
"We get in there and clean and when it has met our standards, we will release the room back to the occupant."
The team also created simulation rooms on campus where custodial staff practiced cleaning techniques, and how to properly wear and how to put on and take off personal protective equipment (PPE). 
"Safety is absolutely paramount to us, it is one of our core values on our team charter and we wanted to make sure not only that the staff were safe but that they felt safe," said Bains.