That collection of more than 400 instruments amassed over more than 30 years is one of the hidden gems of the University of Saskatchewan (USask) campus, donated in 2013 by the late great USask music professor and Order of Canada recipient, who passed away in 2015.
"David Kaplan was an interesting character because he had so many different interests," said Dr. Glen Gillis (PhD), a USask professor of music and one of Kaplan's students during his undergraduate studies on campus. "He started collecting these instruments back in the '70s when he was on sabbatical or when he was on vacation. He wanted to bridge cultures through music."
Some of the highlight items in the Kaplan Collection are displayed in the Education Building outside of the entrance to the Quance Theatre, with the bulk of the collection stored in a room adjacent to the music professors' offices. The collection features instruments representing global music traditions from North America, South America and the Caribbean, as well as Asia, Africa, Australia and Oceania.
"It is the only collection of its type in Saskatchewan," said Gillis. "Some of the instruments are pretty common, but he has some gems from various places and probably one of the most interesting instruments is the Inuit drum that was given to him as a gift. There are also some very interesting Indonesian instruments and Chinese instruments that culturally are very old, but the Inuit drum is one of the most unique items in the collection because those have to be bestowed within cultural traditions."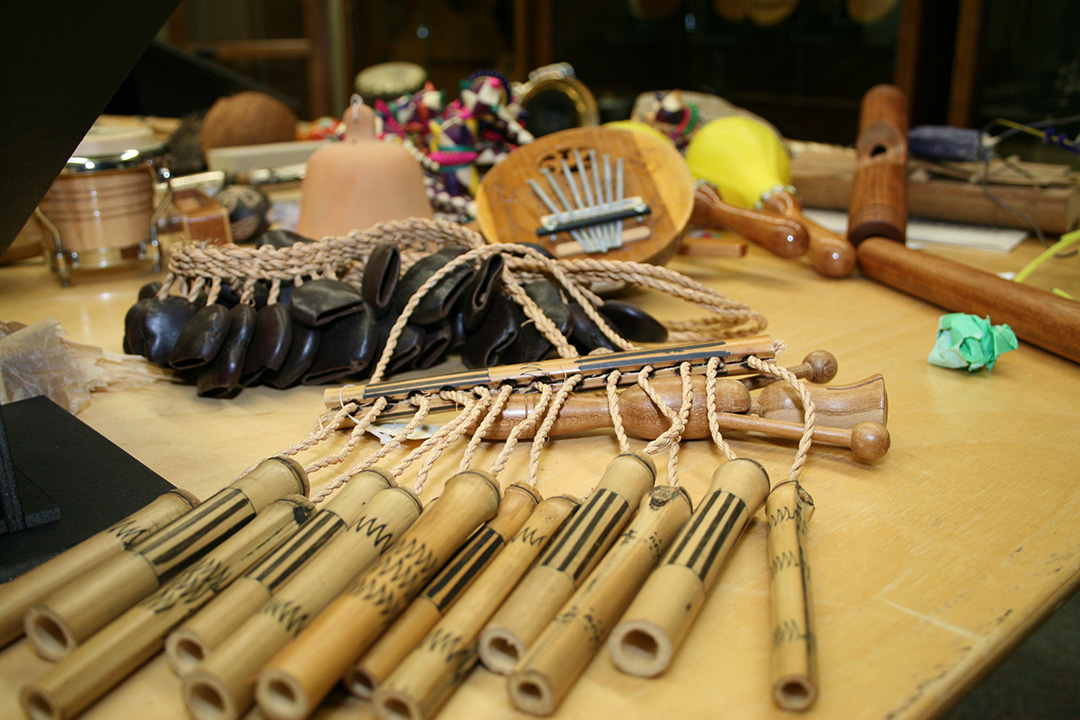 In 2019, Gillis had the honour of performing a song that Kaplan wrote for him, in a tribute concert celebrating the life of the late professor, conductor and composer, who also served as the former head of the Department of Music during his 30 years at USask.
"I did my undergraduate degree here and David Kaplan was one of my most influential mentors, so that was very special personally for me," said Gillis, who was serving as interim head of the department at the time of Kaplan's passing.
In the future—post-pandemic—Gillis and his colleagues would like to display more of the Kaplan Collection for public viewing.
"It is special in lots of different ways," he said. "It is a visual display of who he was and what is interests were. And I think we are still at the tip of the iceberg of the potential of what we can do with this collection."