On Aug. 22, 1979, six days after his passing in Ottawa, the beloved 13th Prime Minister of Canada returned to his alma mater to lie forever at rest on campus along the banks of the South Saskatchewan River, in a truly unique burial site handpicked by Diefenbaker himself.
"While most prime ministers are buried in cemeteries or family plots, Diefenbaker stands out through his request to be buried on a university campus," said Helanna Gessner, the curatorial, collections, and exhibits manager of the Diefenbaker Canada Centre at USask. "By choosing to be buried next to the Diefenbaker Canada Centre, he ensured his continued influence on how people interact with, and build upon, his legacy."
The only prime minister buried on a Canadian campus, Diefenbaker planned most of the details of his funeral, from the train journey that brought his and his wife Olive's caskets from Ottawa back to Saskatoon to the university that meant so much to him. The journey home to his final resting place was an event in itself as thousands lined the tracks in cities and towns across the Prairies as the funeral train rolled through.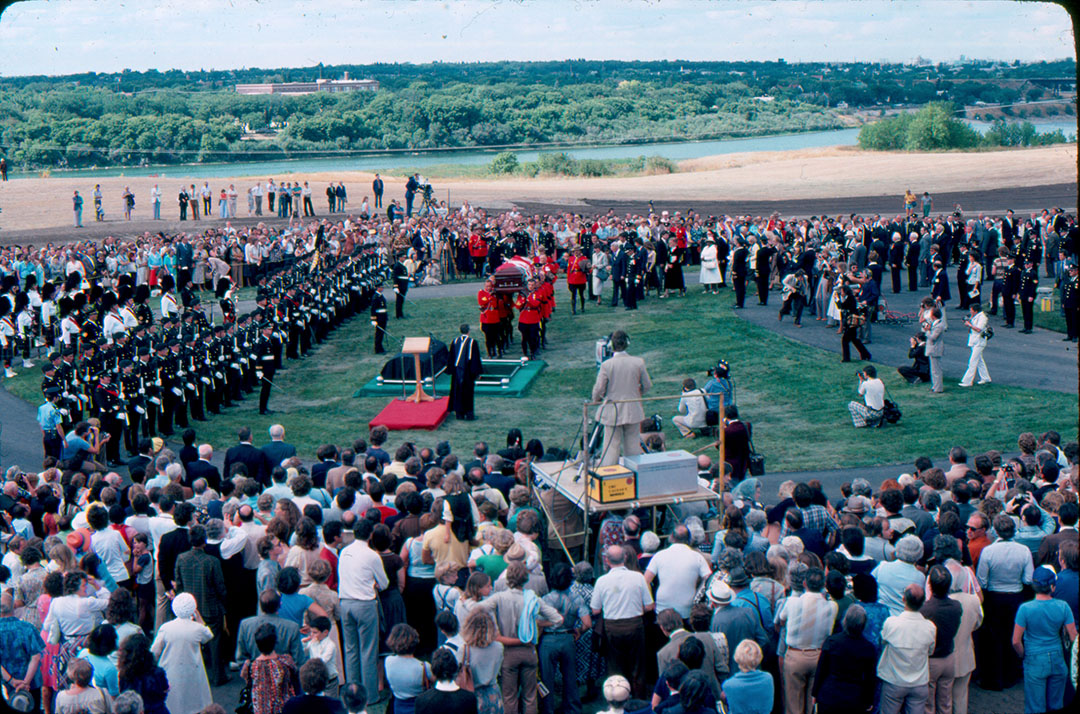 Thousands more packed the railway station stop in Prince Albert—the federal riding he represented for 26 years—to pay their respects to the only person from Saskatchewan to be elected prime minister. After arriving in Saskatoon, an estimated 8,000 mourners attended his funeral, with Diefenbaker lying in state in the university's Convocation Hall prior to being carried to his final resting place across campus by RCMP pallbearers. Among the many dignitaries attending the funeral were Saskatchewan Premier Allan Blakeney and Prime Minister Joe Clark, who began his eulogy by stating "John Diefenbaker is home."
"While there were only three scheduled stops, tens of thousands of people across the Prairies lined the railway to pay their respects to Diefenbaker as the funeral train passed," said Gessner. "And when Diefenbaker and wife were finally being laid to rest, the crowd was so large that people stood on the top of the Diefenbaker Canada Centre so they could witness this historic event."
Entering university in 1912, Diefenbaker became the most celebrated member of the first generation of USask students, and the first to earn three degrees—bachelor's, master's and law degrees—and later proudly serving as the seventh chancellor. In passing, Diefenbaker donated his estate to the university, helping contribute to the building of the Diefenbaker Canada Centre that houses his papers, library, and personal items.
Currently closed due to the COVID-19 pandemic, the centre's online exhibits can be viewed at diefenbaker.usask.ca.