The program, called Building Bridges, is a partnership between the Aboriginal Students' Centre (ASC) and the International Student and Study Abroad Centre (ISSAC).
Earlier this month the program earned an Innovative Practice Award given annually to individuals or programs across North America for creating and implementing an original or highly effective Indigenous student affairs program or practice for their campus. It's awarded by the Indigenous Student Affairs Network which is a part of the American College Personnel Association, an organization from Washington, D.C., that supports and promotes higher learning.
Building Bridges was established in 2013 and, while it has evolved over the years, at its core the values that it is governed by remain the same. The program was created as a response to address a lack of opportunity for Indigenous and non-Indigenous students to meet and learn about one another's similarities and differences in a safe space and provides programming that fosters respect and cultural understanding.
Building Bridges, while supported by ASC and ISSAC staff, is run by student co-ordinators like Briana Linton, a USask physiology and pharmacology student in her fourth year of study.
"Building Bridges offers students a safe place to learn and ask questions about different cultural perspectives and histories," Briana said. "It's an opportunity to gain important understanding that advances the campus towards being a more inclusive, safe space for everyone."
Student co-ordinator Jihan Sheikh, in her last year of her Master's in Public Administration program, is witnessing interactions between students that will likely stay with her for a while.
"The (moments) I love the most are … when an Indigenous, domestic or international student describes a cultural practice, dance, or a meal and their counterpart exclaims 'Me too!' or 'We have something similar!'" Sheikh said. "In my opinion, it is moments like these that transform the other into an ally. Experiencing these moments is what make me very proud and fortunate to have joined the program."
Over the past seven years, 10 students have helped run the program, and it has engaged more than 1,600 students, staff, faculty, and community members.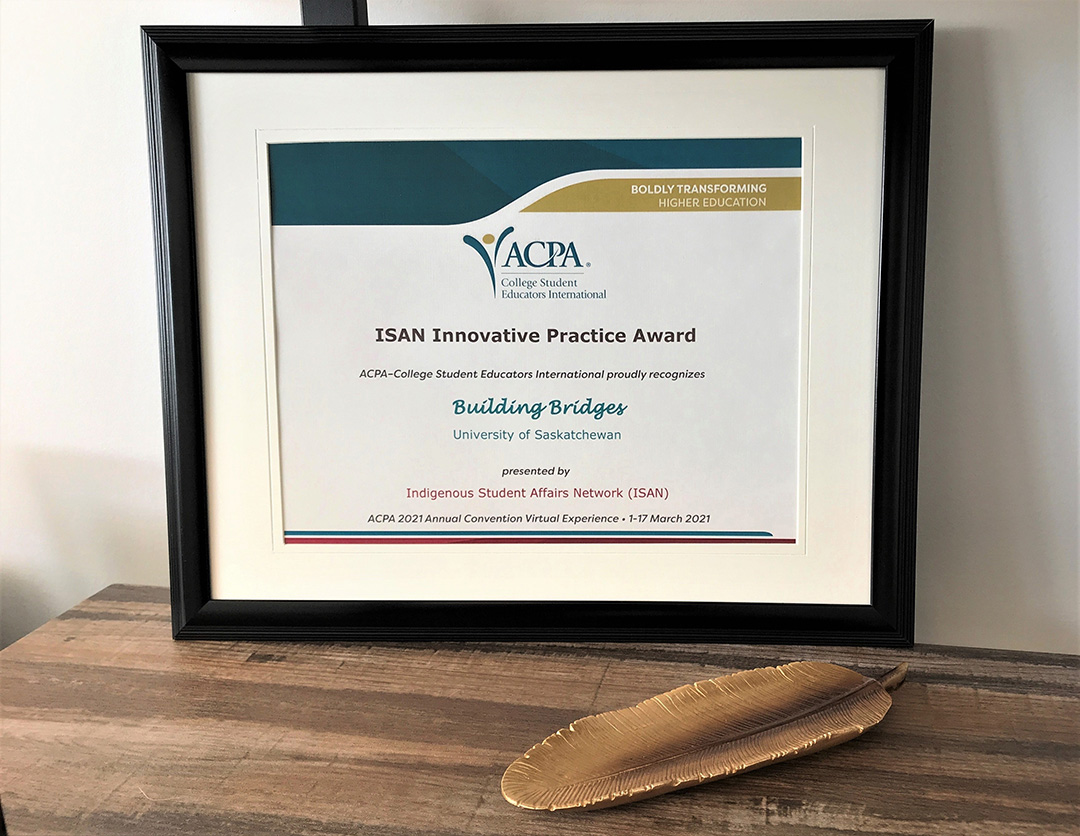 Staff facilitators Amaranta Sokol Como from the ASC and Chantal Hanson from ISSAC are very proud of the accomplishment of the students.
"We have always been grateful for the input and enthusiasm of our student co-ordinators," Sokol Como said.
"The Innovative Practice Award highlights the fantastic work that the student co-ordinators contribute to making Building Bridges what it is."
Hanson added: "We are so proud that all student co-ordinators are being recognized for the great work that they have done and continue to do."
During the COVID-19 pandemic, Building Bridges has had to move to remote delivery. As a result, the program has been able to reach students located abroad prior to their arrival on campus to Treaty 6 territory and the Homeland of the Métis. Online the program has reached participants located in Norway, China and the United States. There have been some challenges with online programming as the spirit of Building Bridges is centered around community and relationship building.
"Not being able to gather in person, as we would have, has made those personal connections more difficult, however the current student co-ordinators have done a great job offering various types of programming that still continue to engage participants," Hanson said.
While the staff involved deserve credit, their emphasis is always on the students. The program itself was student-initiated and continues to be led by students to ensure that they are the ones asking the questions and having the conversations that are relevant to their experience.
"Upon leaving the program we see student co-ordinators who are confident in their ability to lead difficult conversations with respect, kindness, and understanding." Sokol Como said.
It's something Linton can feel happening, too.
"There were many moments in our events when students would openly share their experiences and different perspectives and show a lot of vulnerability," Linton said. "Just being able to feel and hear the support and acknowledgment from the others in attendance was something I will never forget."