One year after Pride activities went online due to the pandemic, the University of Saskatchewan (USask) continues to find creative ways of celebrating the 2SLGBTQ+ community.

The USask campus community will come together virtually during Pride Week from June 14-19 with a range of activities to educate, commemorate and celebrate.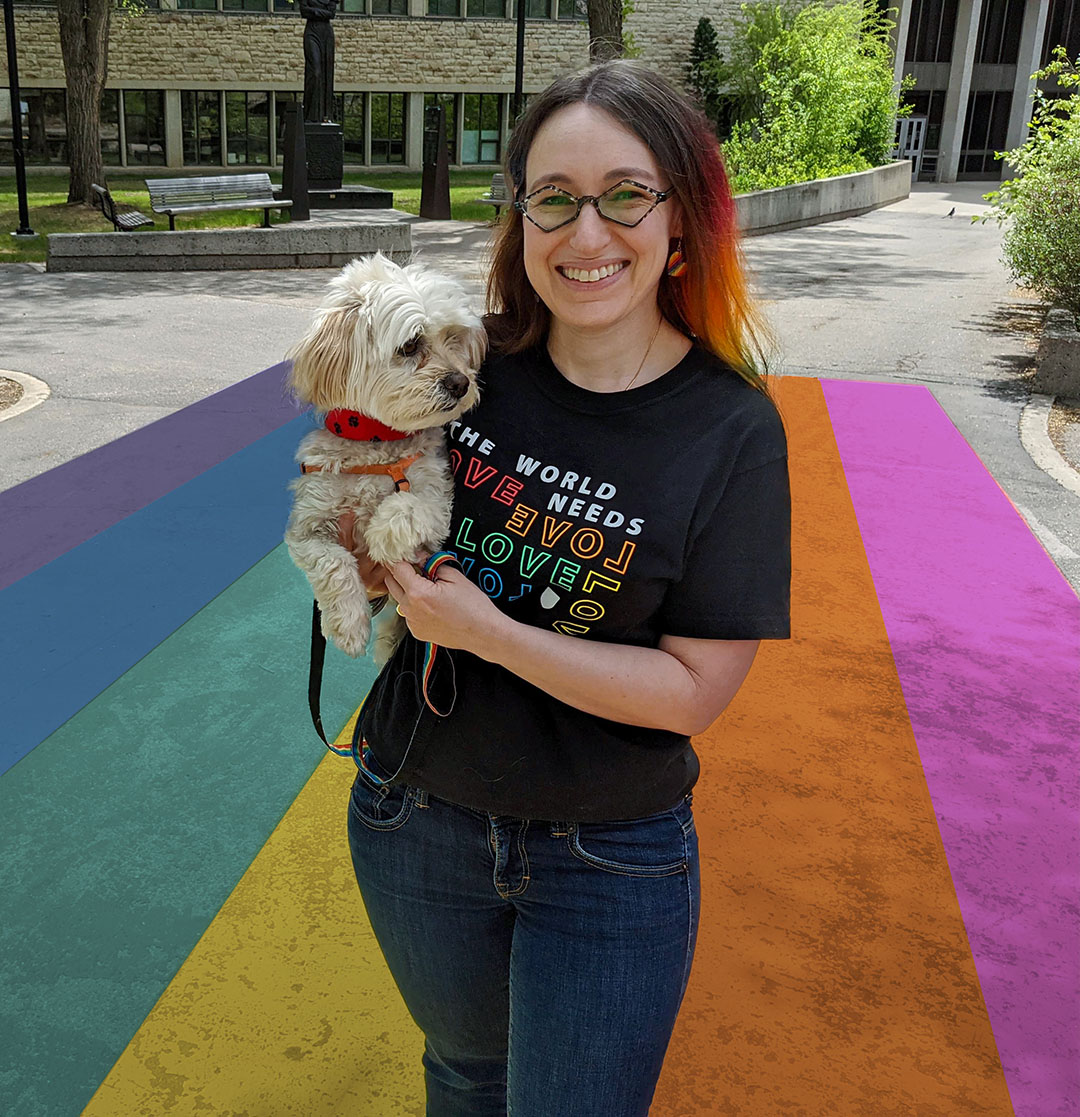 "During Pride, take the time to get educated, connect with OUTSaskatoon, learn more about pronouns, or read about the history of queer Saskatoon," said Dr. Simonne Horwitz (PhD), USask associate professor in history and co-chair of the Provost's Advisory Committee on Gender and Sexual Diversity. "If you are watching events from your device, reach out to queer community members and learn about intersectional issues. This is a really positive way you can mark the week and a remarkable way of celebrating."
Despite the shift to remote operations, the Provost's Advisory Committee proceeded with its work on the university's queer housing project in the College Quarter Residence, which launched in 2019. USask continues to sell Pride merchandise to raise funds for this project and community members can make an online donation as well.
Horwitz explained that the committee is also working to create queer student lounges within the residences where 2SLGBTQ+ students can hang out and access a library of queer materials. The committee would also like to reinstate their dessert and speaker series once the safe return to campus takes place, which is an opportunity for intergenerational queer community building.
"We want to work toward that when we get back, where we can share space and build a queer community that spans age and generation on campus," she said.
In recognition of Pride Week, the Pride flag will be flown on campus from June 14-19. Tune in to the Saskatoon Pride Festival flag-raising ceremony on Monday, June 14 at noon as the event will be livestreamed on Facebook and YouTube. The Saskatoon Pride Festival runs from June 12-19, and beyond the Pride flag being raised on campus, a number of digital initiatives are taking place across the USask community.
The University Library is sponsoring a session on Two Spirit Voices as part of Spark Your Pride, in partnership with the Saskatoon Pride Festival and the Western Development Museum on Tuesday, June 15. Everyone is invited to register for this free virtual event. On Thursday, June 17, USask is sponsoring the Global Panel Discussion on Trans Rights and Responses to Anti-Trans Movements, also presented by Saskatoon Pride and free for all to attend virtually.
The University of Saskatchewan Students' Union (USSU) Pride Centre will lead a social media campaign on queer confessions, where 2SLGBTQ+ community members can share revelations on the queer experience. These anonymous confessions will be posted on the Pride Centre's Instagram and Facebook to show that "no matter what your identity or orientation are, those are important to you and the world needs to accept them," said Rene Clarke, USSU Pride Centre co-ordinator and third-year psychology student.
The USSU Pride Centre is also planning a special video entry in the Saskatoon Virtual Pride Parade on Saturday, June 19. Clarke explained that the Pride Centre will extend its platform to current students and alumni who are Black, Indigenous and People of Colour (BIPOC) to talk about their experiences with Pride.
"When Pride comes around, we don't keep in mind how intersectional Pride itself can be. BIPOC voices truly matter, and must be at the forefront," Clarke said.
Over the last year, the USSU Pride Centre has pivoted from being an in-person campus hub to building community in a digital space, according to Clarke, who uses he/they pronouns. 2SLGBTQ+ students have kept in touch on the USSU Centres' Discord server, which has a Pride Centre drop-in channel accessible to USask undergraduate students.
Clarke noted that the queer campus community has felt much like a chosen family, where people can exist in a space knowing they have a home.

"We make sure that we're there for each other because we know what it's like not to have anybody, especially in a pandemic where many students are living back home with unsupportive family or roommates," said Clarke.
Finally, the Diefenbaker Canada Centre's (DCC) virtual exhibit 'Pride on the Prairies' is still live and available for the entire community. The exhibit explores the history of 2SLGBTQ+ activism and Pride celebrations in Saskatchewan from the 1970s to today.
"Individuals who might never visit the DCC in person have access to this from their own homes and can further their understanding of the local queer communities at their own pace," said Helanna Gessner, curatorial, exhibits and collections manager at the DCC. "It is important to recognize the perseverance of activists on campus and across Saskatchewan that led to the annual Pride celebrations we enjoy today."