But perhaps what stood out the most for USask President Peter Stoicheff is how USask's campus community of students, staff and faculty rallied together to face the challenges of the ongoing pandemic head-on.

"Over the past year, so many terrific things occurred—milestones were achieved, people were honoured, tremendous progress was made—and it is all because faculty, staff and students were patient, nimble, deliberate, and determined in everything that they did regarding the pandemic," said Stoicheff, now in his seventh year serving as president.

"We have shown that we can be a caring community, caring for one another, and I put a lot of value in that. One of our values in our Mission, Vision and Values is a commitment to have a healthy university and campus community. And there is no way that this university could have achieved all that it achieved in 2021, were it not for the fact that everybody responded to the pandemic so well."

Overwhelming support for public health measures by faculty, staff and students—ranging from 95 to 99 per cent fully vaccinated, and following mandatory mask requirements—has helped keep USask's extended campus community safe. Stoicheff said that "extraordinary success story" allowed the university to continue the steady shift back to more robust in-person, on-campus activity in the 2021 fall semester and planned for the 2022 winter semester, while also preserving flexible program delivery options when necessary for public health and safety.
With the spread of the new Omicron variant, the university will delay the start of many classes and programs until Jan. 10 and will temporarily return to remote teaching, learning and working arrangements for two weeks until Jan. 24, as a precautionary measure. USask officials are also encouraging members of the campus community to build on the remarkable vaccination record by receiving booster shots to enhance public health protections for all in the new year, and to take advantage of free rapid test kits being made available by the province.

"The vaccination numbers do speak for themselves," said Stoicheff. "It's extraordinary and I think it's a testament to what a community will do in everybody else's best interest when a confident data-informed policy is established. So I think it has been extremely gratifying for everybody at the university and the intention was—and I hope it succeeded—that people will feel far safer as a result of this."

As the world approaches the two-year mark since the World Health Organization declared a pandemic on March 11, 2020, Stoicheff said he is encouraged and inspired by the resilience of the campus community to embrace change. Over the past year, the university remained firmly focused on its academic and research missions while also instituting major initiatives to make the university a more welcoming place for all.

"I said from the beginning of this that we needed to be two things as the pandemic evolved: The first was a university that responded very well to the pandemic; and the second was a university that continued to do all the great things that it is capable of doing, because we are responding well to the pandemic," said Stoicheff. "And I really thank the Pandemic Response and Recovery Team for leading the way and for being decisive and confident in the decisions that it urged us to make. That is a sign of people caring for each other, and for each other's livelihoods, and for the institution."
Combatting COVID-19
USask researchers continue to combat COVID-19, with the advanced Vaccine and Infectious Disease Organization (VIDO) complex on campus leading innovative vaccine development, handling lab work for close to 80 companies and institutions from around the world, as well as moving VIDO's own vaccine into Phase 2 human trials. With construction of the new vaccine manufacturing facility on campus continuing, VIDO is poised to become a national centre for pandemic research following major federal, provincial and civic funding early in 2021 topping more than $75 million, as well as private donations of more than $6 million.

"There was not another lab in the country that received $60 million from the federal government in its April budget and that tells us what the federal government thinks of the work that is going on at VIDO and how important it is for a pan-Canadian pandemic response," said Stoicheff. "The province also stepped up with $15 million, even in advance of the federal government, and the city also was quick to contribute, which was a concerted effort on their part. Equally meaningful is how individual community members have stepped up with financial support, which is a testament to the good work that VIDO is doing."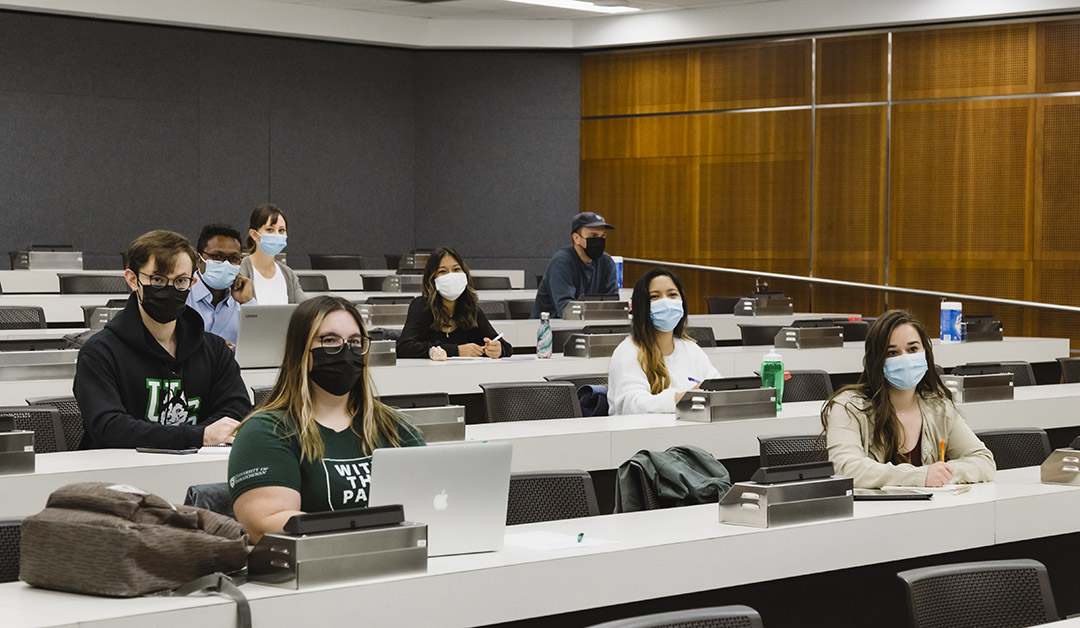 University researchers and health-care specialists have supported the community throughout the pandemic by serving in front-line health-care roles, as well as providing expert epidemiology analysis, advance notice of COVID-19 outbreaks through wastewater monitoring, and long-COVID research and therapeutics development. Faculty, staff, alumni, and students also continue to contribute to the community in a variety of vital volunteer initiatives, directly supporting those who need it most, with food drives, providing personal protective equipment, mental health supports, and therapy dogs.

"The really visible and effective efforts of student groups in colleges all across the university to provide support for people beyond the university has been extraordinary and there are many, many wonderful stories," said Stoicheff. "Thanks also to all of our people in the health sciences-related fields who have stepped up to engage with the public conversation and dialogue around evidence-driven, decision-making and public policy. And the wastewater surveillance research group has been extraordinary, and we all should be proud of the efforts of those researchers."
Successful strategies
Throughout the pandemic, USask has remained firmly focused on its academic and research missions, from coronavirus to cancer, multiple sclerosis to Alzheimer's diagnosis, in addition to exciting new research developments in its signature areas of research in water security, synchrotron sciences, agriculture, energy and mineral resources, one health, and Indigenous Peoples.

In the research area of Indigenous Peoples in particular, a variety of support programs with community impact were initiated, with the university also prioritizing fundamental institutional changes in 2021 designed to enhance the culture on campus and support systems for all. In August, USask officials announced the gifting of the new Indigenous Strategy, created by Indigenous Elders, Traditional Knowledge Keepers, and Language Teachers, designed to guide the university to be the best place it can be for Indigenous Peoples and communities.

"I know of no other university in the country that has received such a gift and I think that is a testament to Indigenous communities understanding that we can be better, and also seeing the value that we can bring to our collective futures. I think that's what makes it so beautiful and historic," said Stoicheff, who also pointed to December's memorandum of understanding (MOU) with Metis Nation-Saskatchewan on Metis identity and citizenship as another step forward.
"The MOU with Metis Nation-Saskatchewan was also extremely important and that is an example of an Indigenous government reaching out to us and saying this is a way we can help to ensure what we need for our people and to ensure that you can align with that in a good way."

USask took another progressive step forward in 2021 with the adoption of its first Sustainability Strategy, and followed it up with a joint climate commitment with the City of Saskatoon in September designed to speed up the transition to a green community. It was the latest in a growing list of collaborations between the university and the city resulting from the Research Junction initiative pairing university researchers and students with city expertise to tackle community challenges together.

Meanwhile, the university continues to progress with its Equity, Diversity and Inclusion Strategy and Action Plan designed to remove barriers and build support systems to make USask the most welcoming environment possible for the entire campus community. A related commitment was USask's spring MOU signing with the University of Saskatchewan Students' Union to challenge oppressive and systemic racism at all levels across USask campuses.

"I think what this EDI strategy represents is a shift in the university's culture toward a greater appreciation for, and a greater attention to, the deep importance of equity, diversity and inclusion," said Stoicheff. "All sorts of very important initiatives stem from that very important EDI strategy, so, I am delighted to see it (developing)."
Record enrolment
Despite the challenges of the pandemic, in particular for students juggling both in-class and remote learning scenarios over the past two years, the university is on pace for record enrolment of 26,000 this year, a positive sign of student satisfaction for Stoicheff.

"Not every university in Canada has experienced increased enrolment during the pandemic and I just heard very recently that we are expecting to see an increase again in winter term, which is rather unusual," he said. "So, we're obviously doing a lot of things right to remain very attractive to students and that's due to the faculty and the staff who make this a great university."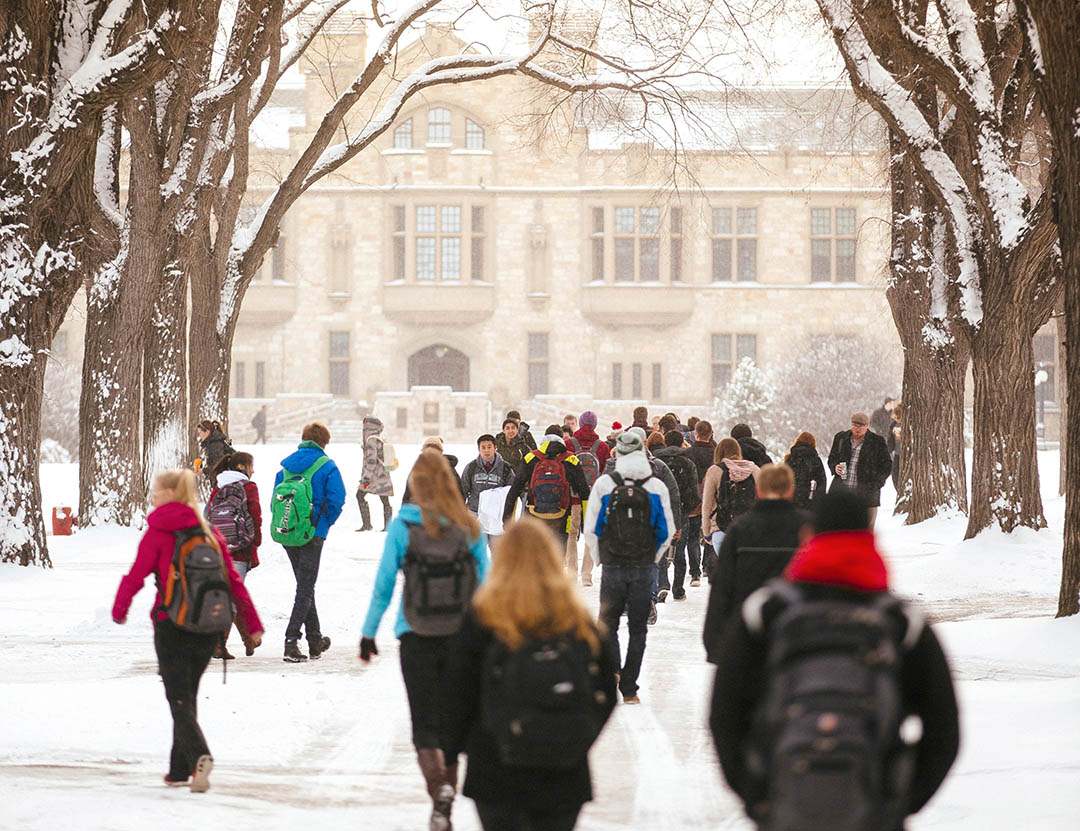 USask also refreshed its senior leadership in 2021, with new Provost and Vice-President Academic Dr. Airini  (PhD) and Vice-President Research Dr. Baljit Singh (PhD, MVSc) officially joining the university in February, with Singh's office currently leading a review of the institution's world-class signature areas of research. Meanwhile, Huskie's Chief Athletics Officer Shannon Chinn and College of Nursing Dean Dr. Solina Richter (DCur) were among the other new senior leaders joining USask in 2021, another positive sign of progress for Stoicheff.

"We have wonderful senior leaders within the institution, and we have wonderful senior leaders who are not at the institution who want to be here and be a part of the great things that are going on here," said Stoicheff. "When you are able to build your senior leadership from within and also able to attract excellent talent from beyond the university at senior leadership levels, that tells a great story."

A number of leading USask faculty members received major national awards in 2021, with renowned researchers Dr. Volker Gerdts (DVM, PhD), Dr. Walter Siqueira (DDS, PhD) and Dr. Cheryl Waldner (DVM, PhD) inducted as fellows into the Canadian Academy of Health Sciences, and Dr. Malcolm King (PhD) named a fellow of the Royal Society of Canada. Meanwhile, Elder Louise Bernice Halfe – Sky Dancer, a renowned USask advisor, mentor and writer, was appointed Canada's new Parliamentary Poet Laureate in 2021.
Huskie Athletics has also provided plenty of success stories in 2021, with impressive performances from teams across all eight sports after the cancellation of the 2020/21 season. Leading the way was the Huskie football team advancing all the way to the Vanier Cup national final, while the defending national champion and No.1-ranked Huskie women's basketball team is off to a perfect 8-0 start to the season. Meanwhile, the Huskie men's and women's wrestling teams are both ranked No.2 in the country, while Olympic gold medal and Stanley Cup-winning coach Mike Babcock has made an immediate impact with the fourth-ranked Huskie men's hockey team.

"I applaud every Huskies team," said Stoicheff. "And for the football team to get to the Vanier Cup, don't concentrate on the loss, focus on a tremendous game played and all that it took to be one of the two teams in the entire country that were able to make it to that game. It's also great to see the success that we are seeing in women's basketball. And with men's hockey, it is a special tribute to the university and to the larger Saskatoon community that Mike Babcock wanted to come back here."
New year, new hope
While it is precarious to make post-pandemic predictions in the midst of an ongoing global health crisis that isn't over yet, Stoicheff does envision positive changes in store for the university in 2022, led by the groundbreaking work of USask's Post-Pandemic Shift Project. The comprehensive engagement effort is paving a path forward for the future of the university, everything from expanding more flexible work-from-home arrangements for employees, to creating more community connections to revisit how the university prepares the next generation of students for an ever-changing workforce.

"We have to ask ourselves, 'How can we respond to these changes in people's lives, in organizations and sectors, and in the realities of the new workplace? How can we continue to become the university that the new post-pandemic world needs?" said Stoicheff. "This is a time of change. It doesn't change who we are, it doesn't change our mission, vision and values. But being open to change will help us to become a better university, a better province and a better world, in a good way."