For the members of Walker's family who were there, it was a moment frozen in time: a father, a husband, a brother, a son and a soldier safely returned from the horrors of war.

"I was in Grade 6 in 1945, so I would have been 10 or 11 years old and I remember the train coming in and meeting him and then the parade down 21st Street to the riverbank ceremony there," said Peter Walker, one of three sons along with Phil and Teddy who joined their mother Margaret in welcoming their father home after six long years overseas. "It was a day you always remember."

Born in 1900 in Maple Creek in what was then the North-West Territories – five years before Saskatchewan became a province – Drayton Walker was a high school teacher and militia member prior to the Second World War, after studying and running track and field at the University of Saskatchewan (USask) in the 1920s.

One of the first to volunteer for active service with the Saskatoon Light Infantry when war was declared in September of 1939, he was commissioned as a major and rose to the rank of battalion commander while serving in England, Sicily, Italy, France, Belgium and Holland from 1939-1945. He was one of more than 2,500 USask students, staff, faculty, and alumni who served in the Second World War, with 202 killed in action.

Like many veterans, he rarely talked about the war upon returning home, after enduring gruelling campaigns in Sicily and Italy in which more than 6,500 Canadian soldiers were killed and 22,000 wounded.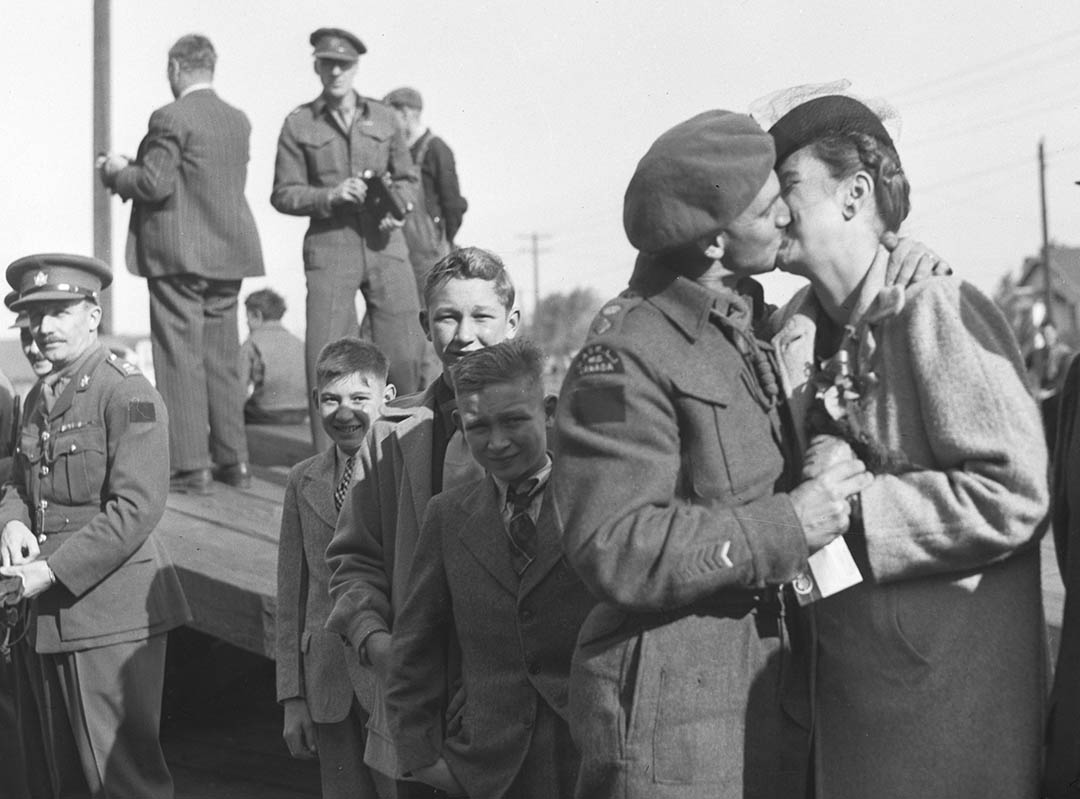 "I would ask him the odd time and he would give us a little snippet, but he didn't talk much about it," said his son Peter, now 89 and retired after a career in pharmacy after graduating from USask. "The only thing that I really remember about him telling me about anything that happened over there was one time he came face-to-face with one of the Germans that they were fighting and he said, 'It was either him or me.' So that was the story that I remember most."

During the Italian campaign, his father was decorated for his heroic actions during a fierce firefight at a key crossroads near Ortona on Dec. 15, 1943, when he was badly wounded by shrapnel but remained in command of his troops in the critical battle. He received the Distinguished Service Order for gallantry, with the citation reading:

"The cool efficiency and courageous devotion to duty displayed by this officer under withering fire, his determination and skill, contributed in large measure to the success of the initial and subsequent operations, and set an inspiring example to the entire brigade."

His service overseas continues to be a point of pride for the Walker family, which also holds great admiration for mother Margaret after raising the family alone back home from 1939-45.

"We do feel a lot of pride for him, and for all of the men who went overseas," said Peter. "I admired them all greatly, and of course my dad in particular for his service. But I also think of all of the women who were at home. My mother was alone for six years except for two short leaves, and she raised three boys all by herself. So the women back home paid the price, too."

Duane Walker was 13 years old when his grandfather Drayton passed away, but has fond memories of summers spent with his grandparents at the Emma Lake cabin they built in 1934, five years before the start of the Second World War.

"He didn't talk a lot about the war, but if he did say anything, it would be when we were out fishing or something," said Dr. Duane Walker (PhD), who earned his bachelor's and PhD at USask and is one of more than a dozen members of the Walker family who went on to earn degrees at USask in the colleges of arts and science, education, engineering, kinesiology, law, medicine, and pharmacy, including his wife Leah and their children Bryn and Jordan. "I don't have vivid memories, but I remember hearing that when people were lying flat on the ground in battle, he would be the guy walking around with bullets flying by. So those are the kinds of stories I heard about him."

After leading his unit through the Italian campaign and then into France, Walker was promoted to commanding officer of the SLI machine gun battalion in January 1945, delivering a message to his troops:

"It is with a terrific feeling of pride that I assume command of the 1st Bn. Saskatoon Light Infantry (MG). The best I have of experience, effort and enthusiasm will be expended in carrying out the policy of higher command and the advancement of the Battalion. With your unforced support we will still further enhance the reputation of the Unit."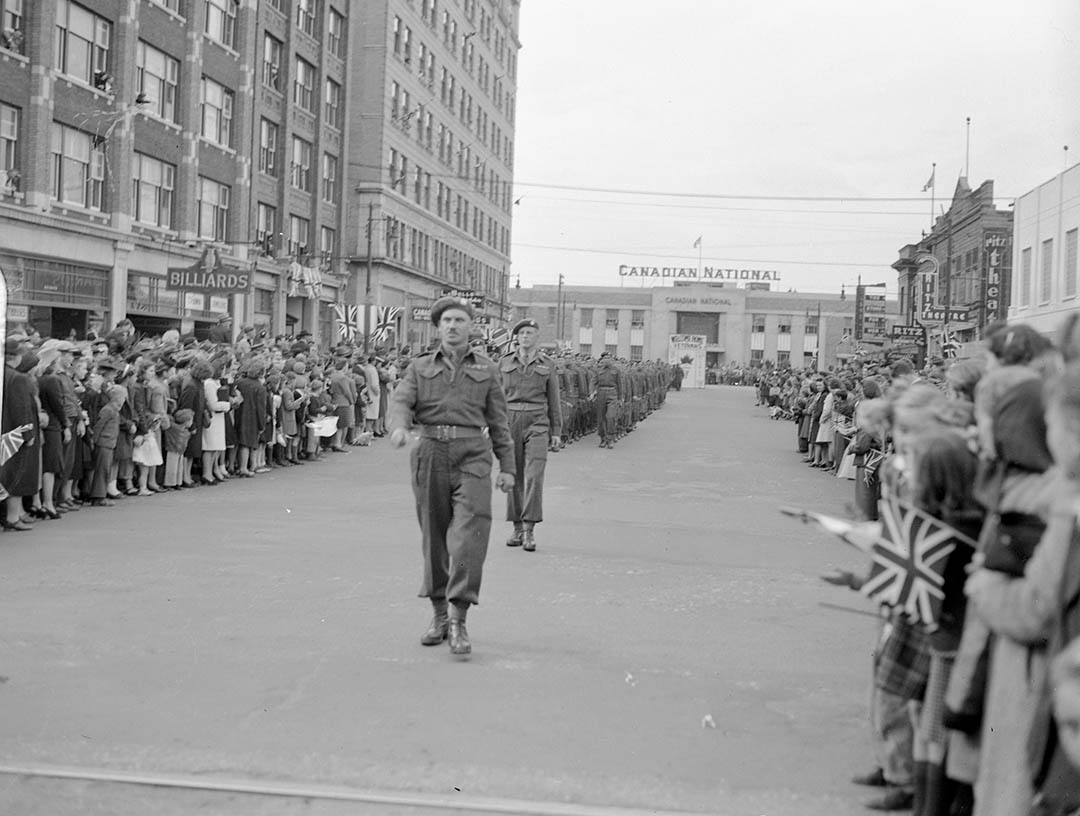 Walker led his unit through to the end of the war in Europe in May 1945, and remained in Holland for four months to disarm surrendering German soldiers, guard facilities, and support the restoration of local government and services in a country that had been occupied for six years. On September 20, the SLI began the long journey home on board the New Amsterdam, arriving in Halifax harbour and boarding the train before finally arriving home in Saskatoon on October 3.

Upon his return, Walker resumed his teaching career in Saskatoon, and soon advanced into leadership roles. At the age of 52, the decorated war veteran went back to university at USask to complete his Bachelor of Education and went on to serve as principal of Bedford Road Collegiate and later Mount Royal Collegiate when it opened in 1960. Walker returned overseas for three years in 1963, rejoining the Department of National Defence and closing out his career in education by serving as principal of a school for children of Canadian Armed Forces members stationed in Europe.

"A lot of what is my grandfather's lore or legend, if you like, is being an educator," said oldest grandson Dr. Keith Walker (PhD), who earned his bachelor's, master's and PhD at USask and has served as a professor of education administration in the College of Education since 1991. "He went back to university as a mature student, which wasn't all that common back then, and I just remember his stories of how challenging it was in a sense to go to school with your former students that you had previously been teaching."

Remembering to pay tribute to his grandfather and to all those who answered the call of duty has been a family tradition for generations of the Walker family, participating in Remembrance Day services and visiting Lt. Col. Drayton Walker Park, named in his honour in Saskatoon's Montgomery neighbourhood.

"It is significant sacrifice and it's very poignant, just thinking about how difficult it would have been to be away for that long, not knowing what is going on, but knowing the war effort was all entailing for both those at the front and for those people back in Canada," said Keith, whose wife Dr. Grace Walker (MD), and their children James, Eric, Mack and Gillian all attended USask.

"There is no doubt that it becomes more important over time as that particular war's veterans are no longer with us and there is a worry that succeeding generations won't remember. But I think as a family we have done a pretty good job of remembering and honouring them."

Lieutenant Colonel Drayton Walker died on November 15, 1975, at the age of 75.
Remembrance Day ceremony at USask
The University of Saskatchewan (USask) has a long and proud legacy of military service.
All are welcome to attend USask's 95th annual wreath-laying ceremony and brief program at the Memorial Gates on Saturday, November 11, 2023, at 1:30 pm as we continue our honoured campus tradition of paying tribute to all those who have served. More information on Remembrance Day initiatives at USask and event details can be found at https://spotlight.usask.ca/remembrance/index.php.