The City and USask have a longstanding history of collaboration and partnerships, which has strengthened communities through education, research and engagement. That relationship was reaffirmed in 2018 when the two signed a memorandum of understanding to explore new and existing collaborations to address issues related to urban planning, land development, reconciliation, transit and research collaborations. 
 The new webpage USask and the City of Saskatoon MOU - Leadership | University of Saskatchewan will offer residents greater access to, and awareness of, the activities advanced through the MOU. 
"The unique partnership between the City and the University of Saskatchewan is resulting in real benefits for residents of Saskatoon through the collaboration on many exciting and one-of-a-kind projects," said Charlie Clark, Mayor of Saskatoon. "These projects are working to provide an improved quality of life for our residents today and in the future, addressing a variety of challenges the University and City are uniquely positioned to tackle together."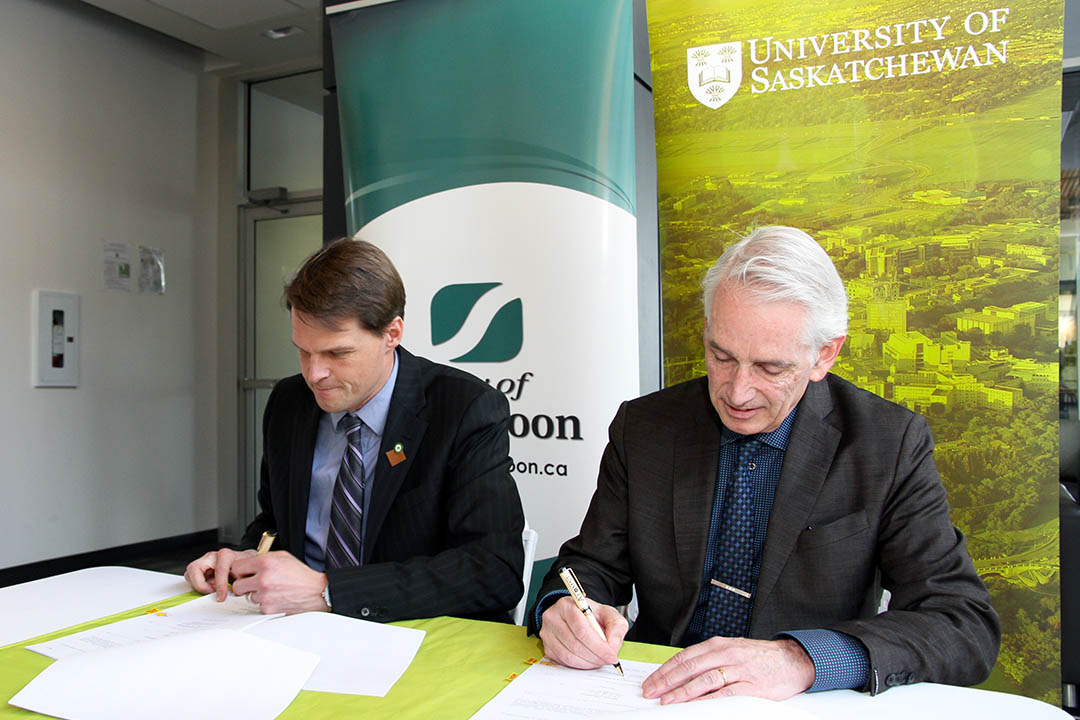 "Over the past five years, the University of Saskatchewan and the City of Saskatoon have taken significant steps to strengthen our long-standing relationship and partnership with innovative initiatives ranging from sustainability to Reconciliation, as we work together to support our city and the communities we serve," said USask President Peter Stoicheff. "To be the university the world needs, we must be the university our city and province needs as well. Saskatoon is a place many USask alumni call home, and through the continued partnership established in our MOU, we are successfully collaborating on issues of mutual importance to both the city and the university."  
Both USask and the City are focused on efforts to partner to be more purposeful and deliberate in the areas of Reconciliation, strategic infill, transportation, sustainability, recreation, joint research projects, and student learning opportunities. In addition, many of the discoveries made by USask faculty members and students continue to be relevant to cities, such as in the areas of urban planning and community health, and can be used to make life better for Saskatoon residents. 
The MOU serves as a leading example to inspire similar partnerships in the city, province, and country in the future. 
Since 2018, the City of Saskatoon and USask have partnered to advance: 
Visit the webpage at https://leadership.usask.ca/initiatives/saskatoon-mou.php for more information. 
Together we will create inspired places for people to address the challenges of the future. We invite you to join by supporting visionary spaces at USask.